If like me you love Vietnamese food, I have the answer for you. Banh Mi Caphe in the Riverbank Mall at 298 Victoria Street in Hamilton is well worth a visit.
Anh and Pat Chaimontree originally opened a small, casual café with the same name further down the street. It was so popular that they decided to move on to bigger things. They opened a larger and more sophisticated café and bar, and it has proved a great success.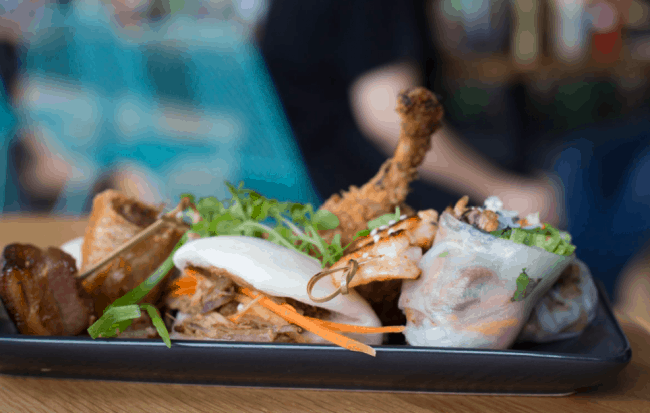 They serve up wonderful food including Pho, Soft Shelled Crab, Caramelised Salmon, Vietnamese Mint and Cabbage Salad, and one of my favourites, Green Papaya Salad. There is pork belly, mussels, chicken dishes, interesting desserts, and naturally Banh Mi, the crunchy French bread rolls with a choice of Vietnamese fillings.
With shared meals, noodles, street food and other tempting dishes there is something for everyone. My seven year old granddaughter can't go past Goi Cuon, the fresh rice paper rolls. She has good taste!
There is a good choice of gluten free dishes, and piscetarians, vegetarians and vegans are well catered for. The wine list is small but gives an adequate range and the bar offers a wide choice of cocktails and spirits.  Or maybe a Vietnamese beer would hit the spot. The beer goes very well with the food.
Anh was raised in Hamilton after her parents arrived here as refugees from Vietnam. They ran a very popular and successful bakery for many years and have been a major help in their venture. Her grandmother also had a big influence on her interest in food. Anh's Thai husband Pat is a chef and as a combined family they have really added to the food scene in Hamilton.
One of the things I love about Vietnamese food is its reliance on fresh herbs. The food is light and healthy, and everything is tasty. Bahn Mi Caphe certainly delivers.  It is open for lunch and dinner Tuesday to Saturday, and it pays to book.
I can't wait to go again.