Are they worth it? It's a million dollar question, if you'll excuse the pun.
Chardonnay is the third most planted grape in New Zealand, a position it holds onto by the skin of its early ripening vinous teeth. The ever popular Pinot Gris is nudging Chardonnay's dominance in third position but it can never make the big, buttery, creamy styles that Chardonnay lovers desire.
These flavours and more are all present and counted in Tony Bish's new Zen Chardonnay and in the new full bodied Le Beaux Cailloux (French for the beautiful stones) from Craggy Range. Both are from Hawke's Bay's 2017 vintage and both cost $139.99 per bottle.
Tony Bish says his 2017 Zen Chardonnay is a world first.
Hand picked grapes grown on the Skeetfield Vineyard were fermented in an ovum, hence, the world first claim. And if you haven't heard of an ovum before (I hadn't), it's a large egg shaped French oak barrel made by Taransaud in Cognac near Bordeaux. Bish bought it to ferment Chardonnay in because its oval shape provides conditions for a different spectrum of flavours to develop while the wine ferments. I'm no expert on the physics of fermentation but Zen is pretty impressive and tastes more like a dry white burgundy than a fruit forward New Zealand Chardonnay. Not that one is necessarily always better than the other just because of its origins. Zen holds its own for several days after being open too. The name came from how it made him feel, living with the ovum in his cellar for a year.
Reaching for the stars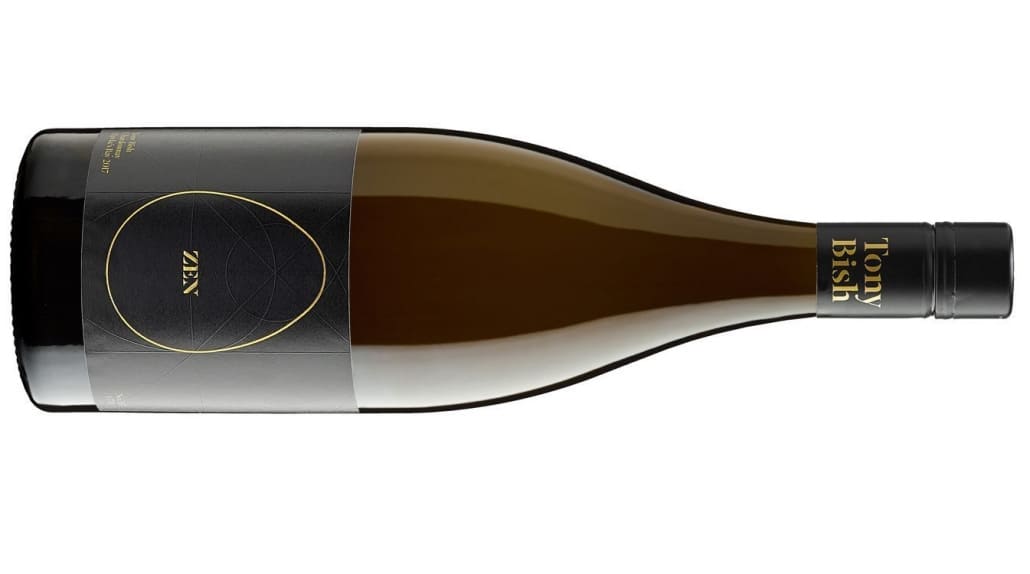 2017 Zen Chardonnay $139.99
Hand harvested, whole bunch pressed Mendoza Chardonnay grapes from the Skeetfield Vineyard were fermented with indigenous yeasts from the vineyard for two to three weeks. No cold settling took place and there were no settling agents or any additions made to the wine. The wild vineyard yeasts played a critical part in the development of the wine, says Tony, because they add their own nuances to the complexity of the wine.
Natural malolactic fermentation took place and the wine matured for 12 months in the ovum, in a temperature-controlled barrel room. It was then racked several times and bottled without fining or filtration.
The grapes grown on the Skeetfield Vineyard are dry farmed, which means they never receive any irrigation. This encourages their roots to reach deep into the water table below the ground.
This wine is smooth and creamy, dry and nutty in style with zingy acidity providing a lingering finish to each sip. www.tonybishwines
Treat of the week
2018 Sons of Eden Cirrus Riesling,  $52.99
Dry Riesling grown at 520 metres altitude in the Eden Valley; the cool climate that borders the better known Barossa, in South Australia.
This is the third vintage of this wine made by Corey Ryan, co-owner of the new-ish Sons of Eden wine brand. He produces a modest 1200 bottles each year. The wine is fermented with wild yeasts without lees contact  to make a pure expression of the Riesling grape.
This wine tastes clean, fresh, medium bodied and citrusy. It's drinking well now and has a very long life ahead; up to 20 years, in a good cellar, thanks to the wine's zesty acidity, which will preserve it over time, and to the screwcap closure.  www.artisansofbarossa.com/Wines/Sons-of-Eden
Bargain buy
2018 Mount Edward Pinot Blanc $26.99
Pinot Blanc might be the lesser known cousin to the hugely popular Pinot Gris, but I prefer it by far, thanks to fresh dry whites like this one. This is nearly full bodied with zingy vibrant acidity adding a super long finish to a dry, classy white. It costs a little bit more than most bargain buys but once tasted, it's easy to see why it cruises into my bargain buy – drink less, savour the moment, push the boat out. Try it. www.mountedward.co.nz