The perception of organic fruit and vegetables is often of misshapen produce that doesn't look very appetising, and it is fair comment, however the reality is many of those perfect looking fruits and vegetables have a beautiful appearance because producers use synthetic products to treat various bugs and diseases.
If you grow your own produce at home then chances are they won't look as perfect as the goods piled high on the supermarket or general food store shelves because chances are you don't use too many synthetics in your garden at home.
You might use a bug spray and you probably add fertilisers and that is about it, organic producers forego any manufactured synthetic sprays and fertilisers and use products that occur naturally in the environment, so their products may not look perfect, but they are certainly healthy and possibly even taste better.
When applied to farm animals is based on a philosophy of high levels of animal welfare where animals are fed a diet that is as natural as possible resulting in animals that have had a happy life and, I think, taste better.
If we don't use synthetic fertilisers and spays then it must also be better for the environment, I think at the very least every producer should aim for sustainable production where certain synthetic products can't be used, this is an important focus in the wine industry.
New Zealand's first ever National Organic Week (9th to 15th April – www.organicweek.co.nz ) is a week-long campaign, with events and promotions taking place all over the nation and, as Nelson is home to several commercial organic growers, I had a chat with some of them at the Farmers Market by the Trafalgar Centre where sell their wares each Wednesday.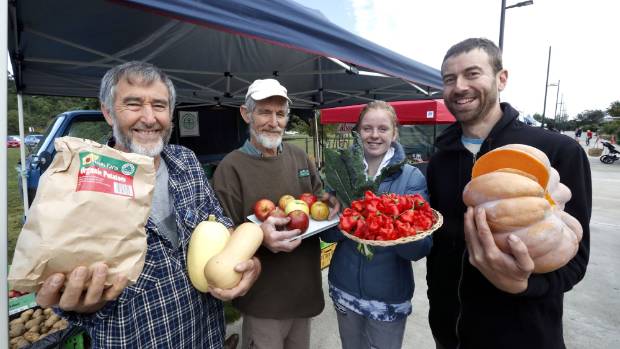 The first certified organic producer I had a chat with was Seager Mason, you may know him from the ORGANIC Green Grocer Store on the corner of Tasman and Grove Streets; after setting it up in
1993 and running it for about 23 years Seager and his wife Sue sold the store two years ago to the Nelson Organic Co-op.
As I talked with Seager I found his story so interesting I decided to write a column about him and his journey in the next few weeks so watch this space.
For this column I wanted to find out about the changes he has seen in the last 30 years and he told me the biggest one was in people's attitude to organic produce, "people couldn't understand why fruit and vegetables that sometimes looked a bit scruffy compared to other options on the supermarket shelves would cost more, but that way of thinking has changed as people have realised organic produce is better for everyone and that there is a real taste difference.
"I challenge anyone who doesn't believe there is a difference to come and see me and I will show them, a great example is an organic orange versus a non-organic orange, the flavour difference is amazing.
"What is particularly heartening for people like me is that organics are now attached to a high-quality taste and flavour image as well as being synthetic free, things like organic eggs just taste better.
"Organic production is a huge market now, about $90 billion globally, and little old Nelson Farmers Market has four organic produce stands and one non-organic, I think this shows acceptance and when there is acceptance and discussions around fresh produce and other products take place organics is now included as mainstream rather than something new."
Dominic Ferretti and his wife, Jeanette, are part of the Ferretti family that has very strong organic credentials and he sets up his stall at the Farmers Market each week; Ferretti Growers has an OFNZ (Organic Farm NZ) certified organic garden near Brightwater while his cousin Brent Ferretti and partner Kevin are also organic vegetable producers. Brent's sister Megan Ferretti owns Brightwater Sprouts, and with the help of sisters Lee and Kerry they produce organic sprouts and micro-greens.
Brent's garden is in Paton Road, Hope. His father, Amos, used to farm there too and Brent has been growing there for about 30 years and going to the Nelson Market every Saturday for about the same.
Dominic's father, Fred, was also a grower in the Hutt Valley as was his grandfather Frank Ferretti who immigrated from Italy making the Ferretti family a real market gardening dynasty.
Dominic has been in Nelson for four years and was previously a certified organic market gardener in the Coromandel Peninsula, he sells his produce mainly at the Wednesday and Saturday markets but also sells to Fresh2U, a local vegetable box scheme as well as to a few cafes and restaurants.
I asked him about the differences he has found between the Coromandel and Nelson "we are lucky in Nelson to have a really good group of people who understand the benefits of organic production and support us but of course we would love to have more people switch to organics!"
"Organics are better for you, have better flavour, have better nutritional properties, are better for the farm, the environment, the rivers – just better overall for everyone!"
As well as other organic produce growers and supplier at the Nelson Farmers Market Kate Howard has a stand selling her Organic Kombucha and because Kombucha is growing hugely in popularity that is another product that deserves a column of its own, so just like with Seager Mason watch this space.
And the final word goes to Dominic Ferretti, "The organic mantra is organic soil, healthy soil, healthy food, healthy people; just come and see us at the markets and find out how good organic produce is."