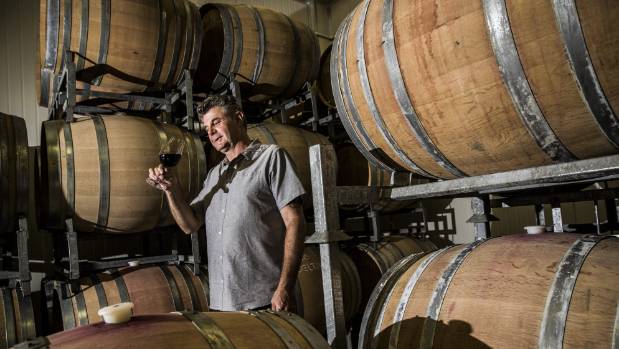 Shayne Cox, the winemaker at Kaimira Estate in Brightwater, is one of those laconic guys who appears to cruise through life but behind that laid back exterior is a hard-working, very talented and focused winemaker who is passionate about making great wines in Nelson, a region he has come to love after making wine in many parts of the world.
His 30 years of winemaking experience helps him roll with the challenges that every vintage throws at him and maybe that is why he is such a calm character, nothing surprises him and he just does what he needs to do to make great wine from whatever Mother Nature, and the viticulturists of course, deliver to the winery from the vineyards each year.
When I caught up with Shayne a couple of weeks ago the bird netting was going on row after row of grapes that are ripening ready for harvest in March, April and possibly into May, so for Shayne this is a bit of calm before the storm of sleepless nights and managing various fermentations in the winery.
It is a time of preparation, making sure all of the winemaking equipment is fully operational and clean to avoid any last minute hitches, he says "there is nothing a winemaker hates more than a key piece of equipment breaking down during vintage."
Shayne says vintage is looking to be about two weeks early in the region, "we are expecting to start in about the first week of March, normally it would the third week."
Pre-Christmas and early January the weather was so hot and dry maturity really bounded on, then with the summer rain we saw a lot of vine growth, if the weather settles it could be a stormer but it is too early to tell now."
That was what he thought when I spoke to him before Gita unleashed wind and rain on the region, and it was a storm that dumped a lot of unneeded rain; while the obvious damage hasn't been huge the water sucked up by almost-ripe grapes has the potential to cause a few issues as harvest gets underway in the next week or so.
Shayne started dealing with the vaugaries of the weather at vintage time in 1991 when he was a viticulturist for Lincoln Vineyards in west Auckland, and yes, he is a true westie having grown up in the region.
After Lincoln Vineyards where they made some very good port-style wines he transitioned to working as a cellar hand at Villa Maria for about three years, "with such a large company you just get exposed to so many winemaking strategies and techniques, they make some of the cheapest wines and some of the most expensive premium produced in New Zealand, they have vineyards all around the country and they grow a huge range of grape varieties."
In 1997 he went to Chile where he had the wonderful experience of working in the shadows of the Andes, "it was almost the beginning of unlearning all the new world winemaking techniques I had been exposed to, they have very ripe fruit and aren't so focused on no oxygen in the winemaking process."
This was the start of his seven years working as a flying winemaker, working vintages in different parts of the world alternating with vintages in New Zealand.
This included six vintages in France and a vintage in Italy as well as Chile, "It was a wonderful experience and being able to alternate with New Zealand vintages meant I learned all sorts of winemaking techniques I could bring back with me."
Shayne worked at the Church Road winery in Hawke's Bay in 1998 before establishing his own wine label and contract winemaking facility in Auckland, Corazon Wines.
"There were a surprising number of small vineyards in West Auckland in those days and I ended up making wine for about 12 small wineries, it was almost half the wines for small west Auckland wine labels.
"Most of them don't exist anymore, the land became too valuable as Auckland expanded and many have now planted houses instead of grapes."
Shayne ended up in Nelson in 2015, "I have known Pat Stowe for about 20 years and came down to help him with his contract winemaking business and then ended up at Kaimira with vintage number four in Nelson now underway."
I asked him why he chose to come to Nelson, "there are some very good winemakers in the region, I don't think the public realise just how good they are, they are making some outstanding wines and like most winemakers you like to be around great people making great wines.
"Another reason was for the wine styles, the wines are very textural here, aromatic wines have a bit more complexity going on, there is more intrigue in the wines than in other areas.
"I also like the fact wineries are still family owned, you have to have some big players in town because the little brands wouldn't survive without the big guys opening the market, families like Seifried's are really supportive and important to the industry."
He was drawn to the job of winemaker at Kaimira Estate for a number of reasons, "The diversity of varieties planted (12) which means I get to make small quantities of high quality wines, it makes life interesting.
"There is also a lot of innovation within the Kaimira business, it is carbon zero, an organic winery that is now using vegetarian and vegan friendly fining agents, there is a lot of good intent in the company and they have green credentials to burn.
"It is a very modern facility with a waste water treatment system big enough to handle a small town.
"The owners Ian and June also leave me to make the wines, Kaimira has a style and certain wines like the lower alcohol Iti that are important but otherwise I have been given free run to make the best wines I can, I want to make a wine people will enjoy, remember and come back for a second glass."
One of the wines that has Shayne's mark firmly imprinted is the Brightside Blush, it is a blend of 90% riesling and 10% merlot, the riesling brings freshness to the rose style wine while merlot delivers some colour and tannins.
"The merlot was made as a proper wine, not just fruit blended into riesling and it has crisp red apple characters with red wine tannins, it is something a bit different that has been really popular.
"Around the world the blending of varieties is quite common, multiple varieties go into many famous wines but in New Zealand we tend to make single varietal wines and I enjoy playing with stuff like this."
I am sure Shayne's extensive experience will help guide the creation of some outstanding wines for Kaimira Estate in what has turned out to be a challenging vintage, but as he says, "we are farming and we need to be able to deal, as best we can, with whatever weather conditions occur each year."