For two Nelson sisters cooking at home with their mother as they grew up sowed the seeds for a love of food and then when they spent time in south east Asia their discovery of simple but fresh and flavoursome food set their direction in life.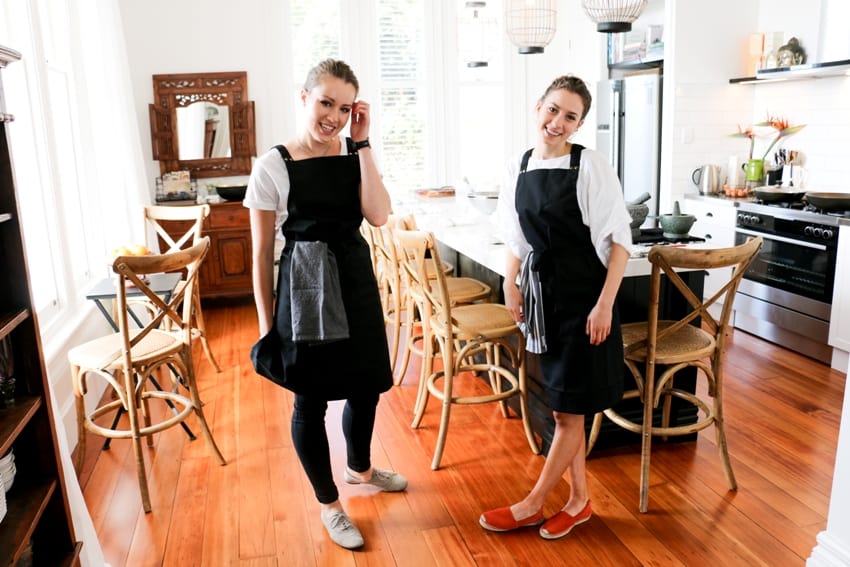 Sisters Chelsea and Elora Chang are two highly motivated young women who own Madame Lu's, a cooking school and catering business on Wakefield Quay.
Chelsea completed a degree in Hospitality Management at Weltec in Wellington and Elora was studying for a degree in Communications before she took a year off and "we both needed something to do" says Chelsea "and we thought we would try a business that let us share our love of fresh, clean south east Asian food flavours."
That was two years ago and, while the business is still developing, Elora has gone back to studying full-time, adding a science degree majoring in nutrition while also completing her communications degree at Dunedin University.
"It actually works really well at this stage, Elora is home to help with the business over the busy summer period and now she is back at University I can manage the business myself during the winter when there is less demand for cooking classes but when we do more catering.
"It all started because I am a fan of Thai cuisine and while we have plenty of options in Nelson for either buying takeaways or dining out I wondered if there would be enough interest for learning how to cook this style of food and showing people why making it yourself is better than purchasing it.
Chelsea told me "it is so satisfying cooking your own food and it really is quite simple once you have got the know how.
"We are also incredibly lucky in Nelson because we can buy or grow almost everything right here that we need to make delicious curries and other dishes, the markets are wonderful places to shop for fresh produce and we can talk to producers so we know exactly what is in the food we make.
"We traveled a lot through Thailand and Vietnam and loved the food, it is healthy, fresh, light, full of vegetables, highly aromatic and just tastes really good.
"I also found eating fresh food without highly processed ingredients helped my health a lot, I had suffered from eczema since I was a child and topical treatments weren't very effective but I found when I traveled and ate the fresh foods without highly processed ingredients the eczema was better so I decided to adopt a simple, wholefood approach to the food I was eating.
"It has been almost three years since I changed my diet, the eczema hasn't resurfaced and the positive impact it has had on my life really is inexplicable."
"When we set up the kitchen we made sure it was to the right food standards even though the cooking school was considered to be a home business and we didn't need to meet the same standards as say a restaurant.
We wanted to do it properly whether we were required to or not and that made it easier when we started to do the catering because we already had a commercial standard kitchen.".
Because setting up a cooking school for casual classes is quite unusual I wanted to know how they got started; "basically we set up a Facebook page and just chucked ourselves out there, we filled our first class within a month and started adding more classes, we now average about two classes a week and have functions like Hens parties as well as the catering.
"It is a bit of a mix each week."
The sisters didn't have Hens parties in mind when they started the school but they had an enquiry about one so designed a private event menu they could help make, "we decorated the place and provided all the food and non-alcoholic drinks (they don't have a licence) and word-of-mouth has made them quite popular."
The main focus has become classes and hens parties, along with lots of corporate Christmas parties over the summer when Elora is here, they design the three course menu to suit the people attending, including barbecue foods, "it isn't all sitting around a workbench in the kitchen, we like our clients to have fun too and that helps us keep the business creativity fresh."
Each class has about 12 people and they aren't overly structured like many cooking courses, "ours are more leisurely and we work with what people want to do and what they are interested in, they run for about three hours but obviously we have a theme and different dishes we want to show people."
"Everyone sits around the central kitchen bench with a chopping board and knife and we just get them doing stuff, we like people to interact with us, so we get them to make everything from scratch, we don't use pre-made sauces, instead we make our own spice mixes, curry pastes, chutneys and other condiments.
"It's all about buying fresh ingredients and making wonderful tasty food."
Elora uses her communications skills to look after their website and take care of all the design work, keeping it in-house keeps it as cheap as they can for the business.
They also give people a recipe booklet that they can make notes in as they work through how to make a dish and again, this is designed by them.
Chelsea told me the biggest challenge is remaining creative in terms of recipe development, "it can be a bit difficult at times, when we are busy running the business and everything it encompasses, we sometimes find it tricky to get into the creative frame of mind.
"But Elora and I know each other inside out and we will sense when one of us is struggling with finding our creative bones, we will take some time out and have a bit of a brain storm."
Another string to their business bow is collaborating with other Nelson businesses to showcase the foods of the region, they create social media content, imagery, recipes for blogs and websites.
"We have worked with Tohu Wines, creating dishes to match with their wines and we went to Taste of Auckland with the national distributors of Broil King barbecues who are based in Nelson.
"We don't really have one main revenue stream but instead do lots of related things, we allow ourselves to pivot and move when we see new opportunities and that flexibility allows the direction of the business to stay fun and interesting."
By the time Elora has finished her studies these young women will have a lot more experience and understand what works and what doesn't, allowing them to really focus on the long-term future of the business, and I think that road will lead them to owning a very successful business.