Last week I wrote about Skipper's Choice Sauces and Dressings, this week it's about another member of the Jones family, Paul Jones and his wife Julie own Nelson Food Distributors (NFD) and Marlborough Food Distributors/Fresh Direct Wholesale 2009 Ltd.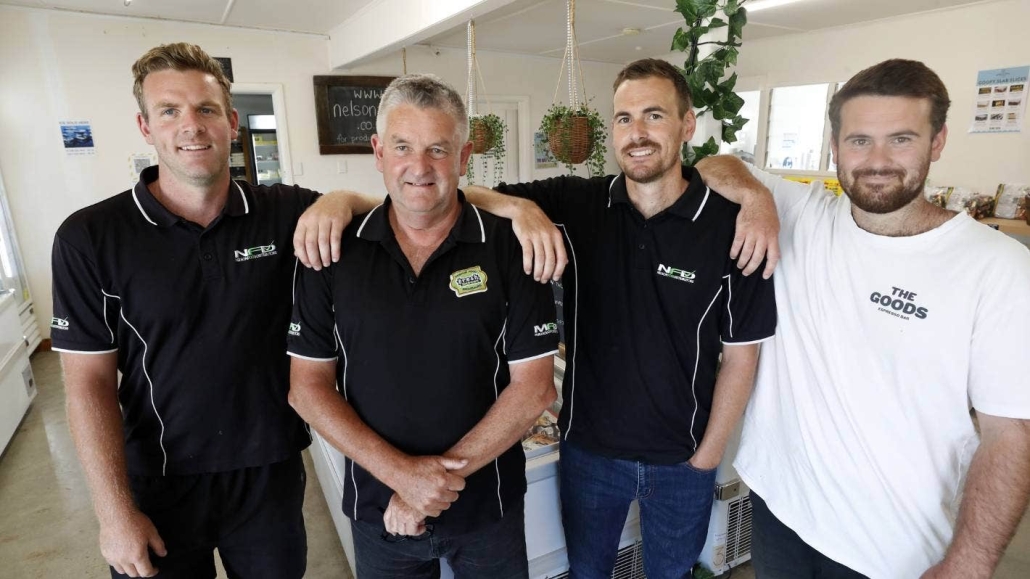 Jared Jones, left, Paul Jones, Hayden Jones and Taylor Jones at the Nelson Food Distributors and Chook Farm in Richmond.Paul is someone I have known for many years and when I tried to catch up with him last week he was in Marlborough working in that branch of the business so I went out to Nelson Foods Distributors base in McShane's Road and explored their retail outlet that has three separate sections, The Chook Farm, The Goods Espresso Bar and One18 Real Fruit Ice Cream shop
I met with Paul and Julie's son Hayden who runs the retail outlet as well as dealing with day-to-day operations of NFD.
I knew NFD supplied products to the hospitality sector and had a retail outlet, but I was surprised at just how comprehensive their product range and service is (about 3000 lines) and was also surprised at how the retail outlet has evolved into a real community hub.
It seems that people had discovered the great value and excellent quality of the products available at the shop, also the fantastic barista made coffee by youngest son, Taylor next door as well as the real fruit ice cream hut that was opened this summer by middle son Jared. The small complex has been developed to be easily accessible to everyone set in a family friendly environment.
Before we get into the range they have let's have a little look at the business; I phoned Paul while he was in Marlborough to find out a bit more about how he and Julie have developed the business over a long period of time.
Paul told me one of the real keys to their success is that they are a family-owned Nelson business so they are able to make quick decisions about products they stock and pricing. Being part of a buying group of similarly family-owned distribution businesses in New Zealand both increases their buying power and opens the opportunity to supply product to national chains.
It all started about 30 years ago "when dad was selling MacDonald Chips to a small handful of customers, I was working at freezing works and wanted a change because my real passion was food.  I approached the MacDonald family and said I could grow their business in Nelson and Marlborough.
"I worked for them for a few years and when they sold I found myself without a job, so I rang Mr Chips and bought the Nelson Blenheim Franchise. That was the beginning of Nelson Food Distributors and Marlborough Food Distributors.
"It was just me and Julie working from our home base in Richmond initially. We covered the Nelson area Monday, Wednesday Friday and Saturday, and delivered to Marlborough Tuesdays and Thursdays, all we sold was fresh chips and peeled potatoes.
"One day I was talking to a chef and he told me he desperately needed some tomatoes and eggs, so I bought some, sold them to him and that was the start of adding products, it was just about identifying a need and filling it."
As the business grew they needed more space so bought a property on McShane's Road to utilise as a base for Nelson Food Distributors, "it came with a family home, lots of sheds and a good size piece of land." It had been an old poultry farm that sold eggs to the public as well as wholesale.
"There were half a dozen chickens running around so I put them in a big cage and collected the eggs. We couldn't keep up with demand so I bought 700 chickens and fenced some paddocks to have free-range eggs. It was still just the two of us, but the kids picked up eggs before and after school and fed the chooks. For many years we sold our free-range eggs at the Nelson Flea Market."
Hayden told me he got tired of working before school, he had friends and sport to play. Paul said it just got too hard to manage with new regulations, a young family and a fast growing wholesale food distribution business, so they gave up the egg production.
When people asked where their depot was Paul and Julie would explain where to find them and they would say 'oh, the old chook farm' so the retail store "sort of named itself" Paul says.
Paul says "everyone in the family has been involved in the food business in one way or another, "I started out as a baker and cook, Hayden worked in Bars and Restaurants in England and at a resort in Egypt, Taylor is a trained barista, and Jared has always worked in various parts of our businesses, now their partners are all contributing in one way or another too.
Taylor set up a coffee shop called The Goods Espresso Bar as part of the complex and he has a great following. "With the subdivision over the road and plenty of room for trucks and tractors to pull in off the road he has loyal customers from all around the local area. It's become a meeting place, a real community hub for the whole family so it made sense for Jared to set up a Real Fruit Ice Cream and Smoothie business too."
With plenty of open space, tables and lots of shade it's a great place to sit in the fresh air, and you can take your well-behaved dog too.
Make sure you visit The Chook Farm on McShane's Road (close to the Appleby Straight end) to relax over a coffee or to enjoy an ice cream in the summer sun and when you do you will be as surprised as me at the huge range of products that you can buy pre-packaged in bulk, everything from high grade flour, to frozen seafood, dressings, sauces, ice cream, frozen cakes, nuts, cereals and on-and-on the list goes.
You can even pre-order prepared bulk foods like diced onions, peeled potatoes, coleslaw and diced carrots that are processed fresh for you, no preservatives or additives, just fresh vegetables ready to cook with.
Paul says "Once upon a time all we sold was chips and we wanted our family to have something for their future so focused on growing a sound business, the boys are all working in the business and there are lots of opportunities moving forward."