As well as enjoying the products of the many delightful food and beverage businesses in the region Nelsonians need to go on holiday too, I have taken it on myself to venture into the tourist trap that is Queenstown and to explore the majestic Central Otago region hunting out great food, wine, beer and artisan producers for you.
Next time you are thinking about a holiday destination that has a lot to offer those looking to enjoy great food and beautiful wines then you need to put Central Otago on your short list. Central Otago is a wonderfully diverse region and has many things to offer other than the usual tourist adventure attractions that provide a high-quality adventure experience.
However, as you would expect from me, our focus this trip was less about adventure tourism and more about food and beverage tourism so, as well as visiting some old favourites, we hunted out a few hidden treasures too.
When we travel we like to stay in the same place and go on day trips and we also like to stay in apartments so we can enjoy some great food during the day and then just cook something light using local foods in the evening. We also like to travel in the shoulder season when it's less busy and you can get some great deals on accommodation.
In Central Otago we prefer to stay in Queenstown in an apartment with a view so when we are relaxing we can get lost in the ever-changing views of Lake Wakatipu, this time we stayed at Highview Apartments and had a room with an uninterrupted view of the lake.
From Queenstown it's about a 30 minute drive to Arrowtown and Lake Hayes where a number of wineries have tasting rooms and restaurants; it's about an hour to Cromwell where you will find the beautiful Bannockburn wine producing sub-region and it's also about an hour to Wanaka and another beautiful lake and shopping centre.
Queenstown has some fantastic restaurants, all you need to do is wander through the centre of town and choose the style of food you feel like. With places like Madam Woo where you can get light, fresh Malaysian-style street food, White & Wong for exceptional Asian fusion food in a large venue that has casual seating, more formal seating and a great bar selection.
On this visit we had booked in for lunch at Amisfield, near Lake Hayes, and we made our reservation in August to make sure we could dine at a reasonable hour because last time the only lunchtime table we could get was at 3pm! This is a place you need to book in advance.
Amisfield specialise in shared plates of perfectly prepared, innovative food and recently decided to remove choices for diners. Rather than being able to choose from a number of courses to share or to just 'trust the chef' they now only offer either a three or five course set menu that changes daily depending on produce the kitchen can source on the day. Of course, they take into account dietary requirements, but I love this way of dining, you can just sit back and enjoy the very best food the chefs create, with matching wines of course.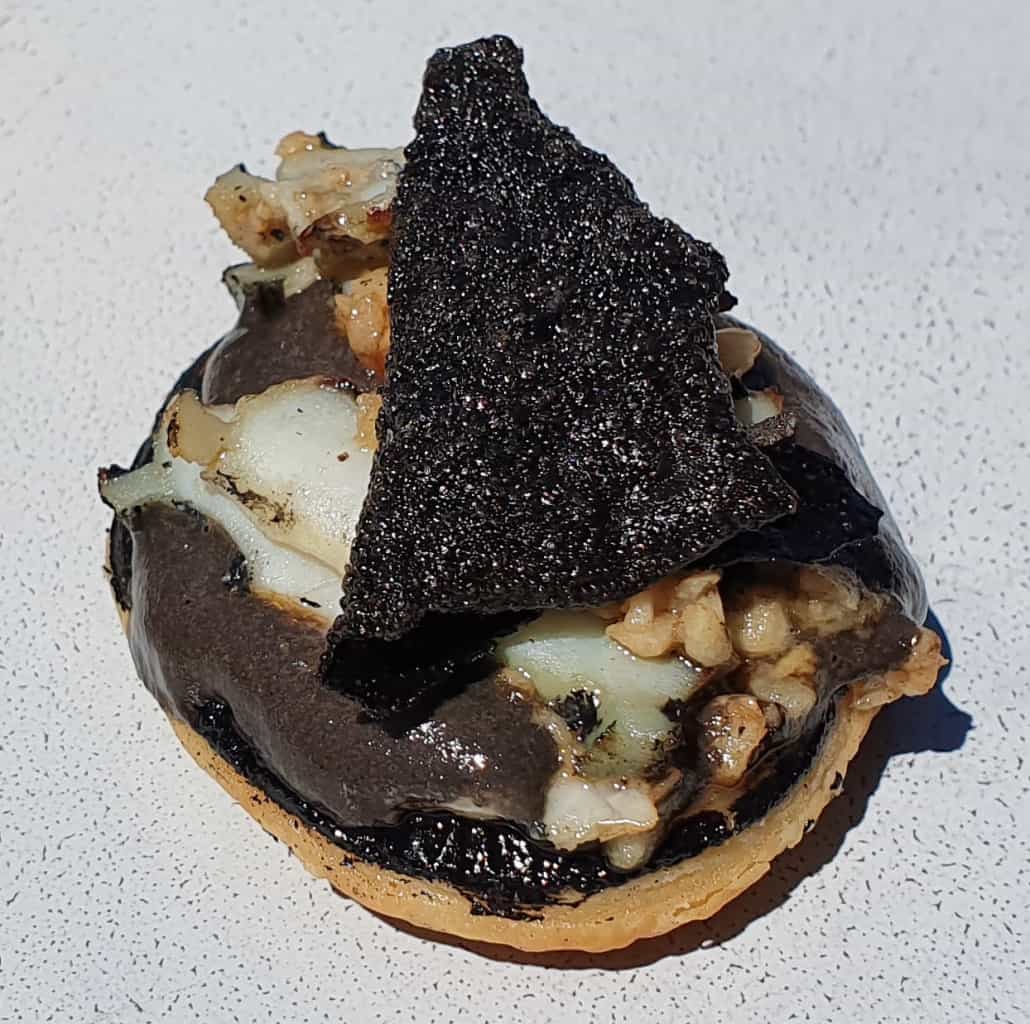 On the day we visited we enjoyed dishes like a white truffle pancake made with a house made Neufchatel cheese rolled in honey and ver-jus as well as Green and White Asparagus sous-vide in oyster plant oil. The next course was a Paua Pie made using sustainably farmed paua from Raukaka. With a brisee pastry base, manuka smoked potato puree and then paua 3 ways; firstly paua sautéed in garlic, a paua espuma and a paua crisp this was one of the best paua dishes I have had anywhere.
As if that wasn't enough there was also a fish course, a duck course of Canter Valley Duck Brest, accompanied by two types of Purple Kumara; a puree and a crisp and finished with an Amisfield brut and kawakawa sauce.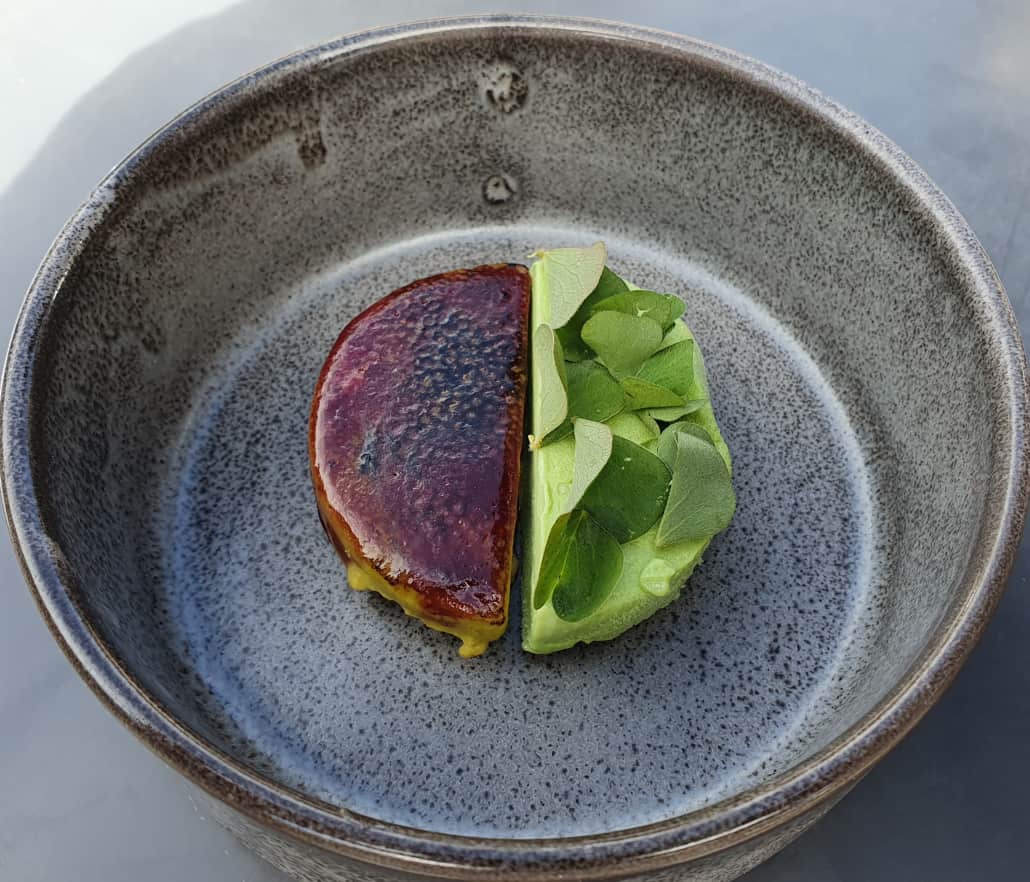 We finished with a dessert of Wild Sorrel Crème Brulee topped with Purple Kumara extraction (sugar from the kumara) Wild Sorrel Ice Cream and garnished with wild wood sorrel. It's a tough job this writing about food and beverage but we put ourselves through this outstanding three hour luncheon just for you.
I made an appointment to meet the marketing team and winemaker at Mt Difficulty Wines and we tasted through the wide range of wines they make before enjoying lunch looking over the beautifully majestic landscape. This is a winery that makes beautiful wines and a restaurant that serves consistently delicious food.
Then we discovered two new vineyard restaurants, the first just along the road from Amisfield, is Akarua. With a winery based at Bannockburn this venue is much closer to Queenstown and much more accessible, the hop on – hop off bus service stops at the front gate. The food here is so good we decided to go there again before we leave. Once again you will need to book a table as they only take bookings for indoors, you can sit outside if the weather is fine and that's where most groups sit.
My final recommendation for this column is Desert Heart Wines on Felton Road in Bannockburn. The wines are fantastic and aged to perfection. The current release pinot noirs are from 2012 and 2015 with the most expensive being the 2012 Reserve Pinot Noir for $55, if you know anything about Central Otago pinot you will know this is great value.
When it comes to the food they serve snacks and a platter, the platter is arguably the best food of this style we have had. Don't expect slices of meats and cheese with some pickles. You will get things like homemade duck liver pate made using their premium pinot noir, edamame bean spread, perfectly cooked lamb loin rounds served with a garlic yoghurt sauce and lots of other delicious morsels.
To find full reviews of these wineries and restaurants check out www.toptastes.co.nz/new-zealand/otago/ where I will be posting more about our visit to the region over the next weeks.
Footnote
One thing you will need to have when travelling around the Central Otago region is patience, with a huge number of tourists who are unfamiliar with our roads driving everything from small compact cars to large campervans it can be frustrating for local drivers and New Zealand tourists. I'm usually a very tolerant driver but we did have one experience that just made us laugh out loud; while driving through the CBD in Queenstown an Asian driver in a right turn lane decided to just go straight ahead and cut us off. When I hit the horn I also hit the voice recognition button on the steering wheel, after expressing a few choice words at the driver who couldn't hear me a very calm voice said "I'm sorry I didn't understand that, can please say it again". It was the car voice recognition system reminding me to take a deep breath, relax and just enjoy the drive.