In the wine industry, in almost every situation, the winery owners employ a winemaker to turn their perfectly ripe fruit into delicious wine; Steve Gill is the winemaker for the Te Mania and Richmond Plains labels. 
I have a lot of respect for Steve and his ability as a winemaker so dropped in to see him a couple of weeks ago to talk about how he manages the production of organic wines in the winery and to taste a couple of the gold medal wines they entered in the 2021 Organic Wine Awards.
As well as making organic wines he also makes wines using bio-dynamic winemaking principles, "We used to make Bio-dynamic certified wines, but the certification process is just so expensive we dropped it, however we still embrace the principles of bio-dynamic winemaking.
"We need to manage everything in the winery to ensure the integrity of the organic wines that have been made by Richmond Plains and Te Mania for 30 years."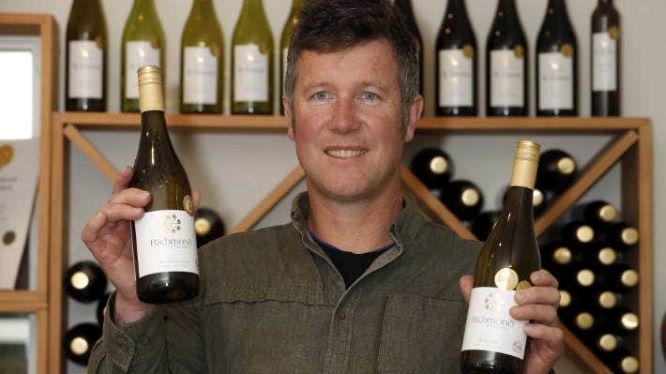 Steve came to Richmond Plains/Te Mania 12 years ago and I have tried lots of the wines he has produced over the years, many of them award winning wines. He grew up in Taranaki where his father used to write a regular wine column for the Taranaki Daily News, his love of wine rubbed off onto Steve at a young age.
After studying for and achieving an honours degree in neuroscience at Otago University he went on to study a post grad degree in winemaking at Lincoln University.
Steve told me his first job out of university was working for Dr Neil McCallum at Dry River Wines in Martinborough. "He liked to get recent graduates who hadn't been influenced by other winemakers and train them in his way of doing things. We didn't know any better, we just did what he told us to do. He was really meticulous in every aspect of making wine and we did some pretty insane stuff, but his incredible attention to detail resulted in some outstanding wines.
"The first wine I made was the Dry River 2001 Pinot Noir that was listed in the '1001 Wines of the World you Must Try Before You Die' book that was published 2008." (page 526, and yes I have a copy on my bookshelf – NH)
"A normal day was waking up at 6am, work in the winery, do some harvesting, process the fruit using really slow press cycles, then after working all day, get up during the night every couple of hours to check the ferments – it was great preparation for having a baby later in life."
After Dry River Steve moved to Nelson with his winemaker wife, Sally, who was the winemaker at Kaimira and he worked at Greenhough's. Sally gave up winemaking when they had their children (Alfred who is 5 and Theo 9). After four years at Greenhough Vineyards he moved to Richmond Plains and Te Mania, as the winemaker.
When we talked about organic wine production he said that when Richmond Plains was established by David Holmes 30 years ago there were only three other organic producers in the country. "There has been a huge shift to organic production in the last ten years, David Holmes was a pioneer of organic wine production in New Zealand and I think the industry has now realised the benefits of organic production. Organic viticulture creates the potential for a winemaker to craft a superior wine, and the best quality wines in every region of NZ are organic.
"The only downside is that certification is expensive and time consuming so many wineries embrace organic principles but aren't certified. For us Organic Certification on the label means people who drink our wines know with certainty they are 100% organic.
"All of the wines we make are also Vegan natural wines and we use absolute minimal sulphur to stabilise the wines.
"What I'm trying to do with all the wines, but especially Sauvignon Blanc, is to build layers of flavour and texture, about 3% of the fruit is wild fermented in oak barrels, while other fruit is fermented in smaller batches with different techniques so we can build lots of different characters to give us blending options for the final wine, we want to make a wine with an x factor rather than just another 100,000 litre single ferment."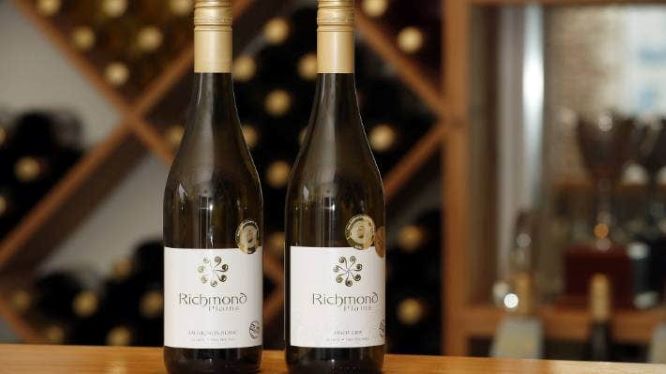 This effort is paying huge dividends, at the recent Organic Wine Awards (the only awards they tend enter these days) Richmond Plains 2020 Sauvignon Blanc (RRP $21.99) and 2019 Pinot Gris ($22.99) both won gold medals. "There were only six gold medals awarded to Sauvignon Blanc and four to Pinot Gris wines so we are rapt to be among those."
Steve says Sauvignon Blanc from Nelson is a star in the region, especially for fruit grown on the Waimea Plains, "We have won international trophies in Australia, Japan and Hong Kong, and Seifried Estate's recent Best in Show Sauvignon Blanc trophies at Minis Vini (Germany) and the Royal Easter in New Zealand shows just how good Nelson Sauvignon Blanc is. And they're incredible value for money."
Sauvignon Blanc in Nelson tends to have riper flavours without harsh acidity, the wines taste riper and more concentrated, for me Nelson Sauvignon Blanc tends to have more layers of flavour and texture, something winemakers in Marlborough are trying hard to build into wines produced there.
In addition to the two gold medals at the Organic Wine Awards they also won Silver medals for the Te Mania Reserve Pinot Noir 2019 ($38.99 ), Te Mania Sauvignon Blanc 2020 ($21.99), Richmond Plains Rose 2020 ($22.99) and Richmond Plains Pinot Gris 2020 ($22.99 ) so you could do a lot worse than trying these wines made by the very talented winemaker, Steve Gill.
Published in the Nelson Mail 16.06.2021