Pomeroy's Tea & Coffee Company was Nelson's original boutique coffee roastery, established by Jane and the late Nigel Price in a café in upper Trafalgar St in 1989.
I had been drinking 'proper espresso' coffee at Chez Eelco for some time but when Nigel and Jane opened their café with a coffee roaster in the middle of the store my eyes were opened to a whole new coffee experience, freshly roasted and freshly ground coffee using beans from different parts of the world.
As the Pomeroy's business expanded so did the need for larger coffee roasters and more space so Nigel and Jane sold the café and relocated the roasting and coffee business to the corner of Hardy and Rutherford Streets.
The next phase in the life of Pomeroy's was when Leigh Thompson, who worked for Nigel and Jane, bought the business in partnership with her son Hayden; about a year ago Hayden and his wife Francine bought Leigh's share of the business so I went to chat with him in the cafe at the current roastery, The Coffee Factory, in Wakatu Estate to find out more about the coffee and tea business.
Hayden told me they had been running different parts of the business but working together, Leigh ran the Nelson retail store and he ran the roasting business and café in Wakatu Estate, "we have changed the Nelson store a bit, bringing the two stores together selling the same coffee, tea and associated products – one business with two locations, we don't want to be everything to everyone but if you want to know about anything to do with coffee and tea then we want to be the place to go."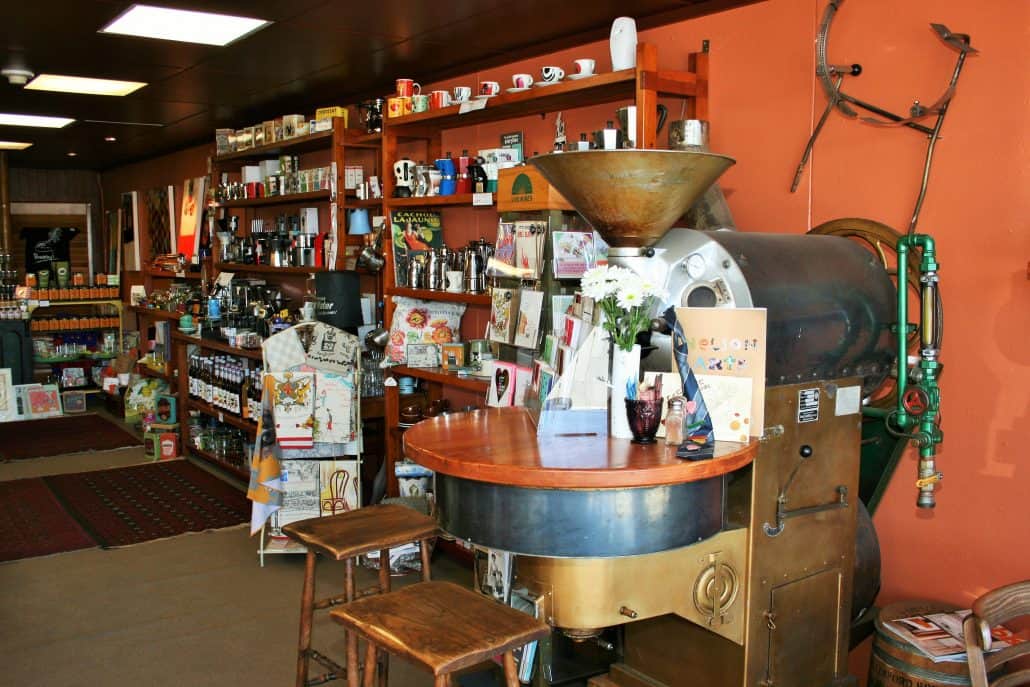 Turning the clock back a bit I asked Hayden how he got involved in coffee "I was selling cars in 1999 when Leigh asked me if I wanted to come into the business with her, my only real reservation was that I didn't know anything about coffee, I didn't even drink it at the time."
His introduction to the wonderful world of coffee was sitting at the counter in the Hardy St store with Nigel drinking shot after shot of coffee, he taught me huge amounts about different coffees and flavours and then he taught me everything, from roasting to grinding, packaging and servicing coffee machines, it was a bit of a whirl wind 6-12 months."
When they took over the business they worked long days roasting small 5kg batches of coffee to supply the large number of outlets that were selling Pomeroy's coffee, "that little hot air roaster was working almost 24/7", today they have a 60 kg drum roaster.
Hayden and I talked a lot about how the industry has changed over the years from when Pomeroy's was one of five or six boutique coffee roasters in the country to now having about ten just in Nelson.
"Back then the café industry was making the transition from tea rooms to proper cafes, espresso coffee machines rather than drip filter Kona Coffee Pots and not many cafes in Nelson were doing real coffee; there was Chez Eelco,  Zippys, Broccoli Row, all quite hip at the time and they all had their own clientele.
"Nationally there were some bigger players like Laffare, Allpress, Garden City Coffee (now Hummingbird) Millers in Auckland, Atomic and a few others, it was all quite amicable, everyone had their own little areas, everyone was having a good time and everyone got on, now it can be quite cut throat."
Like any industry, when something has been created and developed by people with huge passion and drive and has been proven successful bigger players start taking notice, just like in the wine and craft beer industries some coffee roasters have been bought up by international Corporate players.
"That has had a huge impact on how they operate but they have all stayed based in New Zealand, they are roasting here and employing people here but ownership is heading overseas, Coke entered the market so their sales people are now selling coffee with soft drinks and they offer deals to cafes for sole coffee supply rights, just like corporate beer and winery owners do."
"We used to share lots of information to help one another and that does still happen with some roasters but not as much as it used to.
"There are a lot more roasters in the market and I believe that is a good thing, we can't be complacent, we need to stay sharp and I think overall the quality of coffee is better, there is a lot more focus on the origin of beans and we have seen the rise of specialty coffee."
Coffee aficionados like to be able to trace the coffee from the grower to the cup, more roasters are able to buy direct from co-ops and growers rather than importers of raw beans, "we import a large number of teas direct from tea farmers in Sri Lanka but coffee is a bit trickier, with direct trade you need to buy huge volumes to keep the price at a reasonable level.
"I think of the green bean importers as a safety net, they travel to countries all the time, they control and guarantee quality, if I get a container I have bought direct and need to send it back they will laugh at me but if I buy from a credible importer then they deal with any problems."
"We need to remember we are often dealing with third world countries and if you buy direct the raw coffee beans you get aren't always the same as those ordered, we have had instances where a few kilos have been taken out of the sack and replaced by stones so it can be beneficial to have a decent third party to manage that for you."
Pomeroy's have always maintained a focus on quality, "to meet a price point you are restricted by the cost of raw ingredient, we always focus on quality rather than having an inferior product to meet a low cost market, we are putting our name on it so we are really careful about quality, we won't put our name on an inferior product."
Tea is now a large, and rapidly expanding, part of the Pomeroy's business now, "tea used to be a secondary product but more people are drinking quality tea and the consumer wants good tea, floor dust in a tea bag doesn't cut it anymore, I get a little bit frustrated if a cafe is charging $5 for tea made with a couple if tea bags when it is only a few cents for the tea bags and some hot water.
"Consumers are getting smarter now and asking for decent tea, just like they demanded cafes serve decent coffee, not a dried powder in a cup with some hot water and milk."
There is a lot that goes in to making the perfect coffee "when you buy a craft beer you pay $9-12 for it but there is a lot more skill and craft that goes into making a great coffee than opening a bottle and pouring a beer so when people say $4.50 for a flat white is expensive I have to bite my tongue just a little.
"Baristas need to be well trained and have as much love about making a perfect coffee as we do roasting it, it can be a bit frightening for us sometimes when we put a lot of effort into roasting beans and making great blends and then have to hand over the final piece of the perfect coffee puzzle to someone who could stuff it up if they aren't trained properly so we work with Emma Markland-Webster to train baristas too."
I asked Hayden if you are only going to buy one piece of coffee equipment what should it be?
"A good grinder, even if you have a plunger at home you will get a much better coffee if it is made from freshly ground beans, people buy an expensive espresso machine and then buy pre-ground coffee, freshly ground coffee will always be better."