Published in the Nelson Mail 05.12.18
Tucked away in an old industrial building that used to be used as storage for a liquor store in New St is the very cool inner-city Workshop Café Bar Brewery. Owned by Nigel Jerard and Jackie Aislabie it has been a work in progress for a few months but The Workshop, as it has quickly become known, is now a fully functional brewery and café.
When I caught up with Nigel and Jackie a week or so ago we talked about the history of the property and some very old and familiar names popped up, who remembers Tingy's Hardware that had a shop on Bridge St with a paint and hardware store at the back?
Over the years since then a liquor store that occupied the site needed less storage space and the owners of the building set about finding alternative uses for the site.
Nigel and Jackie took over part of the building in November 2017 and spent three months renovating the space and building a brewery before they opened to the public at the beginning of February this year. At that stage the brewery wasn't operational so their beers were being made under contract by a brewery in Christchurch.
They kicked off their own brewery with English style real ales in June this year, The Workshop is now a fully functional café and bar with a brewery tucked in the corner.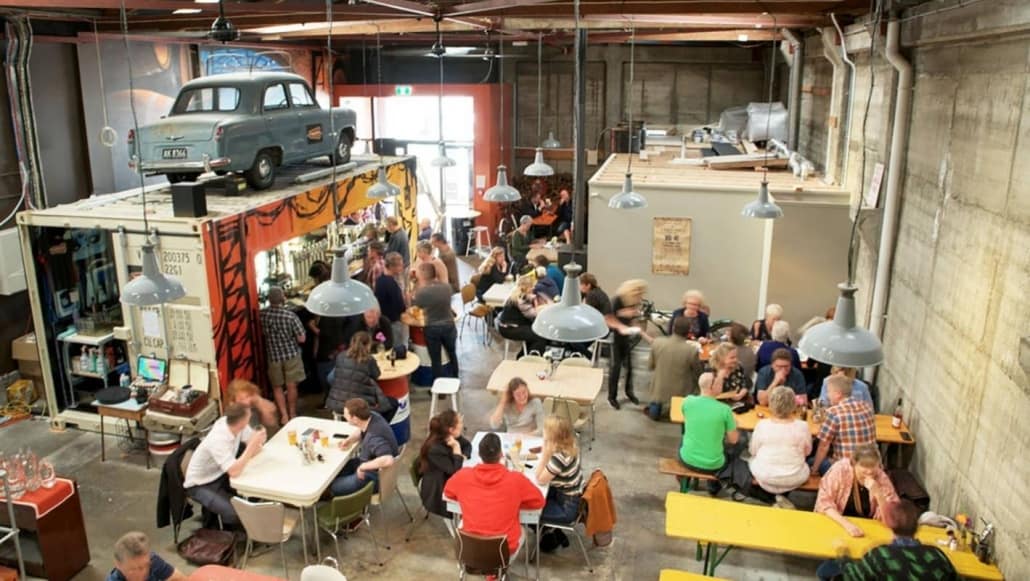 While they serve beers that are carbonated and served cold their brewing focus is on real ales, these are hand-pulled direct from casks they are conditioned in, don't expect a cold fizzy mainstream beer from the majority of The Workshop's offerings.
Nigel brings a lot of brewing experience to the workshop; he set up his first brewery in Christchurch in 1993, the Milkshed Brewing Co was located behind the suburb of Lincoln and was a brewery with an off licence that was at the forefront of the craft beer revolution.
"I was a young lad in my 20's so it was a huge amount of fun as well as being hard work setting up a small brewery in the face of the two big corporate brewers of the day."
He opted for a change of career and picked up an electrical trade as an adult but the call of the hop was just too loud to ignore, so while still working as an electrician, he and Jackie set up The Workshop.
Jackie says "he is a very creative person, he put the whole concept of The Workshop together in his head and built it himself so it has been a work in progress for a few months."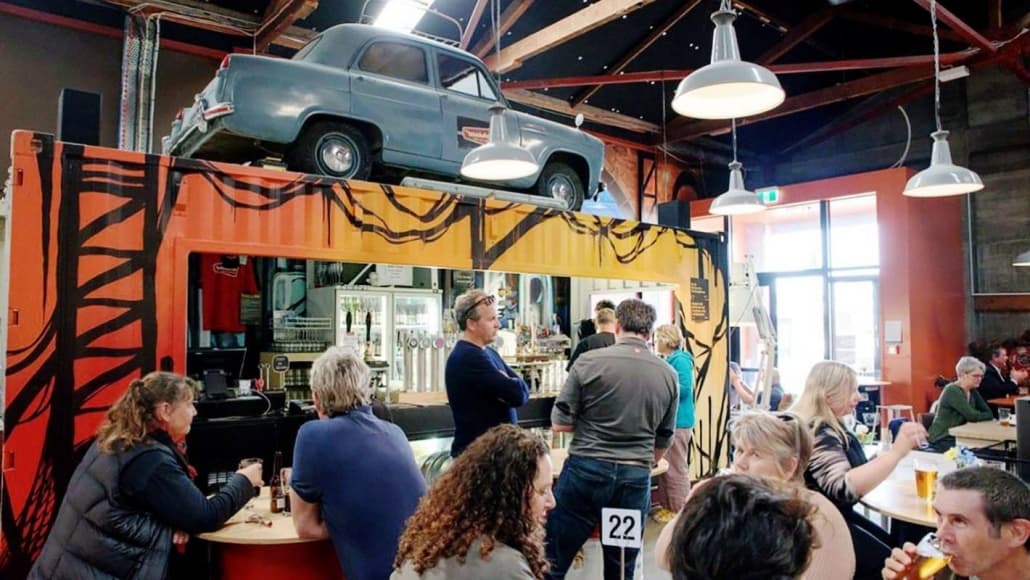 Jackie brings her own set of skills to the business, with a background in sales and marketing for an artisan bakery in Christchurch as well as in admin so has those skills to call on for running The Workshop, "someone has to deal with the paperwork and she also works in the café and pours the odd beer" according to Nigel.
The couple met about 10 years ago in Christchurch but insist they aren't earthquake refugees. Jackie says "we still have a property there,we lost one and established in another area so we still have a strong connection to the region but we have adjusted our lifestyle, Nelson is our hometown now and will be for some time going forward."
When they set up the new premises in New St Nigel and Jackie decided to use a shipping container as the bar and service area which is a little nod to Christchurch but also fits with the industrial feel of the venue.
In contrast, the brewery is packed with modern equipment and stainless steel tanks, but Nigel says while they use modern equipment to ensure consistency across the range of beers they produce, the focus is most definitely on making beer "the way it was made back in the day, using casks to condition them naturally and then served at about 12 degrees rather than ice cold.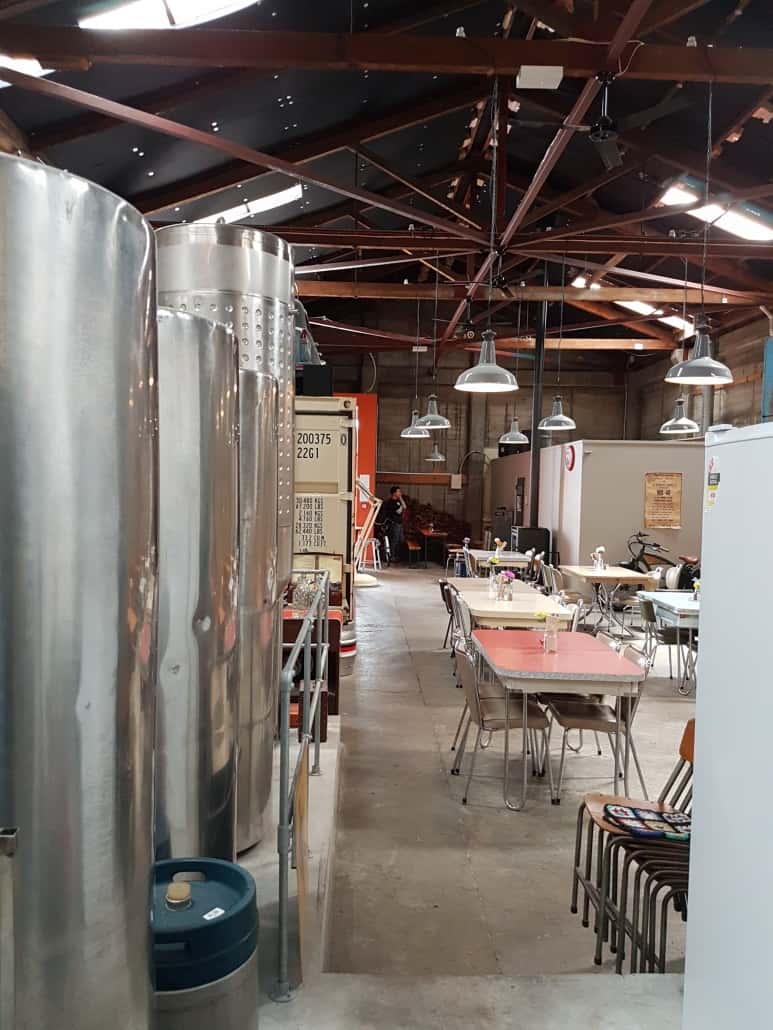 "We adhere to the traditional methods of making and serving them, no artificial carbonation, no filtering, served from a lie-down barrel called a firkin, the beer is conditioned in them and served from them. We don't use gas to force the beer through the lines, it is literally hand-pumped or 'pulled'from the barrel.
"A very experienced brewer works with us, John Golics has been brewing real ales from a very early age and has a wealth of knowledge and experience from his time growing up in England, he has been immersed in real ales all his life."
The plan is "to create a quirky, cool, funky brewery restaurant café that people will enjoy visiting and talk about to other people"and Jackie told me the business has been growing steadily pretty much on word-of-mouth so far, "Nelsonians supported us over the winter and they tell us they like our point-of-difference – brewing our own beer in the city centre in an industrial building, the Workshop is the only venue like this."
Mike McQueen is the head chef and while Marianna Granat runs front of house from the converted shipping container Mike gets to work in a space with a stage on top.
Jackie said "we wanted to have live entertainment without losing too much floor space and the high roof-line meant we could build the stage above the kitchen, we want to foster more live music and we have a nice indoor space for that. We don't have an entry fees for live entertainment at this stage, we just want to get people in the door and to give them a good time."
The Workshop, Café Bar Brewery has an extensive range of craft beers, ciders and wines from other producers too but will only ever have craft beer on site. Nigel told me "Our philosophy is to support the small guys,we are small and we were very small taking on the big guys in the early days in Christchurch so we know how hard it is for small businesses to do well."
The Workshop is open from Wednesday to Sunday serving food and a wide range of Beverage's, check out our website for Menu's and trading hours. www.theworkshopbrewery.co.nz.  They have also recently applied for consent for a wood fired pizza oven so, hopefully, pizzas are on the way soon and I will be lining up to enjoy one with my next hand-pulled real ale.