I'm loving the freedom associated with level 2 restrictions and as long as everyone continues to be sensible, follows the rules around no large gatherings and keeps washing their hands religiously then hopefully level 1 won't be too many weeks away.
While we are waiting to be able to mix with large groups again we had another Friday night takeaway, this time from Arden Bar and Restaurant while Aaron Ballantyne from Hopgood's pinched a recipe from his wife, Satomi, to share with you.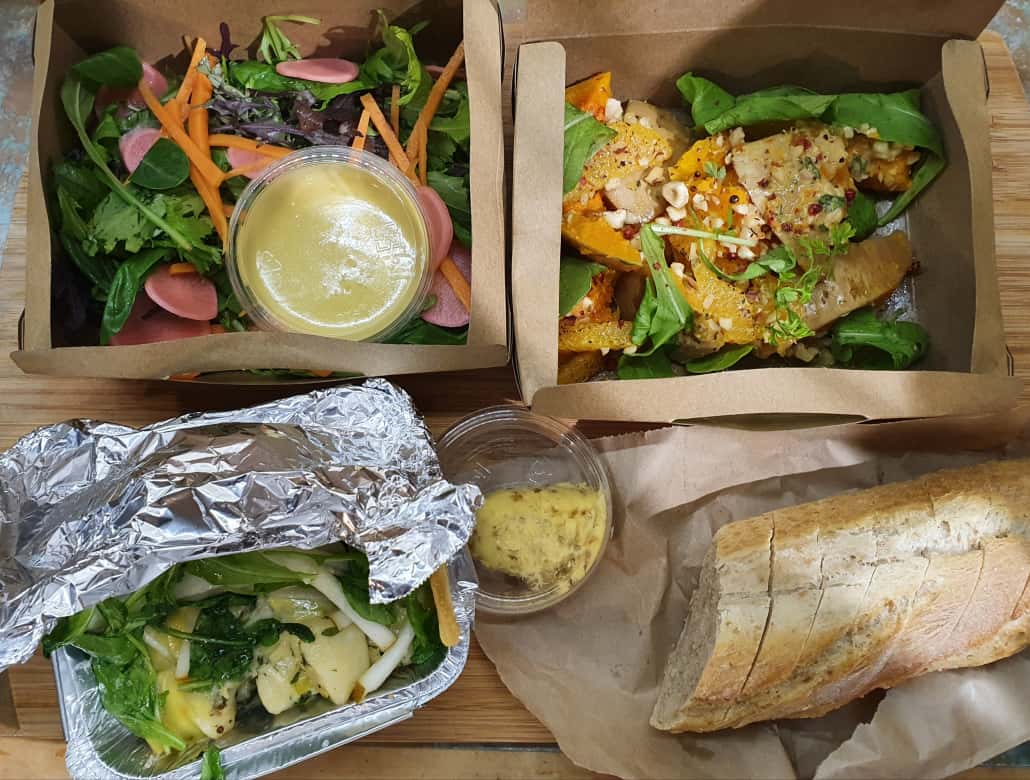 Arden offer three menus each week ranging in price, size and style. We chose their three course 'modern' menu for two at a cost of $60 and as you would expect it was delicious and excellent value for money.
We started with some of their house-made sourdough bread with caramelised shallot butter followed by a main course of Gnocchi with Gruyere cheese and pears, butternut squash roasted with mandarin segments (who would have guessed squash and mandarin would work so well) and a fresh green salad. There was so much food for two people we kept the dessert of Tiramisu to enjoy on Saturday night.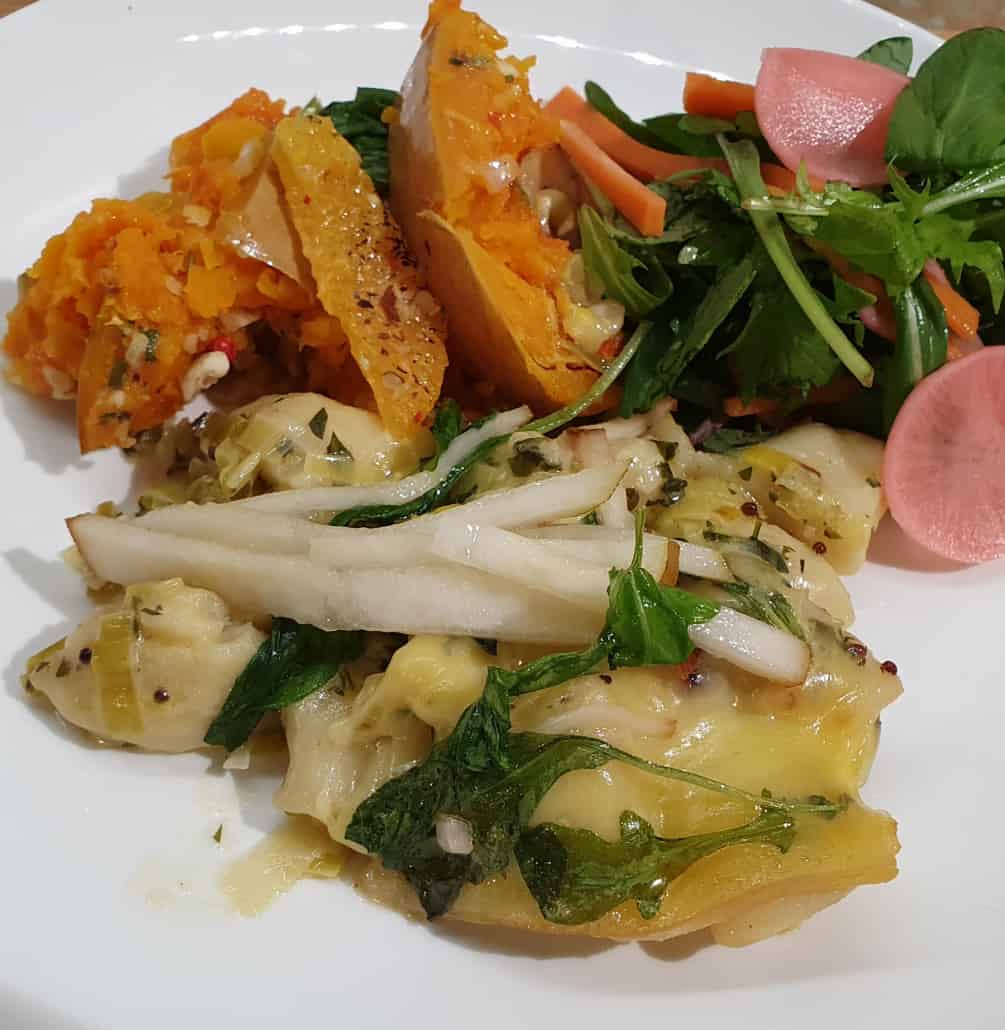 This is another example of local restaurants ensuring they are staying busy while restrictions are in place. When I stopped in to collect our meal I had to sign in as a visitor, every second table wasn't being used and a small group of ten diners were tucked away in the Porta Via space next door so for the first Friday night under level 2 conditions people were being sensible.
Let's hope it continues for the next few weeks so we can get rid of these restrictions totally and learn how to live in a world without international visitors – it will be interesting times indeed.
Aaron sent me a recipe from his wife who used to own a restaurant in Singapore, "This is Satomi's recipe for pork 'Menchi-Katsu' which is a mince cutlet and is very easy to make.
"It's a Japanese style breaded and fried ground meat patty; super cheap to make and a good way to stretch out a small amount of meat. And because it's crumbed, fried and crispy it tastes pretty good too.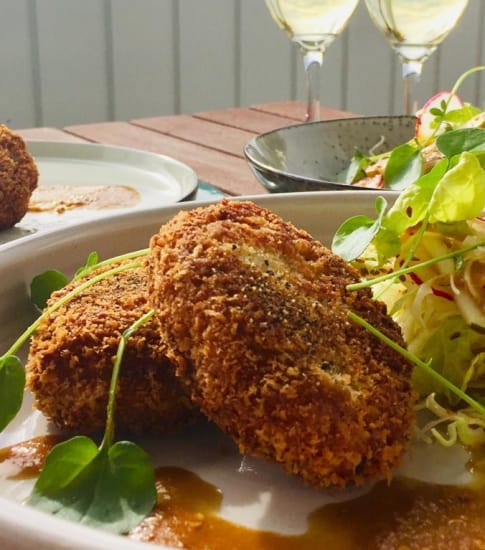 "It's usually made with minced pork, beef or a mixture of the two and we have it quite often with just coleslaw and a potato salad made with lots of Kewpie mayo. It's also awesome in a burger bun with pickles or you can serve it cold in sandwiches or in a Japanese bento box (lunch box)."
Aaron says if people don't want to make the sesame dressing he would suggest serving it with Japanese 'Bulldog sauce', a sweet Worchestshire style bbq sauce that's available in the international section in most supermarkets.
Pork Menchi Katsu, apple, beet & sesame slaw – Serves 4
Ingredients
Cutlets:
500g pork mince (beef or a mixture of the two work well also)
1 onion, finely chopped
2 garlic cloves, minced
1 cm piece ginger, finely grated
½ tsp chilli paste
1 egg
¼ cup panko (Japanese breadcrumbs)
sea salt & pepper
flour for dusting
3 extra eggs, beaten
2 cups panko for coating
canola oil for frying
Salad:
1 apple, finely sliced
1 beetroot, peeled & grated
¼ cabbage, finely sliced
1 spring onion, finely sliced
4 radishes, finely sliced
Method
Put the pork mince, onion, garlic, Chili paste, ginger and egg into a large mixing bowl. Mix well with clean hands, then add the panko (breadcrumbs) and season well with salt and pepper.
With your hands knead the mixture until well combined and sticky.
Divide into 8 round pieces and flatten into 1 cm thick oval-shaped patties.
Coat the pork patties first with the flour, then dip in the beaten egg, and then the extra panko breadcrumbs to coat. Place in the fridge for 30 minutes to set.
Meanwhile combine the apple, beetroot, cabbage, spring onion and radish in a large mixing bowl to make a salad. Dress with a little sesame dressing (recipe follows) and season well. Toss to combine.
Heat the canola oil in a large heavy-based frying pan, then shallow fry the patties for 3-4 minutes each side on each side until golden brown and cooked through.
Drain well on absorbent paper to remove excess grease, season with a little extra salt and pepper, then serve with the beetroot and apple slaw and a little extra sesame dressing drizzled over.
These mince cutlets are also great served with a warm potato or kumara salad made with Japanese mayo and lots of chopped spring onions and chives.
(Neil says – we made these and swapped the onion for finely diced fennel, it was a great flavour twist that was delicious)
SESAME DRESSING
1/4 onion, chopped
1 apple, peeled and chopped
¼ tsp chili paste
30ml cider or rice vinegar
60ml mirin
60ml soy sauce
2 tsp brown sugar
1 tsp honey
½ cm knob of ginger, finely grated
5ml sesame oil
1 tsp wholegrain mustard
1 tbsp. sesame seeds, toasted
Blend all the ingredients, except for the mustard and sesame seeds until smooth.
Once smooth stir in the mustard and toasted sesame seeds.