Arden is a relative newcomer to the wonderful restaurant and café choices we have in Hardy street, established by Lisa Penketh and her partner Logan Ursell in a small space next to Casa del Vino, it opened in August and has very quickly developed a loyal clientele.
It is pretty obvious why customers like this small, enticing cocktail bar that happens to serve excellent food; the owners and staff are totally dedicated to delivering excellence in everything they do. Lisa and Logan bring complimentary skills to running the business, Lisa from front-of-house in restaurants and Logan from cocktail bars and pubs.
Both spent time growing up in Nelson and Motueka before meeting in Wellington where they worked together for the first time at Chow Tory Street. The couple moved to Melbourne in 2005 "of course almost everyone moves to Melbourne as a stepping stone to London, we did get to London, but it took about seven years not the expected two.
We moved straight back to Melbourne once my visa was up, so a lot of what we do now is informed by our experience working in some really amazing places in Melbourne and London – especially for Logan with his time at Milk and Honey. He has always had a weird knack of finding himself in the right place at the right time and has been part of some really incredible teams who were all talented and knowledgeable enough to have an impact to this day."
As well as working in restaurants Lisa took up pottery to satisfy her creative side, which turned into supplying handmade ceramics to restaurants she worked in or knew in Melbourne, so making all the plates, ramekins, and cups for Arden was always the ambition and a strong part of the identity.
There are plans to set up Arden Studio in the future as there's always new forms and finishes to explore as the menu and business develops. She is currently working on some shallow bowls, a subtle hint to Charlie to get some bisque going.
Lisa told me they found the site in October 2017 and it took ten months to turn the building into the inviting, warm space they wanted to achieve. Having worked in different restaurants and bars around the world they had a clear vision of the service style, offering and decor as soon as they walked into the shop and fell in love with the heritage touches and bright secluded courtyard right on Hardy Street.
The shape of the building dictated a few limitations, but given Logan's experience bar tending they were confident in making the bar centre stage with custom built cocktail station and wine racks being the heart of the room.
The kitchen is the modern addition where Chef Charlie Boyle prepares and plates each dish. "There's a firm focus on working lots of robust flavour into each plate while keeping it relaxed in style" says Lisa.
Charlie apprenticed in the UK and has since cooked in, and run kitchens, of diverse styles which he draws from here. "When we sat down to build the menu we were immediately on the same page, the food has to be seasonal.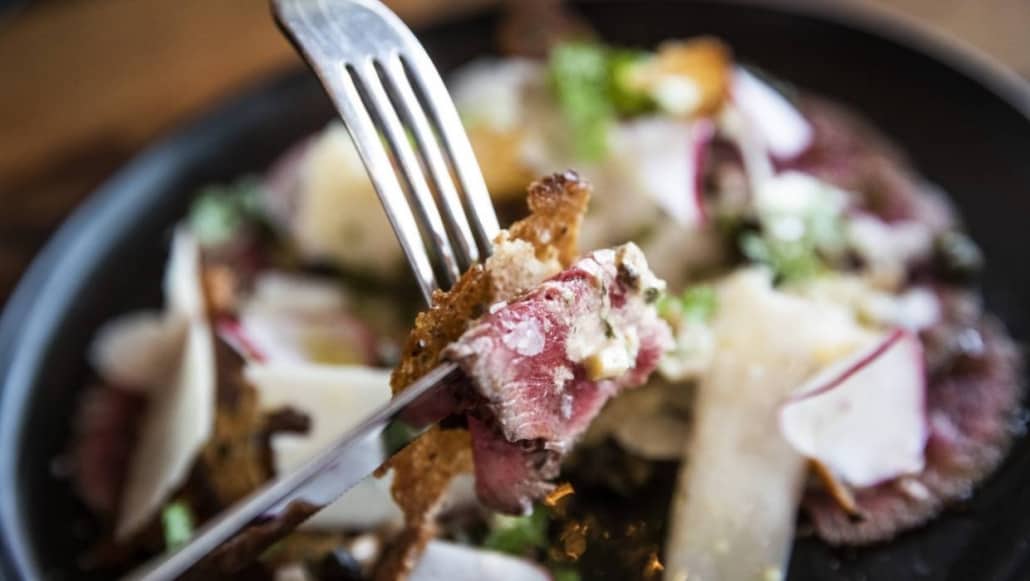 "A changing menu was important and working out how we were going to do this in such a small kitchen space led us to structuring it around small plates to share. It's such a great way to dine, so works out perfectly with our style of service and drinks offering too".
Lisa told me they make their own sourdough because "it's super important to have really excellent bread, I set up the sourdough starter when we moved back to Nelson, so when we opened it was already a year old: consistent, chewy and great flavour. We have a great little oven and get a beautiful rise on the loaves so as long as we keep it alive we will be baking with the same starter for many years to come."
The sourdough uses natural yeasts, "a bit like a wild ferment in wine, which is a nice connection I think to lots of the wines we find interesting and like to list".
Natural and Orange wines are very well supported in Melbourne, and "finding winemakers right here in Nelson doing this stuff encouraged us to pour them by the glass even though it didn't seem the norm.
The response so far has been so fantastic, people have been really adventurous, we usually pour a little taste of anything that is quite far from the usual, and more often than not people get into the glass."
"We love wines that have had some skin contact and use no or minimal preservatives, but we don't have any hard and fast rules about what we put on the wine list. We want to keep it short and change it often, it's been really fun finding all of these great wines: delicious, thoughtful, varied and interesting is the rough brief!"
Current local wines on the list are a pet nat, sparkling unfiltered Sauvignon Blanc and an Orange Blend by Tincan. "Both are cloudy, punchy, lively and finish dry, they have this amazing way of pulling you back into the glass, there's this life and a herbal edge that is super more-ish."
They are also pouring the Mammoth 'Spectacular Rustgill' which is skin contact Pinot Gris, again from the Moutere, "quite different in style, but definitely orange it is textural, rich and elegant."
'The DON' young vines Martinborough Pinot Noir from Alex Craighead, also from the Moutere (theme here?) which is "so juicy and approachable we don't even tell people it's a natural wine. We are looking forward to going pretty nuts on the Rosés by the glass and also a chilled Pinot x Pinot by Scout wines as soon as the sun stays out".
Arden is a bar for grown-ups, they have an offering you can enjoy every day to relax and enjoy a bite or come here for a special occasion, attention to detail in food and service and being something a little different is important to us. The response has been very positive, it's exciting developing our style as people use the space and enjoy the hospitality."
Arden is open Wednesday to Sunday from midday 'til late and I think it is going to become one of our favourite places to relax with a cocktail this summer. www.arden.nz