We buy their wines regularly but it is some time since I caught up with Andrew Greenhough from Greenhough Vineyards, so I dropped in to see him for a chat a couple of weeks ago to talk about the current vintage, current release wines and to check on the direction he and his partner Jenny Wheeler are taking their wines.
Greenhough Vineyards have been around since 1990 when the couple bought a vineyard that was planted with a range of wine varieties and set about restructuring the vineyard and business.
One of my favourite wines among a range of high quality (and I think under-rated) wines is the Greenhough Apple Valley Riesling. It is lower in alcohol and is a wine that was part of my wine-learning journey. It is the wine that helped me understand the difference between ripe and unripe acidity. Ripe acidity adds freshness to wines with residual sugar without being harsh to drink. "It's all about the balance between retained sweetness and the mouth-watering freshness of bright acidity." says Andrew who is one of the most thoughtful and considered winemakers I know.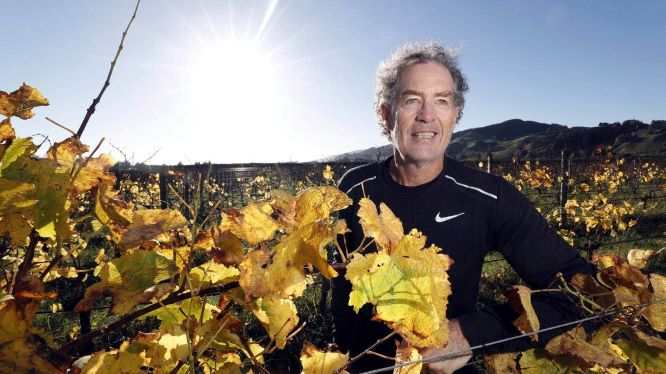 Conversion of the Greenhough Hope Vineyard (the home block) to organic production began in 2008 and after a three year transition period they achieved BioGro certification in 2011. The Morison Vineyard followed in 2014. "It's been the most significant step-change we have made in recent years. It's one thing to make the decision to move to organic farming and another to actually make it work. Experience tells us what works and what doesn't."
Every vineyard varies in terms of soil types, weather patterns and even micro-climates within vineyards. "Finding out what happens on our very stony soils without the use of herbicides was one of the challenges we faced. We have had to find out by trial and error what works best for the control of under-vine vegetation from selection of the most appropriate and efficient vineyard machinery to the timing of work programmes to give the most effective results."
On the stony, free-draining Waimea Plains soils growers don't have issues with excess water and under-vine growth does compete for what is available. "In fact when water is at a premium we need to reduce the competition for water, so timing of under-vine weeding and mowing between rows is important."
Organic producers have access to a limited range of low impact sprays for pest and fungal control. "We're not permitted to use systemic sprays that are absorbed by the plant and tend to provide longer lasting effect. The sprays available to us provide an outer protection and effective coverage is critical.
"In 2020 we had a wet spring so sprays needed to be applied more often to maintain adequate protection against disease. We also had more vigorous canopy growth so we needed to remove leaves earlier and more heavily to get better spray penetration. It's a fairly simple programme in terms of products applied but it's about timing of applications in conjunction with canopy management to maximise spray penetration and coverage. You need to be both pre-emptive and reactive to seasonal conditions when you farm organically."
At Greenhough they have always pruned vines to low bud numbers and had a very hand-on approach in the name of quality fruit, "which has put us in a good place when it comes to managing the vineyards organically. Risk management is always a consideration and our lighter canopies are part of this."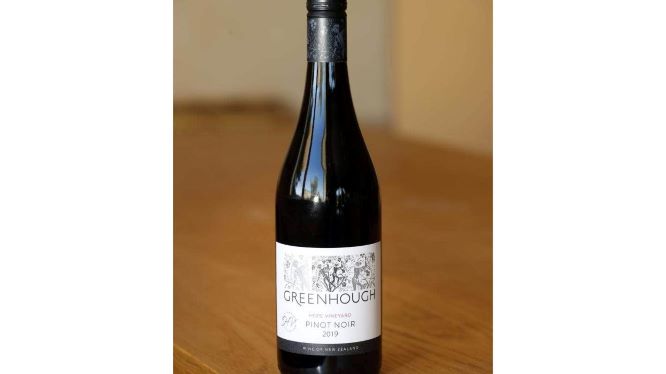 With the same focus they put into organic production the team at Greenhough always have little trials going on. "One of the things we have liked the results of over the last few years is the use of 100% whole bunch fermentation for a portion of our pinot. We just load the tank with whole bunches rather than destemming first. What you get is an end result which brings something quite different aromatically and structurally to blend with other components.
"We manage the ferment so that it happens slowly at cooler temperatures. Up to three weeks of gentle primary ferment before we press off rather than a matter of days as with destemmed berries. We've modified our approach so that it's a very gentle process and doesn't overly extract the stems and gives us some lovely lifted floral and perfumed aromas and a more elegant, less rustic texture.
We like the results we are getting from whole bunch fermentation which, to date, we are including in the final blend of Hope Vineyard Pinot at about 30-40%."
Andrew says "2020/21 was a great growing season. We didn't have the same extremes of 2018/19 or 2019/20 where we had drought conditions, a number of heat spikes and warmer night-time temperatures. This was a more moderate, balanced season and I think that makes for wines with freshness and well-defined fruit characters. The slightly lower pH this year will give us bright, vibrant wines with nice purity.
"Sugars aren't super high but they haven't been for a few years now and we're finding our wines are better for having lower alcohol levels. It will be interesting to see if it becomes a longer-term trend.
I think we were fortunate it was a smaller crop this vintage because we had everything harvested and in tanks by the 23rd March so we weren't exposed to the adverse weather in April."
For Andrew Greenhough converting to organic farming felt like the next logical step in their progression, a new challenge and an opportunity to evolve their vineyards and wines. "It feels really good to be organic and to have grown into it as a working way of life. We have been doing this for a long time now and definitely keeps things interesting to try new things in the vineyard and winery. Nobody wants to be doing exactly the same thing over and over so we will keep challenging ourselves to make better wine every year."