I am always amazed by the range and high quality of the stall holders at the Nelson Market in Montgomery Square every Saturday, I'm especially impressed by the food stalls who serve up delicious flavours from around the world. You will find everything from cheeses and fresh produce to see you through the following week to tasty ethnic foods to enjoy in the sun at the market.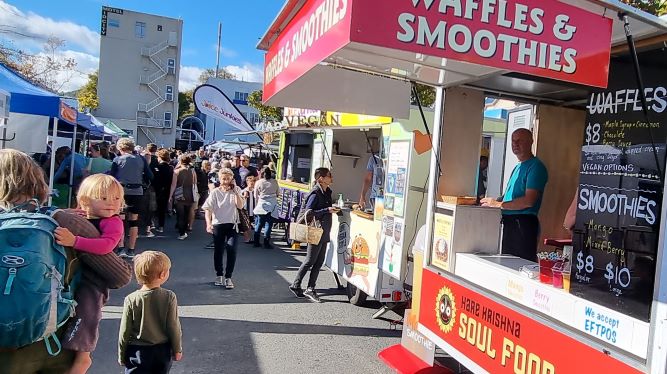 Over the next few weeks I'm going to talk with some of these food producers, just to tempt you to visiting the market to try their mouth-watering treats, but there's one thing I want to encourage you to support, the Nelson Market on-line store because you can shop there for your favourites on all 7 days.
Just like every business in New Zealand the COVID 19 lockdown last year had a huge impact on the many traders at the Nelson Market, in fact they were impacted more than a lot of businesses because they couldn't re-open until the country moved down to level 1 restrictions. Just like many businesses needing to make a living during this time it led to innovative solutions, one I particularly like is the on-line store.
The Nelson Market on-line store is unusual in that it gives us the opportunity to buy from many local producers in one place rather than from individual websites. I caught up with market founder and owner, Nita Knight, last week to find out how this has helped the many small businesses at the market.
Nita told me the site is working well for the stall holders who have taken up the opportunity while some are waiting until they have their own website to point customers to and while they sort out their order processing and delivery systems to make sure you and I get the goods we order.
"It's early days for the store but all the signs are pointing in the right direction with steady growth in sales in the first six months," Nita says. "At this early stage some of the most popular individual items are quince jam, rimu page holders and turkish delight".
One of the key reasons for stall holders to become part of the on-line market store is to promote their products to a bigger audience, one that's actively looking to buy.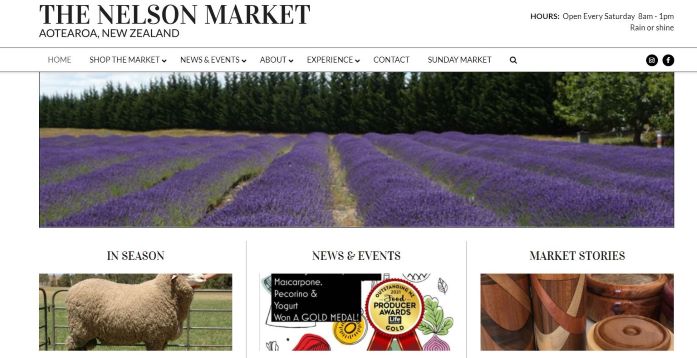 The website brings in large volumes of shoppers who, while browsing, discover new products, some people may have been visitors to nelson and having seen or bought a product, want to buy again once they get home. Other local shoppers like accessing their favourite products via the Nelson Market website on the other 6 days of the week."
Some people also can't get to the physical market very often but still want to buy their favourite products, they come to the on-line store for lots of different reasons." I asked Nita what the recipe for on-line success is on-line trader and she had a word of caution about businesses taking too narrow a focus.
"Our ecommerce store gives traders a valuable platform to promote their business and sell products but to get the most benefit it is important that stallholders also use social media platforms like Facebook and Instagram to create additional awareness.
The Nelson Market is widely known throughout New Zealand and is highly respected for the quality of its produce and wares and that reputation gives the on-line shopper confidence in ordering products. These factors have produced excellent results as we pass the first six-month milestone."
After 40 years of developing the Nelson Market Nita says "By nature the market is continually changing with new stallholders coming onboard with exciting new ideas and products. Existing traders are also continually innovating and evolving their businesses and product range. Now by adding our on-line store, there are even more opportunities to build on."
I love the huge variety of products and food we have in Nelson that are being produced by people who are looking to build a lifestyle based on their ingenuity and ideas. In some case these traders at the Nelson Market are building a new life in New Zealand after arriving here as refugees, so watch this space over the next few months, I will be sharing plenty of these inspiring stories with you.
Check out www.nelsonmarket.co.nz/shop-the-market