A couple of years ago I wrote about a couple who relocated from Auckland to Nelson, chef Ben Smith and his wife Bridget have since taken over the old store in Washington Valley and set about turning it into a real community food spot; Street Food on Washington is a lot more than just a place for quick takeaways at lunchtime, but you can do that too if you want to.
Last week I sat down with Ben and Bridget to find out a bit more about the food and why they chose this little out-of-the-way former dairy to open a restaurant and café. I say restaurant because the business has been so popular with locals, and people who have already discovered them, that they are now open for dinner on Thursday, Friday and Saturday evenings.
Ben told me they had this vision to create a cool local community space that isn't in the city, "we wanted to bring restaurant quality food to a local community and to become part of a community, not just another place to pick up lunch on the go."
And they have done that with remarkable success, not only have they been welcomed with open arms into the local community but many people from around the region have discovered their food, be it a cheese scone for morning tea, a wrap to grab-and-go for lunch or a meal cooked fresh for you to enjoy in the relaxed, yet very cool space they have created.
The idea of making street food the core of their business came about because they didn't want to be in a box of 'we make this', "we want to make exciting, flavoursome food and our food is a bit eclectic" says Ben. "We can take street food from anywhere in the world and reinvent the dish in so many ways, innovating every day keeps us excited and gives our loyal customers something new from somewhere around the world to try."
Of course, they have regular menu items but they have a twist too. Things like an Onion Bhaji Burger with mango chutney, a Korean hot dog with crispy potato batter, Loaded Fries smothered with caramelized onions, jalapenos, cheese sauce and bacon.
As Ben says, "No one can travel at the moment so we are bringing a taste of various countries to Washington Valley and any dish, with the exception of two, can be altered to suit any dietary requirement."
Each week they have a special dish and some regulars now just ring up and order 'the special please' without asking what it is, "they get to try something new and interesting every week" says Ben.
"It's so good to have the freedom to create great food however I like and have earnt the trust of my loyal regulars."
Some recent specials of the week include Texan bbq pork ribs w pineapple salsa and peanut slaw,
Polish pierogi dumplings w saurkraut caramelized onion and bacon with sour cream, Mexican sopes with grilled steak, cactus with crema and salsa as well as Karaage chicken burger with Korean bbq sauce and Japanese mayo
Street Food on Washington also has a strong family ethos. Bridget told me "We're in a busy local community, a community full of families and we want to encourage our kids to be part of a community business and understand what it takes to run a successful business."
The business is going from strength-to-strength and is soon to include a food truck so the whole family is entwined in the operation alongside long-time friend Joe Saywell who is their sous chef. Bridget deals with all of the admin, "everything from staying on top of the accounts, paying people, ordering food and managing the refurbishment of the former ambulance that is going to be the food truck, and she still works in the restaurant Thursday Friday and Saturday our busiest days" says Ben.
"We make such a great team."
"Our 17 year old son is a budding chef and runs the kitchen on Saturday during the day while I work front of house making coffee and chatting with customers. For us one of the highlights is it's a family business, Connor (17) has been working for me for a few years, we treat him as a staff member and he has really stepped up to the mark.
"Our other kids Liam (13), Ethan (15) and Hannah (11) all work here at weekends and nights, you'll find Hannah manning the till and taking orders on Saturday lunch."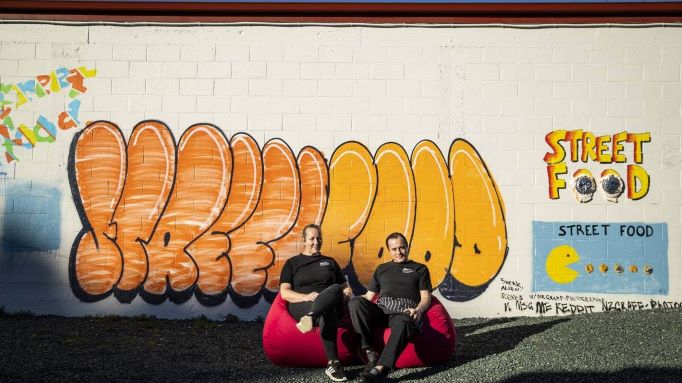 The development of the business has been everything they wished for, "customers drip-feed in all day, it's nice regular business that is easy to manage with just a few people, nights are taking off and about 50% of our business comes from regulars, some people come in every day, and not just immediate locals, some come here from around the region to relax over a coffee and do some work away from the office."
The food truck is being constructed at the moment and the intention is to launch it with a street food party in Washington Valley, then it will appear at lots of places like nightclubs in town and it's designed so they can cook all sorts of food for functions and events, not just street food.
They are also in the early stages of applying for a liquor license and with an outdoor area planned for summer things are moving along fast.
Check out www.streetfoodonwashington.co.nz for their opening hours, menus and to pre-order your freshly cooked favourite taste from around the world to take home, have delivered to your door by Yummi or so it's ready for you to enjoy in the street art themed premises.