Early last year I wrote about Dave King who started Under the Hood BBQ with his wife Michelle. Since then the business has really taken off, even though it is a side hustle for a couple who have full-time employment and run Under the Hood BBQ in the evenings and at weekends.
Let's have a little recap about Dave and this family business that is now able to pay Michelle to work in it four days a week. Dave told me he first started playing with slow cooking over coals more than twenty years ago when he went to Africa, "We went hunting, got Springbok and the locals were using the braai technique to cook it. It took so long I wondered what was going on, but it turned a really tough piece of meat into something quite special. I couldn't believe it".
"I fell in love with the flavours you get from smoking and charcoal cooking, but to be honest, I also love the process of cooking over hot coals rather than just flicking a switch on a gas cooker, it is a really social way of cooking and sharing food."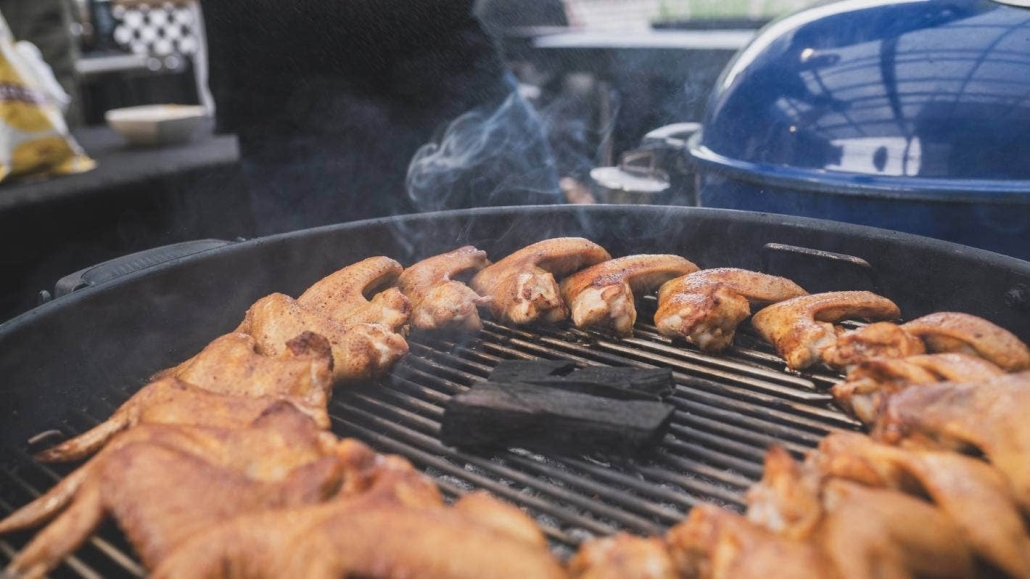 The workshops have proven incredibly popular, with more than 400 people coming to one of their masterclassesOne of the aspects of Under the Hood BBQ is their half day workshop and full day BBQ slow cooking masterclasses the couple run, "two years ago we were planning our first one and now we have had more than 400 people come to a masterclass and people love them, we have fun, we cook and share food and we get to meet new people."
When I caught up with Dave and Michelle last Friday afternoon Dave had been out of bed since 3am cooking food for a lunch they were catering on the day and we chatted while the couple were preparing for another function on Friday evening. Dave says "functions can range in size from 12 people to 250 and it doesn't matter how many we are catering for, we put the same amount of attention to detail, and our love for the style of cooking, into everything we cook."
Last year Dave and Michelle decided they wanted to make their own Carolina style BBQ sauce, a sauce with the right balance of spices and mustard that would work with the flavours they create during the wood-fired, slow-cooking process, they wanted a sauce they could use on their pulled pork.
Michelle spent hour after hour in the kitchen developing and refining their own sauce recipe and Dave says it worked so well people asked if they could buy some. "We would give people a small bottle and figured we could actually turn this into a product to sell. Our BBQ area at home is food safety certified for slow-cooking but our home kitchen wasn't suitable for making a commercial product that has a shelf life of a year.
"We hired some space at The Food Factory for a couple of days and made 1200 bottles of sauce that we thought we might be able to sell over the following year, we launched it at Raeward Fresh, and subsequently, through our website and other select stores throughout NZ, and sold out in six weeks!"
Under The Hood BBQ is now being made and packaged by FSL Foods, a contract manufacturer in Bolt Road. "Rather than us try and build a proper food premises and invest in all the expensive equipment, we just get them to make it for us in their Assure Quality approved factory. We have absolute faith in them and their systems to produce our sauce for us, but they let us stay involved with the process."
The sauce has been such a success, the couple have a supermarket chain contacting them to explore the possibility of providing the sauce more widely, "but we want to grow the business in a managed and sustainable way" says Dave, "we also have a really good relationship with Raeward Fresh in Richmond so supplying them is our first priority, then selling direct via our website, at our Masterclasses and at a few selected specialty BBQ stores."
Dave and Michelle buy their meat through Raeward Fresh and have done a number of collaborations with them, one in particular I love. Every three months Dave and Michelle run a Dinner's On Us event. "We ask for people to nominate a family who may be going through a few struggles and we cook a meal free of charge for them. We work with Gareth and Laura Caldwell from Raeward Fresh who sponsor all the food to cook."
With lockdowns in the last couple of years they haven't been able to run these events as often as they would like but Michelle told me, "we did a big catchup day and cooked for about ten families in one day, it's a really rewarding thing for us to do."
This sounds like a great business but we need to remember it is a small business being run by a family in Stoke, they started with nothing other than a love of wood-fired, slow-cooked food. Mum and Dad kept their full-time jobs and the four kids all helped in the business when they weren't busy with school and all the social things kids get involved in.
But Dave knows marketing, he has a B.Com with Management and Marketing majors, so totally understands the importance of a sound brand, zthey don't want to compromise that brand by not being able to deliver on their promises so it has been slow, controlled growth. "We started by buying a BBQ for home and now have 16 barbecues and smokers, we just keep investing money we earn back into the business, and we don't have any loans or debts. We have grown the business as we could afford to."
The Under the Hood BBQ Sauce is a premium hand-crafted product that delivers a power-packed punch of flavour without overwhelming the flavour of the meat you pour it over, it adds the finishing touches to delicious BBQ food at home. We also add a little to mayonnaise to create a tasty dressing for a coleslaw salad.
Join the other 11,000 plus people on social media and follow this enterprising couple's journey as they continue to grow a very smart, very tasty, business. www.underthehoodbbq.co.nz