No matter where you look in this delightful region there appears to be a Thai restaurant within a short distance, while the food in the vast majority is delicious one of our favourite places for a hit of spice is Chokdee Thai Cuisine on the corner of Rutherford and Hardy streets.
Every good restaurant or café uses fresh ingredients but when it comes to spices Sakawduean Muangthong (Duean), the co-owner of Chokdee, takes it to another level by making every sauce from scratch, there isn't a jar of pre-made green curry in sight.
The thing most people who are wary of when it comes to Thai food is the chili heat but Thai food is about flavour rather than raw heat, having said that we do like our Thai curries hot just not Thai-hot, you need to be an experienced chili eater to go down that track.
The Chokdee website tells us that the emphasis is on using the very freshest ingredients, because that is how they would prepare food in Thailand the traditional way. I wanted to find out for myself just what this means so I visited Duean and her husband, Anthony Oakly, last week for a lesson in creating delicious Thai sauces that can be spiced up to suit every taste.
Duean told me "The main thing is everything has to be fresh because fresh ingredients have the best flavour, even some spices lose flavour if they are old, and then we use those fresh ingredients to make each sauce and dish.
"We toast the spices to release the flavours and aromas and blend them to create the unique Thai flavours for each type of dish and each sauce must be true to its Thai tradition, a tradition that means blending flavours so each ingredient is enhanced by other ingredients to make a really tasty dish."
At Chokdee the spice blends and sauces are made fresh each day so they source fresh ingredients several times a week, Duean says that "many of the Thai dishes depend on ingredients such as basil, kamfir lime leaves, lemongrass, coriander and lemon juice.
"Sourcing these ingredients fresh all year round is very time consuming, but a necessity for our diners to be able to experience the true tastes of Thailand, the result is always worth the extra effort." Says Duean. "We even grow our own lemon grass and lime leaves at home."
Anthony puts on his managers hat and says "winter vegetable prices are really high but we won't compromise. It means our costs are higher but it's about the integrity of the dish."
It is obvious that Duean is Thai but I wanted to know what got them into the restaurant business 15 years ago because Anthony started life as a drainlayer before he discovered skydiving when he was 19. He told me that when tandem skydiving became popular he and Stuart Bean set up Tandem Skydive, a business they ran and developed until it was sold and rebranded as Abel Tasman Skydive.
"I guess I have done about 16,000 jumps, 12,000 tandem jumps and have nine world records for various skydiving things."
When he was busy with the skydiving business Duean was looking for a job, she had been an accountant working in the money market in Thailand but couldn't get work here so after three years of trying, and not being able to find decent Thai food in Motueka, they decided to open a restaurant.
"We intended to just have a small business with three other staff but Chokdee in Motueka was so popular it grew to be a much bigger business than we expected and when we opened in Nelson too it became so big it needed both of us working pretty much fulltime running the business.
"We have a 16 year old son, Jed, who also works in the restaurants sometimes, I ended up selling Skydive Able Tasman so that I could look after him when he was small so I have been a house dad since 2004-5 and that fits well with dealing with the management of the Chokdee business.
"I make sure everything is ordered, deal with paperwork and various compliance things like liquor licensing and food safety compliance."
They opened the Nelson restaurant in 2007 and moved a couple of doors down the road to the bright, sunny corner space in 2015, "there were problems with access to the old building, we also wanted something we could fit bigger groups in and was more open and airy, we didn't want to be a small dark restaurant, we wanted a really nice modern space that we could turn into something with an authentic feel" says Anthony.
Something else that's really important to this couple is valuing their staff, Anthony said "we now have about 24 staff members, some full-time others part-time so it's a bigger beast that we thought we would have. We have some great staff and we are committed to being responsible employers.
"Rather than making staff work seven days a week we have enough so they can all have two days a week off."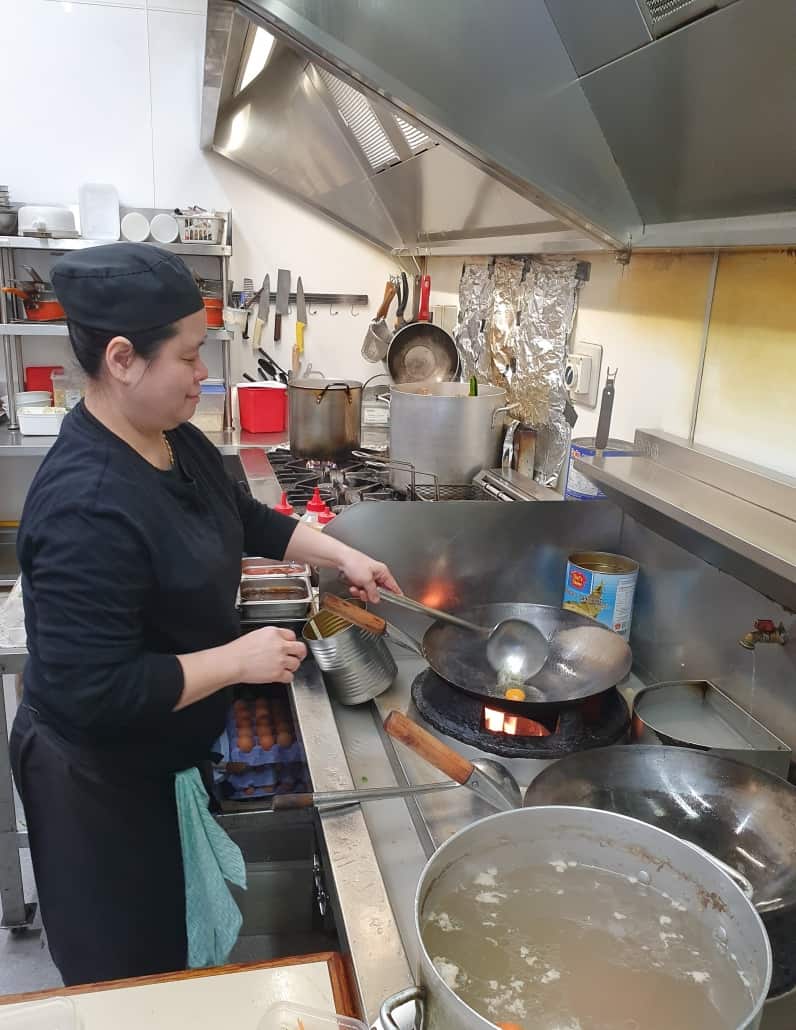 Their head chef at the Nelson Chokdee, Yui, has worked for them for many and has residency while others are on work visas, "it's very difficult for any hospitality worker to get residency and we want to keep our staff so we help them with all the bureaucracy, the language and culture barriers can be quite significant."
Staff is a huge issue for any restaurant and while Duean and Anthony want to employ locals, and do when they can, they are also committed to keeping the authenticity so it's important they have some Thai staff. Anthony says "it is very difficult to get chefs, in particular, with the skills to cook authentic Thai food so we make sure we pay our staff well and do everything we can to help them."
Chokdee Motueka has just had a big upgrade it looks and feels more like the Nelson restaurant. Anthony and Duean have also made it easy for you to enjoy their tasty food, you can book a table or order takeaways and pay online" says Anthony.
The online order goes straight to the kitchen printer and they email you a collection time so when we need a hit of spicy Thai food or food packed with gentle, authentic Thai flavours Chokdee Thai Cuisine is the place we go. You also need to keep going back because they are always creating new dishes such as the new Chokdee Ocean. www.chokdee.co.nz
Published in the Nelson Mail 03.07.19