Something that has always intrigued me about Pic Picot – the man behind the peanut butter brand that has spread throughout the country and around the world – is his incredible generosity.
He gives his time freely to others who need some advice or help developing a business or product of their own. You will often find him at the Nelson Market on Saturday mornings – where he started – chatting with other stallholders and sharing his wisdom.
He is about to take this to the next level with a new food premises under construction at the moment but more about that later.
So how did a self-styled "barefoot hippy" get to the top of the peanut butter world?
Pic Picot had a very early introduction to the food retail business. His father was a grocer who owned a supermarket in Auckland when Pic was growing up and he was part of the original group of stores that gathered together under the Foodtown brand, a brand that evolved into Progressive Enterprises.
Pic grew up understanding the value of hard work and identifying opportunities. While at school his family went on holiday to Queensland and he watched someone making handmade sandals so when he came back to New Zealand he started making leather sandals and belts for his school mates.
"It didn't take me long to realise they had very little money, but my mother and her friends had plenty so I started making bags for middle aged women, then after I dropped out of university when I was about 19 I bought a van and set it up as Pics World Famous Travelling Leather Gears Factory."
Luckily for Nelson, on his third night away from Auckland it broke down here and he ended up spending 1972 in the region.
"I obviously enjoyed that year here and did quite well making bags and sending them around the country from a house in Aniseed Valley, I was the average barefoot hippy."
During that year he says he made enough money to save for his first solo OE. He went through the Pacific, Samoa, America, hitchhiked around America for about three months, got into a bit of strife there and ended up in London squatting in a miserable UK winter.
"I came back to New Zealand intent on showing the world a new way of living which alarmed my parents considerably, they sent me to a private psychiatric  hospital for two week to sort what they considered the wacky ideas I came home with. It didn't make much difference and certainly didn't put me off.
"I joined a commune in Coromandel, built a house there with a mate and learned how to make furniture which was the start of my next business venture. I began making one-off chairs, tables and dining suites in a tin shed in Newmarket."
When the lease ran out he and his business partner found a disused warehouse in Parnell. With a supportive landlord's help they established Parnell Workshops and Storage. Over the next couple of years' they filled the building with woodworkers, shoemakers, potters, fabric artists and other like-minded artisan manufacturers.
Pic helped run  the facility and made his handcrafted furniture but says he often found it hard to part with furniture he made.
"So I started making giftware – wooden kitchenware, flower presses and panic packs – glass-fronted novelty emergency boxes containing a cigarette, toilet paper  or other necessities with 'In Emergency Break Glass' printed on it."
In 1972 he bought an old villa in Parnell for $19,000 and rebuilt it, that was not long before his daughter Bridie was born.
"The last time it sold it was for $2m."
Pic says the Parnell Workshops was a valuable experience for learning new skills from co-workers and just being in a really exciting place to learn to work with other people.
"When I look back on the things I have done, running that was worth more than any university degree or anything else I could have done as far as learning about business and how the world works."
Along the way he became interested in sailing and spent all his spare time sailing the Northland coast before he separated from his wife, Kaya, who moved to Nelson with Bridie "so I sold the house I had in Grey Lynn at the time and moved to Nelson to be close to them."
Pic says not long after arriving here he met Deborah and they had a son, Louis, who now helps run Pic's Peanut Butter World.
It was when he arrived here in 1994 that he saw the old Anchor Shipping Building was for sale "and it seemed a really good deal, I thought I might establish a co-op workshop in it based on the old Parnell Workshops concept, I thought the best place to start would be the smoko room.
"It ended up becoming a full-blown restaurant and, while I had a few tenants, I got stuck with the restaurant. Nobody wanted to lease a restaurant I so was forced to run it myself, at which I was a total failure. I effectively game everybody who ate there about $10 until I couldn't afford it any longer, closed the business and sold the building."
After this Pic turned his hand back to his love of sailing and set up a charter boat directory. "There were plenty of charter boats available but there wasn't one place to find and compare them, for seven years I published a list of the boats in a directory called Picot's Charter Guide."
A sailing school followed and in 2005 that lead to setting up a keeler sailing school in Nelson with the late Johnny Moore. "I loved working with Johnny but my eyesight started to deteriorate, I couldn't be sure of finding the marina when we got back to shore so I had to give it up and I sold my shares to him."
Pic was 55, had enough money to retire on if he was careful but still needed something to do.
He had made some peanut butter "when I became disgusted with the sugar the big manufacturers had added to my favourite spread".
Pic tried to convince me to try a sample of peanut butter he made in his kitchen when he had a stall at the Farmers Market. I flatly refused to even taste it because I hated peanut butter.
As I was to discover not long after that it wasn't peanut butter I hated, just the awful stuff being foisted on consumers by the giant producers.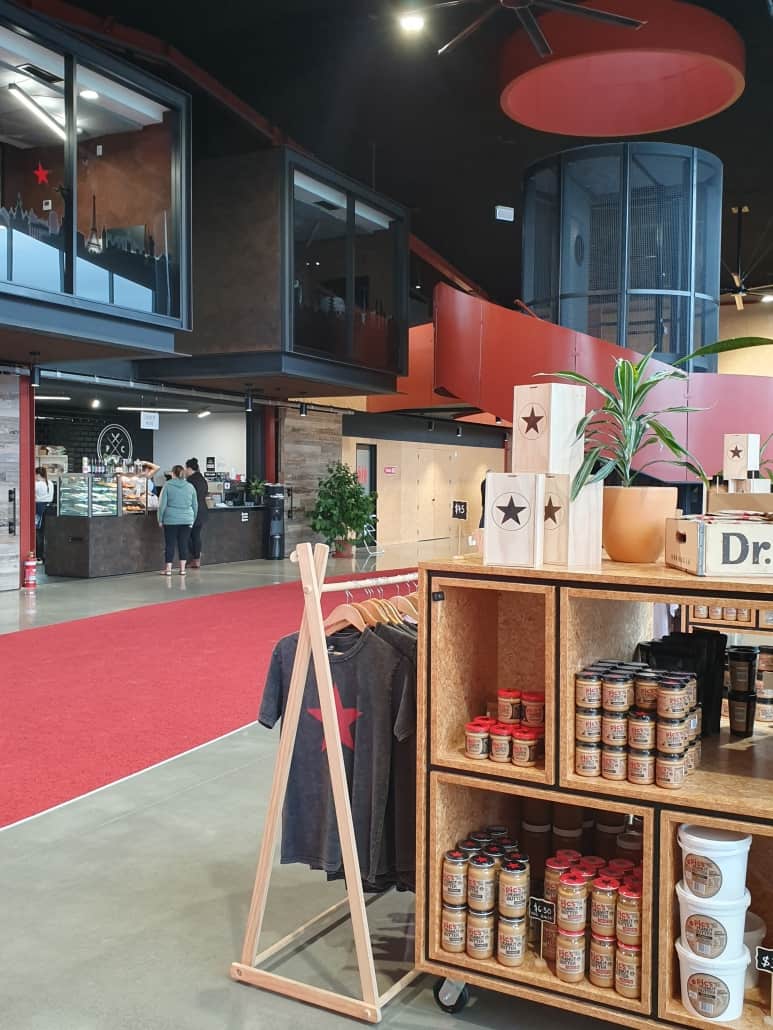 His peanut butter empire continues to grow, with a large, new headquarters, Pics Peanut Butter World in Stoke, but he has not forgotten where he came from.
His time at Parnell Workshops was so useful he wants to give people making a new food product a place to give it a go in the company of like-minded people.
"With some help I'm establishing the Nelson Food Factory at the back of Peanut Butter World, it's a collection of commercial kitchens and a range of equipment for use by anyone with a great idea that they want to develop.
"I want it to be somewhere people help one another and learn from each other without having people telling them how to run their businesses. I'll be there when I can for them to ask questions of and get advice from."
Pic says to email inventor@reallygood.co.nz if you want to find out more, but it has to be a new product and you will only be able to be there for a limited time while you trial your product.
As if he didn't have enough on his plate he is currently writing his memoirs which will be available to purchase in February, if he finds time to finish it.
Published in the Nelson Mail 17.07.19
READ MORE FROM STUFF – Nelson Mail:
* New Zealand must get more serial entrepreneurs out to the provinces
* Nelson goes nuts for grand opening of Pic's Peanut Butter World
* Pic Picot and the peanut butter factory