March is beer month, well Nelson has got a beer week, Marchfest and the New Zealand Beer Awards coming up, so I will spend some time this month finding out about, and writing about, some of the businesses and people who are passionate about craft beer.
I figured the best place to start was to check out the Nelson Beer Week website (www.nelsonbeerweek.co.nz ) and then I stopped in to see a guy who has established a bar and retail outlet based solely on craft beer – the Craft Beer Depot, or CBD, in Wakatu Square that I think is a place that is the epicentre for craft beer in Nelson.
When I was checking out their website I found a great description of what just what craft beer is.
"What is craft anyway, and why is everyone going on about it? Well – the definition varies widely! Our definition is a product made using simple handmade methods by producers who are independent of large corporations. This generally means small scale production of products that are unique."
Brandon Turnàge is the main man behind CBD and has had lots of experience in the liquor industry, from making wine to marketing and selling it for a winery then watching the emergence of the craft beer scene in Wellington has given him a great instinct for what consumers want from a drink that should be all about having a bit of fun.
Having worked as a winemaker for contract wineries in the USA, Mexico and Martinborough before moving into marketing for Mills Reef Wines he wanted to make his own way life and then when his partner, Adrien LaGrow, got a job as a lawyer with Knapp's in Richmond he had to find something to do here.
Initially he worked a vintage in a winery here but the little seed growing in the back of his mind was all about craft beer and fermented foods, "I could have started a full-on brewery, I had been home brewing for about eight years and I had worked with others who were brewing in their garages and were producing some outstanding beers, quite different to the mainstream beers the majority of pubs sold but I thought Nelson would be a great place to try the bar I had been thinking about for a while."
"It was a natural progression from making wine to marketing it and the getting involved in the retail scene with the bar."
Turnàge is originally from Tahoe, USA and in his youth his focus was rock climbing and snowboarding, "it was really hard on my body but I loved it so much I left home when I was 14 years old, moved to Switzerland where I finished high school and enjoyed a few wonderful years when life was all about snowboarding and travelling."
In the meantime his father had moved to Mexico while his mother and sisters stayed in California and the multi-cultural lifestyles he was experiencing opened his eyes to a world of wonderful food and wine.
"I fell in love with food and wine in Switzerland and then fell in love with the whole family thing in Mexico, from business to food the focus is very much on family and enjoyment of life. My dad was instrumental in enhancing my love of food when he was living in Mexico.
"He also started a wine making business there, wineries would send freshly fermented wine over the border to Mexico and he would turn it into a finished product for them so I ended up working for him for a vintage."
The move to New Zealand in 2004 to finish his degree was driven by his perception of the New Zealand wine scene and the opportunities offered here.
With BA degree, as well as a lovely New Zealand partner he met at university, it was off to work in various wineries and liquor retailers around the North Island, gradually working their way down the island until they landed in Nelson in 2013.
Turnàge's travels around New Zealand saw him living in Wellington between 2009 and 2013 when the craft beer scene in that city was just starting to take off and while he was working in the wine industry at the time he was keeping an eye on the craft beer sector.
"It was such a tiny industry at the time and I had seen the challenges in the wine sector but the craft beer sector seemed to just kept growing."
There was a downside to this though, "some of the fun and enjoyment in craft was being lost in the pretence around the product, "going to a bar and enjoying a good beer should be fun, who wants to walk in and get ignored by a bunch of too-cool people."
And that has been one of the driving philosophies behind CBD, they want you to have access to a wide range of excellent craft beers in an inviting unpretentious setting and to have fun while you are there.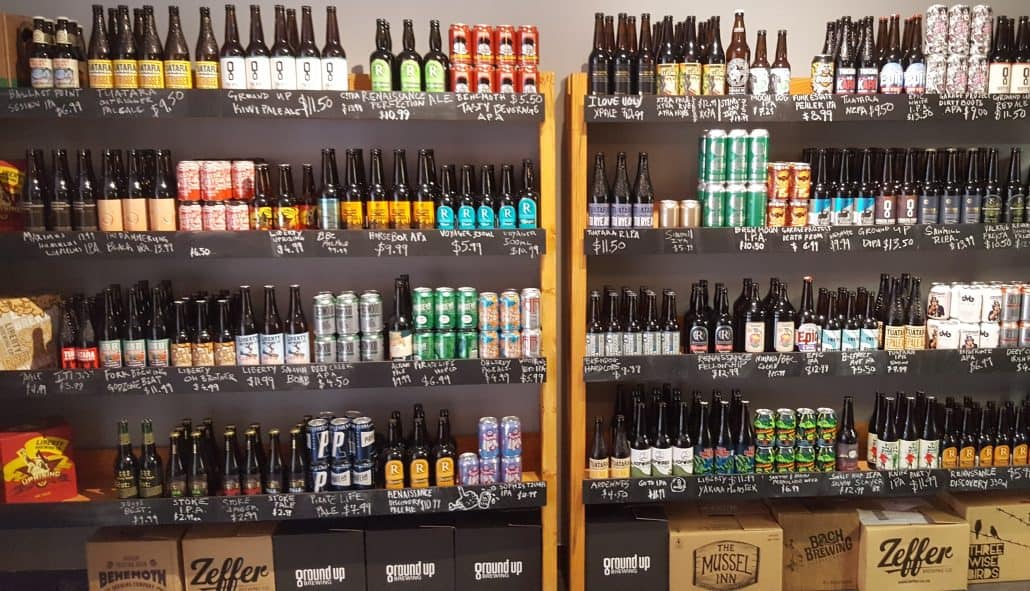 Turnàge also wants to showcase as many young, exciting and budding brewers in the industry, "while the local industry is great there is always more room for different takes on beer and we like to have a good selection of brands on tap so our customers can have them by the pint to drink in the bar or rigger to take home rather than just from a can or bottle."
In fact that is a key difference at CBD, selecting beers for the range they stock is based on true hard work, chatting with brewers and ordering direct in most cases to get the best and freshest brews that are in season.
They don't buy in bulk or drive customer buying decisions by having stacks of cheap beer, they want the pure quality of each handcrafted specialty beer really shine.
Being able to fill riggers with a unique craft beer on the spot is something other retailers can't do.
As with many small businesses there isn't a lot of spare cash at start-up time so while Turnàge is the managing director and majority shareholder they started with six shareholders who provided skills to help get the business established in return for a small shareholding each, "it means our shareholder meetings are a bit of fun."
Jacob Hechter is both a shareholder and a director of the company and he is in charge of another arm of the business, Renegade Ferments, that occupies the front half of the building and produces a range of fermented foods and a California hot sauce.
"All these people have helped us realise the vision we have for CBD, we couldn't have done it without them, it is an amazing feeling to have people believe in you and support you the way these people have", says Turnàge, "then my partner's skill as a lawyer and support from the firm she works for have been invaluable in working our way through all of the compliance stuff."
When it comes to the beers he says they wouldn't have been able to open CBD and Renegade Ferments without all the friends he made during his time in Wellington, "I learned so much about the industry and have had fantastic support from brewers there so we have a great selection of beers from Nelson, around New Zealand and international."
The result of all this support and experience is a funky hole-in-the-wall-down-an-alley bar and craft beer retail shop with a lovely outdoor area away from the public gaze.
The final word goes to Turnàge who has created an environment which is welcoming and inclusive. "It is a place where you can ask any question you want, and the helpful team will help you – not sneer at you. CBD is an extension of my old man cave with no pretence and it doesn't matter if you are in a suit or gumboots you are welcome."
During Nelson Beer Week CBD has an event of some sort every night featuring different craft beers, food to match with the beers and live music most nights.
Find out more at www.craftbeerdepot.nz