A little building that was formerly a church in Collingwood Street became a pub in 2009 and has very quickly gained a reputation as one of the very best in the country.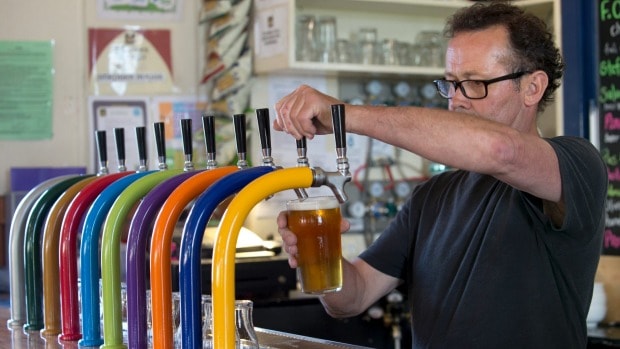 It had its genesis in quarterly beer fetes so it is quite fitting to look back at the success of this business leading up to Nelson Beer Week and during my craft beer month.
Taking its name from the free house philosophy of a pub that is not tied to a single brewery The Free House in Collingwood St has lead the way in promoting hand-crafted and beers and Real Ales in Nelson for the last eight years
While many bars may appear not to be linked to a particular supplier you don't have to look too hard at a beer list to see the vast majority of drinks come from one supplier and I think it is fair to say most pubs today are still tied houses.
While these cafes and pubs have a limited number of products from other producers, generally local products, they are financially tied to breweries in one form or another, either with cash to help with setup costs or generous discounts on products for a sole-supply contract.
When I had a chat with the owner of The Free House, Eelco Boswijk, last week he told me "we were in a pond with not very many fish in it, now there are more specialty craft beer pubs opening every week" and I think that is a great thing.
When Boswijk and Mick Dover started there were five partners in the business, three silent partners who were as passionate as them about quality beer and the two of them with Boswijk and Dover buying out the others about three years ago before Boswijk bought Dover's shares in December last year.
Boswijk and Dover also own Dead Good Beer Events so while Boswijk focuses on the pub Dover is in the driving seat for the events business, a business that organises the annual Marchfest and is the force behind Nelson Beer Week.
Boswijk's journey to owning an iconic New Zealand pub started when he left New Zealand at 18 and embarked on a 15 year OE that saw him eventually living in London working for a TV news company, "taking cameras into war zones, food into Somalia for journalists, just doing a lot of support stuff and I met Ali when she was working in the marketing department of the same company."
He fell in love with beer when he got the real ale bug in London and the couple started attending little craft beer festivals long before the craft beer market was fully established.
"It was a matter of seeking out the right pubs, we would go camping in little camp grounds and using the CAMRA (Campaign for Real Ales) Good Pub Guide would select a campground by choosing pubs doing interesting things with beer, if there was a pub in walking distance to the campground that is where we would stay."
The couple married in the Caribbean when they were living in the Cayman Islands before returning to Nelson with no real plans but were having their first child, "we had no real direction, just took things that were presented to us."
It was a matter of who could get a decent job first so when Ali got a job working with Bays TV and then Arts Marketing he took on the role of raising two boys, when they started going to school he was looking for something to do and ended up growing gourmet mushrooms in a grow-tunnel at home, mushrooms he supplied to local supermarkets.
He told me having seen the long hours and hard work his father had to do he was determined he was never going to work in hospitality "but sometimes you run so far and so fast from something you meet it coming the other way."
He joined forces with Dover running beer fetes to encourage others to try proper hand-crafted beers, the first event attracted about 300 people with over 1100 people attending the final one.
They wanted to set the scene for a craft beer pub, show there was a need and desire from the public for a decent craft beer pub "but no one else opened one so when the building came on the market we had to put up or shut up."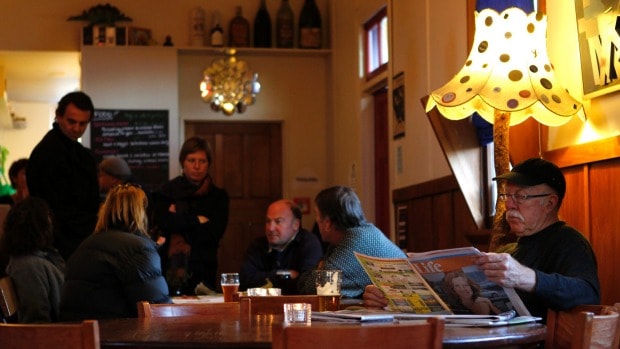 When they opened The Free House there were three outside tables with no signage for three years, relying on word of mouth to spread the buzz about a pub serving fantastic craft beers.
"We invited a whole lot of people for opening night and they told a lot of people, spreading the word and it just took off from there, it was a bit precarious in the early years, the business was always looking positive, then just as everything seemed to be going right something hits you sideways but you just deal with it."
They took over the car yard next door three years after they opened and that gave them space for a decent sized garden and space to host some outdoor music gigs in the summer "but when four out of five gigs were shut down by noise control we put in the yurt."
As well as being a music venue the yurt became a reference point to people, "people loved it or hated it, some wouldn't go in it, others thought it was marvelous and magical."
Boswijk says they had incredible support from craft breweries around New Zealand, there weren't very many when they started, "we would send an email or make a phone call and beer would generally arrive but now that Beer NZ in Christchurch distributes craft beers for many small breweries we can buy multiple craft beers from one place.
"We still make sure we have a relationship with different breweries, especially those who supply us with Real Ales."
Real Ale is cask-conditioned beer that is still alive, it still has the brewing yeast in the casks, it is hand-pulled or hand pumped from the casks rather than being gas forced through lines, The Free House gets its cask conditioned ales from the Twisted Hop and Cassels and Sons in Christchurch.
"Chris Stothers, an Englishman who has helped us a lot with the technical side of things, helped us develop our own cellar to store them properly, we designed and built a system that works for us because we don't have an underground cellar like most old pubs have."
Boswijk told me that when he and Dover started they didn't want to ever stop changing or developing or trying new things, "it is a project that hasn't finished, when a project just starts and doesn't change it loses it soul."
The latest change is the addition of a food caravan in the garden, "Mint Restaurant used to have a menu for us and when they closed we had to think about how to serve food so we bought a food caravan, with the yurt going and caravan arriving we are continuing changes that keep the business evolving and fresh."
When Boswijk and Dover opened The Free House there were plenty of doubters "we were told no one would ever pay more than $3 for a bottle of beer and now there is one beer collectors will pay up to about $400 for so the craft beer market has changed hugely in the last few years".
With huge support from locals The Free House has quietly gone about changing the reputation of pubs, focusing on quality fresh beers that are treated with respect rather than just a beverage to get you drunk and has confirmed its place as an iconic Nelson hospitality venue.