Oh dear, just as I started referring to recipes from some of my favourite chefs that I shared with you during lockdown last year it happens again. As I write this, we're in Level Four conditions again and people are spending time at home, hopefully cooking some delicious food.
Last year Carol Shirley from Beachside Conference and Events Centre and Gourmet Catering shared several of her favourite baking recipes on her Facebook page so I asked her if she would send me a couple of her favourites to share with you.
I have known Carol for many years and have followed her cooking and business career for about the last 15 years. She is a very talented caterer who delivers beautiful food for small luncheons, weddings, and celebrations and even table service gourmet catering for huge numbers at events like the annual Chamber of Commerce Business Awards dinner and large conferences.
Like many businesses hers has been impacted by the no-notice level four lockdown; she had spent the week prior to lockdown ordering and preparing food for a 400 person three course plated dinner that has now been cancelled and if we go into Level Three conditions she still won't be able to cater events because of the number restrictions at gatherings.
Carol told me she totally understands the need to try and control the latest outbreak but the impact on hospitality businesses goes way beyond how to pay staff, it's the ongoing restrictions that impact on the ability of businesses like hers to get up and running again. "People plan events like weddings many months in advance and with the uncertainty right now people are changing dates or cancelling events until they know with some certainty the event can go ahead."
We often get Carol to cater functions at our office and her food has become a staff favourite at our staff Christmas lunch so we know her food is wonderful, and you can make these recipes with confidence – they will work if you follow the instructions.
These recipes are baked favourites that have stood the test of time. Carol says "my first memory of making these was with my Nana 50 years ago as a six-year-old. She was a fabulous cook and always let us help her in the kitchen. I think that's where I got my love of baking from. My mother also always had home baking in the tins ready for visitors or just for the family."
The recipes are also tasty treats I remember from my childhood too many years ago to think about. There's a reason people love this sort of baking, despite all the new and trendy flavours these recipes are classics for a reason – people love them, and they often bring back childhood memories.
Let's create memories for the kids of today by getting them involved in making these at home, "there may be a bit of mess in the kitchen but that's part of the fun for a six-year-old and it's easy to wipe down a bench while they enjoy the treats they have helped create" says Carol.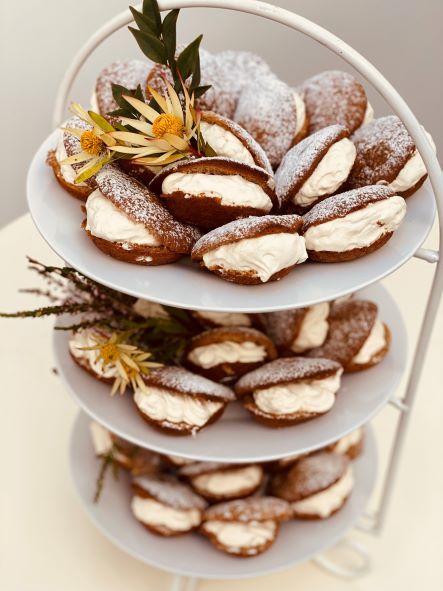 Cinnamon Oysters
Ingredients
2 eggs
1/3 cup sugar
1 tbsp golden syrup
½ cup flour
½ tsp baking soda
1 tsp cinnamon
½ tsp ground ginger
Method
Grease a tray of shallow patty pans and set aside
Beat eggs and sugar till thick and fluffy
Fold in sifted dry ingredients
Place in patty tins 2/3 fill
Bake at 200 degrees for 10 – 12 minutes
Turn onto cooling rack
Once cool fill with whipped cream and sprinkle with icing sugar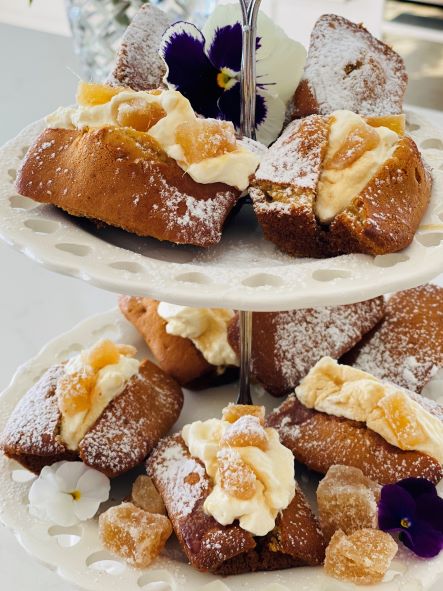 Nana's Ginger Gems
Ingredients
100 g butter
½ cup sugar
1 x egg
2 tbsp golden syrup
1 cup flour
1 tsp ground ginger
1 tsp baking soda
½ cup milk
Pre heat oven to 200 degrees and place gem irons in to heat up
Cream butter and sugar, add egg and golden syrup beat again
Sift in dry ingredients, add baking soda dissolved in milk
Mix all ingredients together.
Remove hot gem irons from the oven
Spray with non-stick spray or put a small amount of butter in each dish to melt
Add mixture and cook approx 10 minutes
Remove from oven and cool on wire rack
Once cold fill with maple syrup and whipped cream
Garnish with crystalised ginger and enjoy,