Carrying on with my theme of asking some of my favourite local chefs to give me a tasty yet simple recipe you can cook at home this week's recipe is supplied by Aaron Ballantyne, Head Chef at Hopgood's & Co.
Aaron has forged a huge reputation for himself as one of this country's best chefs, he leads a very talented team in the kitchen at Hopgood's and makes sure every dish that's served in the restaurant is as good as it can be.
Aaron has worked at Hopgood's since 2006 but started his career training as a chef at Wellington Polytech for two years. After working n a couple of kitchens in Wellington he headed overseas to see the world and experience other food cultures. Aaron spent a year in Japan teaching at an English school part time while he "spent too much time eating, I was a skinny kid when I went there but not so skinny when I came back to New Zealand" he says with a laugh, Japanese food is still one of his favourites.
After Japan it was back to New Zealand and a job at the luxury Blanket Bay Lodge in Queenstown for three years, where "the restaurant manager was an old-school French guy from Marseille, the head chef was Jason Dell and with Mark Sycamore, who had won a Gordon Ramsey Scholarship, they were really focussed on competition cooking so the competitive nature in the kitchen really focussed everyone on developing their skills."
After Queenstown it was Sydney for a few months then back to Nelson for a few weeks where he saw a sign on the door at Hopgood's wanting staff and he wandered in looking for work for a month and is still here.

He says he likes to eat fresh things that aren't complicated, which is quite different to the beautifully crafted dishes he cooks in the restaurant where one dish can take a dozen or more ingredients to create the perfectly balanced flavours that has earned Hopgood's & Co its reputation as one of New Zealand's top restaurants.
"I think Nelson has some outstanding producers and we are really proud to be able to use the things they work hard to produce in the food we serve, our suppliers produce everything from vegetables to cheese, cured meats, mushrooms, truffles, chocolate, wine and so much more."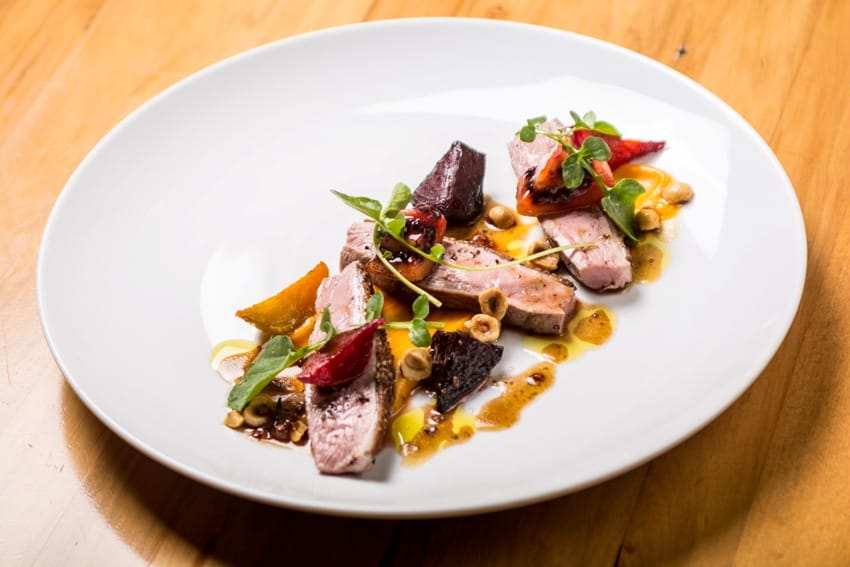 As well as the intricate dishes crafted at Hopgood's Aaron and his Japanese wife Satomi (who is expecting their first child) love simple, flavoursome food at home. He says this semolina gnocchi recipe is extremely easy to make.
"I like to serve it with creamy mascarpone-enriched mushrooms and shaved parmesan (and freshly grated local Riwaka truffles when available); however, it is just as tasty served with a simple roasted tomato or bolognaise sauce.
"You can also change the cheese from parmesan to anything else that suits your taste. Local Italian cheese makers Viavio's fontal or sheep's milk pecorino are two of my favourites."
Ingredients
Serves 4
500ml milk
½ onion, diced
1 garlic clove, crushed 1 sprig thyme
150g semolina 1 egg yolk
75g grated parmesan 50g butter, diced
¼ tsp freshly grated nutmeg
Salt & white pepper
¼ cup cream
¼ cup breadcrumbs
50g extra grated parmesan
Method
Bring the milk, onion, garlic, and thyme to a boil, then immediately take off the heat and allow to infuse for 30 minutes.
Strain into a clean heavy-based saucepan, then bring the infused milk back up to a boil. Slowly sprinkle in the semolina, then simmer for 8-10 minutes, stirring continuously, until thick and smooth.
Remove from the heat and allow to cool for 5 minutes, then stir in the egg yolk, 75g parmesan and butter. Add the nutmeg and season to taste with salt and pepper.
Pour the semolina mix onto a non-stick paper lined tray to about 1 ½ cm deep. Place another piece of non-stick paper on top and then press with another tray to flatten. Cool, then place in the fridge for 1 hour to set.
When cold, cut into 5cm rounds using a cutter (square shapes are fine too), then arrange the rounds in an oven-proof dish. Pour over the cream, then sprinkle over the breadcrumbs and extra grated parmesan. Bake at 200°C for 15 minutes until the topping is golden brown and crispy. Serve.