I have been known to enjoy a beer or two in my time and craft beers have become firm favourites, you will always find a few in our fridge and I will almost guarantee a bottle or two from Hop Federation Brewery will be among those waiting for me to enjoy on a hot summer's day.
Craft beer production in Nelson is booming and the owners of Hop Federation, Simon and Nicki Nicholas, tell me they are working hard to make the most of the opportunities offered by that wave of popularity.
"Our biggest issue has been keeping up with demand, so we are constantly looking at how we can increase production while maintaining quality, it is all about the quality after all" says Simon.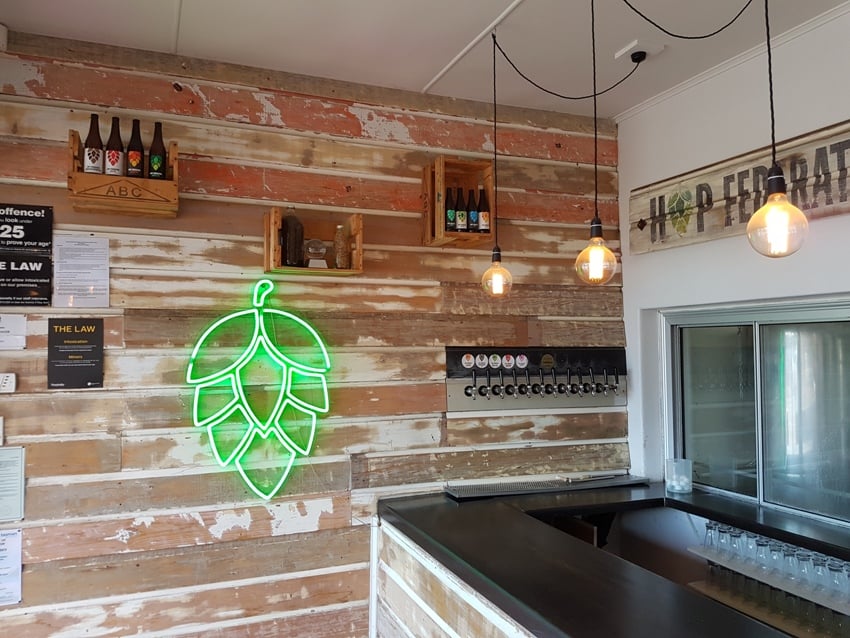 When I write about a business I like to find out as much about it as I can before I meet the people behind the business, and I must say I could have written a complete article about Hop Federation Brewery just from the information on the web site (www.hopfederation.co.nz) but I wanted to find out what drives this couple and dig a little deeper into the secrets behind the fantastic flavours their beers deliver.
So, some details from their website; We're a small craft brewery with a sense of adventure. Located in Riwaka, in the idyllic Top of the South, we're surrounded by hop growers and orchards, and a stone's throw from beaches, national parks and lots of great recreation destinations.
We use mostly New Zealand hop varieties, our malts come from across New Zealand, and we think our beers capture the spirit and lifestyle of this special region.
Simon is chief brewer, with a wealth of experience gained as head brewer at Hallertau in Auckland after a long background in the liquor industry, mostly with Glengarry Wines.
As you'd expect in a brewer, he has a great sense of smell, finely tuned taste buds and a passion for experimenting, all of which he combines with a commitment to consistency and an appreciation of the traditions of craft brewing.  
Back to me; I wanted to know why buy a brewery and why a brewery in Riwaka?
Simon says they just wanted a change, "It wasn't 'let's get the hell out of Auckland' but more that we wanted to do something for us rather than working for others. We wanted to own a business that gave us the freedom to live the life we wanted to.
"It was the Monkey Wizard Brewery when we bought it in November 2013 but we only bought it for the equipment and the location of the property."
"We don't think of it as making changes to an existing business but rather setting up a brand new business, it has grown hugely year-on-year so far and I think we are on the right track, we have won several awards at beer competitions and in 2015 won the Nelson Tasman Business Awards Start Up category.
"We have put a huge effort into making sure we have a great business as well as making tasty beers people want to buy again, not just once."
Of course, as a business grows it needs more staff, Simon and Nicki say they have been hugely lucky to have employees with the same passion for beer that they do, "all our staff are from the region, they are avid homebrewers who absolutely love beer and are stupidly knowledgeable about everything to do with beer.
"They question and challenge me which keeps me on the straight and narrow and because the brewery is small with a little retail shop they serve customers too and can have really good conversations with customers.
"When keen brewers and tourists from overseas who know what they are talking about come in it means we can really engage with them and that has helped put us on the beer tourism map.
"The guys (Gareth, Jonas and Dean) have a lot of input into our seasonal beers, last year our MarchFest entry was a Kolsch designed by Jonas."
There are a number of breweries making some pretty challenging beers that I find just a bit too funky but at Hop Federation it isn't just about making another pilsener, "the core beers are essential for us, people need to be able to rely on products they are familiar with, and when they trust us, they will try some of our experimental and seasonal beers.
"We don't do funky beers, but more seasonal and we love experimenting with wonderful local ingredients, just not wild and wacky."
The Hop Federation pilsener was a seasonal beer but "it was super popular so we added it to the range, same with Rakau which was an entry in Marchfest but is now part of our core range."
Something else the couple have had challenges with is expanding production in limited space while making sure the quality is always to the forefront, "we have had some beers made under contract because we currently can't produce enough."
The small brewery on the main road at Riwaka is the spiritual home of Hop Federation beer and the location means they have a very high exposure to passing traffic for sales, but they are limited for space; "we need to expand but we won't leave this site; we'll keep producing small batches of seasonal beers here with brewing and bottling at another local site but all controlled and run by us."
They also use a contract brewer, bStudio, in Napier, it was set up recently by people who have owned a contract winemaking facility for 25 years so "they know what it takes to be a contract producer with a focus on quality and sticking to the recipes we give them, we get them to make the beers we need in bigger volumes and, so far, the quality is superb.
"Using bStudio has allowed us to brew beers for export, with our first 40ft container of beer heading to Sweden next month.
"We can say right, make this particular beer and put it into cans, it goes straight into a shipping reefer and down to the port about ten minutes away so, it's as fresh as it can be when it leaves the country."
However, the couple say Nelson/Tasman is their biggest and fastest growing region for sales and is the area they want to really concentrate on, "this region has been exploding in popularity for us, and we love working directly with the bars and restaurants and tourism businesses. "
Simon says they love having visitors to the brewery and tasting room and the guys love talking about beer so want people to drop in and see them because they learn from us as well.
But at the end of the day it is all about the beer, flavours people love and quality you and I can rely on when we pop a bottle in the shopping trolley or order it in a local bar or café; I think Hop Federation Brewery are doing everything right.