Sitting on the new deck at Jellyfish Restaurant with views across the wharf and down the estuary to the open sea, is arguably the best waterside aspect in the region.
TDC recently repaired the heritage wharf-side building that is home to Jellyfish, the old rotten timber wharf was re-strengthened and the building was fully rewired and re-plumbed; the result is a restaurant that, on first glance, doesn't look a lot different in shape and size but the remodeled deck and interior work carried out by owners Debbie and Simon Lavery has transformed the space into a very inviting dining venue.
I sat down with Debbie last week to find out how the revamp went, "other than running two weeks over time it actually went really well, TDC and all of the contractors were fantastic and the time over-run was caused by finding unexpected things when they started pulling the place apart."
The Lavery's purchased Jellyfish in May 2016 and at the time were told some maintenance was needed, but when TDC did a proper inspection they realised there were more significant issues that needed to be addressed, as you would expect in an old waterfront building that had once been home to a crab storage and sorting facility sitting in the tidal zone.
"The wharf dates back to about 1910 and the building sometime between then and 1930, so piles needed repairing, windows were leaking and other things that happen in old buildings needed to be dealt with, so the decision was made to close during winter and do the maintenance that would ensure we can be here for many more years."
Debbie says it has all been worth it even if it wasn't what they expected in their first 12 months of owning the business, "not only did we have to close but we also had the significant cost of doing a full internal refit not long after buying the business, as well as the challenge of retaining our staff over that period. I guess it was never going to be easy".
That refit included replacing the entire kitchen, new refrigeration, new laundry, new toilets and new carpet/lino through the entire space, "we didn't want it to change too much so while the inside looks similar it has had a full refurbishment, we are really conscious that we are part of a local community and we need to respect the fact we are in a heritage building by the sea, we didn't want to lose that real connection with the sea by turning it into a glass and aluminium edifice.
"Jellyfish is a place for locals, probably more than a tourist destination, so keeping it warm and comfortable was really important."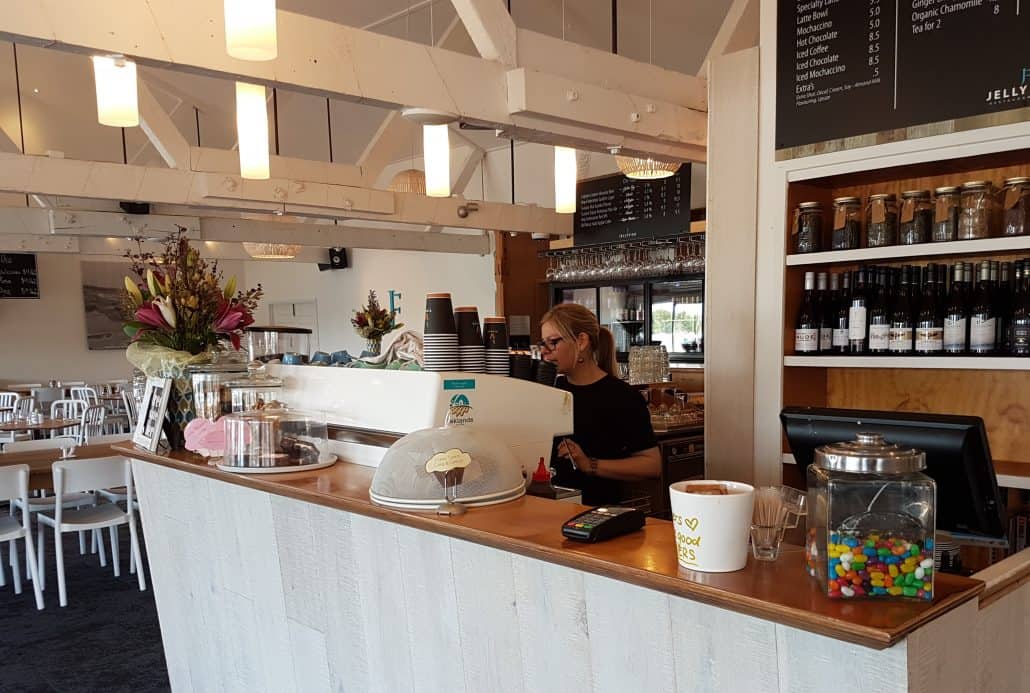 White painted ceilings and beams have given the interior an open feel, the carpet is made from recycled fishing nets recovered from sea trash by small fishing villages in the Philippines while cleaning up their beaches and waters of discarded fishing nets, it is another link to the sea, and the idea is to enhance the connection between the sea and the interior."
"From the time we first heard about this carpet, even though it is one of the most expensive on the market, it was the only one we considered, it enhanced the story of who we are and where we are, and that is really important to us because this is such a special place to have a business."
As you would expect the carpet is commercial grade but it also has the highest acoustic rating of any carpet they looked at, "because of the hard, wooden surfaces having a carpet with high acoustic values was a real bonus, the restaurant is much quieter to work in than it was before and we have noticed people have much quieter conversations. We knew it would make a difference but didn't realise just how much it would improve the atmosphere for staff as well as diners." The new interior colours, brand and logo has also had an impact, tying the sea into the building.
The major expense however was the Kitchen, "it is the engine room of the business, so not one piece of equipment is old, when we bought the business we had to spend $47,000 just fixing and maintaining the kitchen equipment, so when we had the opportunity to refurbish the premises we invested a lot in the kitchen equipment. It comes with all the guarantees and warranties so we won't be spending large sums on maintaining old equipment. Over time the investment will pay for itself in maintenance savings, but more importantly it provides us the ability to offer diners a wider range of culinary experiences going forward.
"We have also given the staff the tools they need to do their jobs really well and most importantly, to enjoy doing their job, having a view of the sea and happy staff means they take pride in the food they serve."
But stunning views, a lovely atmosphere and very expensive new kitchen that has all the toys chefs dream of aren't the only things you need to make a great restaurant.
Debbie comes from a background in corporate people management, so she totally understands the customer experience and how important her staff are in delivering that experience. "At first I thought 'what have I done!' then I remembered – what an amazing opportunity, I can do this, I'll learn as I go"
She spent most of her working life in the corporate world with IBM and Trustpower.
During her ten years at IBM she worked in events management for their new product launches, other events as well as design work for lots of marketing initiatives; this was followed by 13 years in people and culture management for Trustpower, she was the top of south regional manager with 30 staff and travelled the upper South Island to manage her team.
"Now I travel to the restaurant to manage my team, they are all in the same building and I am passionate about helping them all be the best they can be in their working life, not just for us because I know I am only a part of their working career and I want to make sure I have a positive impact on their lives.
"I want my team to genuinely care about where customers are from and where they are going, we are advocates for the region too, so we want to give them a wonderful customer experience as well as making sure they have great food and wine while they are here.
"My corporate experience has taught me – if I train the staff well enough they have the ability to leave and further their careers, but I want to treat them well enough so they don't want too, these staff and customers are my family and with 80% of our awake time spent at work it is important for me to ensure everyone coming here is content and successful."
Debbie says she would also love to change the mentality of some people in hospitality, "why do so many employers treat staff so poorly, of course there are some great employers but so many treat staff as just short-term employees and see them as a commodity not a resource. I really want to focus on staff retention, employing as many locals as possible so it helps the community stay vibrant.
"I want Jellyfish to have a reputation of somewhere people want to work and are proud to work here.
"Pride is about where you live too, our permanent core staff are all living locally, they are proud to work in Mapua. There are plans for hundreds of new houses in Mapua, I want some of those people to come and see me, come and work to make a difference in people's lives.
"Jellyfish is the biggest employer in Mapua and hopefully we will keep growing. In fact we have had such a positive response to the revamped changes we are in the process of employing four new permanent staff with more to come for the summer months.
And the best thing about the upgrade – "happy staff, happy locals whom come back and give me really positive feedback, the new deck is fantastic, we are really excited about having such a beautiful place to work and share with our community and customers this coming summer."