In recent weeks we have been talking a lot about supporting local businesses, especially small businesses that need our support during these Covid-19-impacted times. There's one special little café that has been on the receiving end of much support.
The Little Dove Café on the corner of Collingwood St and Ajax Ave has become a haven for many locals in the Wood area, and it's being discovered by people from right across the region.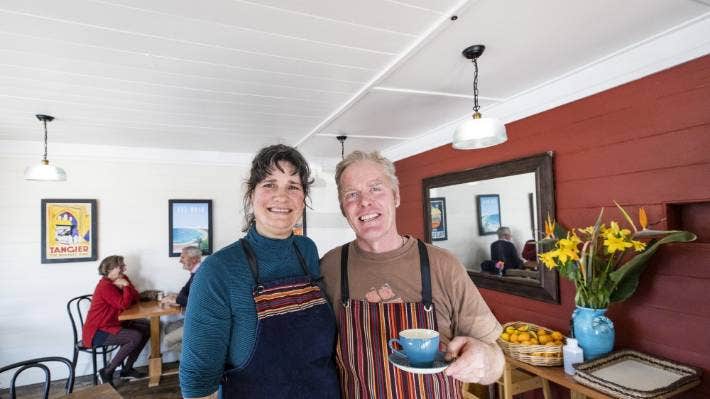 Owners Marianne Navon and Andrew Clancey told me they feel blessed by the support they have had since opening, and that support isn't just from customers, "many local hospitality businesses have been incredibly supportive right from day one" says Andrew.
"We have a very steady local trade and love the community here, people are so supportive, many feel like they are part of our extended family. When people find us they get excited and tell others, we seem to have a forward momentum from word of mouth.
It sounds easy, but the popularity of this café is based very soundly on consistent quality, in both food and service.
Marianne told me that it has been an amazing journey over the 15 months they have been open. "When we started the idea was to just be me and Andrew running a little café five days a week, but within a month we realised that with our tiny niche in the café scene (location and food style) it just took off.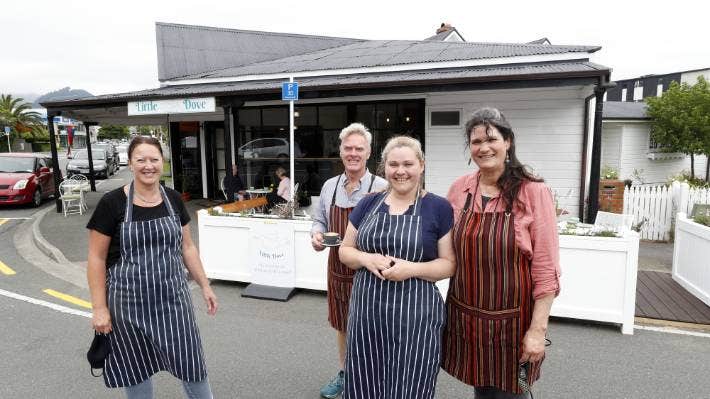 "We soon realised we would need some help and found an amazing pastry chef who is also a barista, we have just had to employ another chef to run the kitchen during busy times so I can focus on creating new dishes and make some of the regular things, like the soups and Hamin we have on the menu."
One of the keys to the success of Little Dove café is the experience they bring to the business. While Marianne has never worked in hospitality before Andrew, who runs front-of-house service, used to own a high-end restaurant in Port Fairy, south of Melbourne. The fact he is a chef too means he can provide input to dishes if needed.
The couple met some thirty years ago in Melbourne and had "a beautiful romance," Marianne says "but I moved to Israel and Andrew moved to Port Fairy. We stayed in touch over the years then in 2016 I went to see him in Australia and we got together again before moving to Nelson."
Andrew has two young children, Nina 10, and Joh, who turned 12 on Saturday, and being close to them was the main reason for coming to Nelson.
Marianne lived in southern Israel on a Kibbutz for almost twenty years and says "the sort of food we serve is the food we eat at home and is based on Middle Eastern cuisine, "In Israel now there's such a fusion of foods we just borrow from the region and bring those flavours to Nelson."
"I've never been in the industry but have always loved to cook since I was a teenager, I grew up in California on nouvelle cuisine, Mexican and southern foods like grits and collard greens. My mother was a very creative Southern cook so I guess food is in my blood as a home cook."
"Living in Israel opened me up to a huge range of cuisines, it's a real hodge-podge of cuisines from around the world. When people migrated to Israel they brought their food culture with them so there's lots of traditional foods and flavours from places like Tunisia, Morocco, Iran, Poland, Russia and many other countries." We try to blend Arab and Jewish food influences with harmony, hence "Little Dove".
At Little Dove café the food is distinctly Middle Eastern in style and flavour but Andrew told me they are open to trying new foods "but we stick to cooking that's done very well.
"We only have a very small kitchen, no grill just an oven and cooktop. We make everything here so it is oven baked goods, salads and things we can cook on a stove top. This is Marianne's baby in terms of food and food development. We like to think of it as really well executed home cooking with integrity and love.
"Since we arrived here the word serendipity pops up. The opportunity to take over the space popped up, Mimi Hausmann popped up and when we were looking for a pastry chef, she's a German trained pastry chef. When we told her we wanted have babka, a yeast cake, and asked her if she had heard of it, low and behold she had worked in Melbourne bakery where she made it for three years."
The latest addition to the small team at Little Dove café is Nicola Nicole. "She's from Auckland and worked at Allpress coffee as a chef so she knows great coffee too."
People ask why they're only open Monday to Friday during the day, Andrew said "we set out to make sure the business works around us rather than us being held to ransom by the business, and it has worked out incredibly well in many ways. We close for a week during school holidays so we can spend time with the kids, and we make sure our regulars know we're closing and why.
"We recently walked the Heaphy Track with our kids and when we reopened customers were excited to find out how the tramp went, it seems like we have created an extended family in many respects, customers becoming family. We try to reciprocate by giving personalised service and placing people above profit where possible."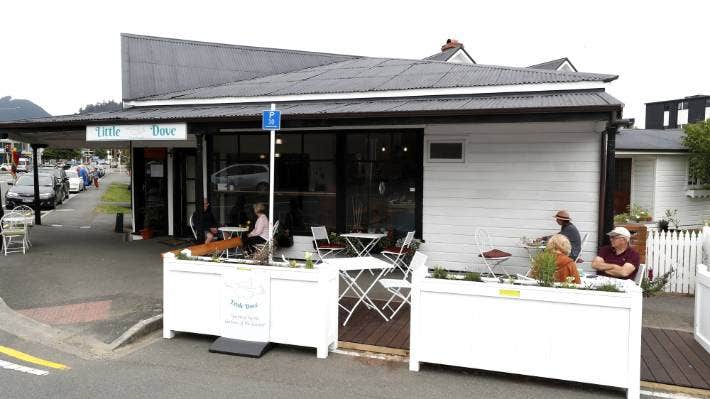 The next step for this smart little café is expanding the outdoor dining space, "council have been very supportive of us creating an outdoor dining space so we have just had a deck built to create a beautiful environment for people to enjoy over the summer in Nelson" says Marianne.
"It also gives us another option for managing Covid restrictions, people can sit outside if they don't feel comfortable being inside, it's also a beautiful place to just sit and enjoy some sun by  the river."
If you want to enjoy a little slice of the Middle East in Nelson during the day then you need to check out Little Dove Café, you won't be disappointed.