The Qualitea Cafe located on the Hardy Street entrance to the Marble Arch Arcade may be one of two side-by-side specialty bubble tea cafes but the thing that sets Qualitea apart from the rest is their exceptional range of authentic Czech, house-made pastries and cakes.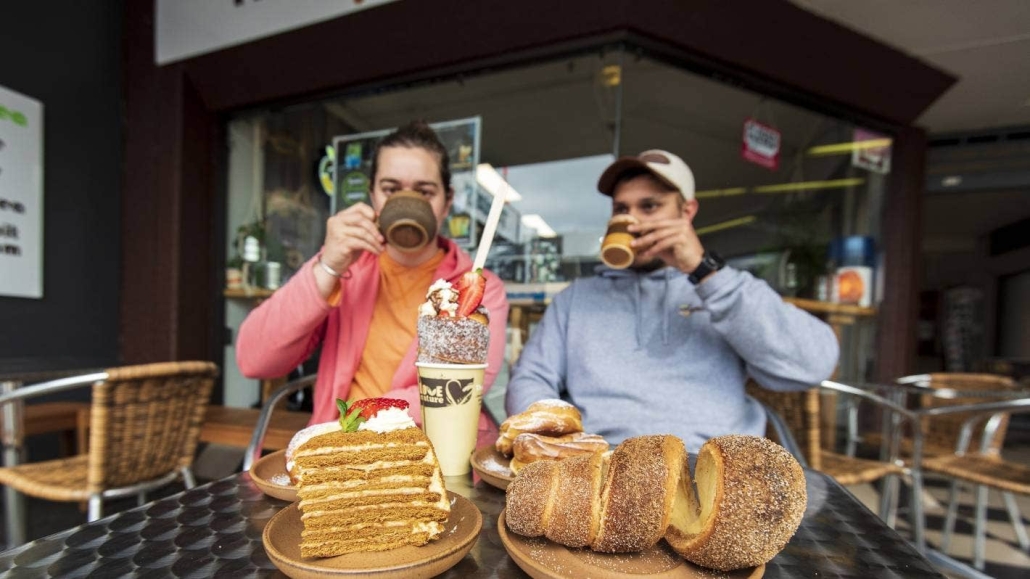 Sim Uppal and Marketa Rekova took over the premises formerly occupied by the Frozen Rolled Ice Cream business that was the first in Nelson to sell bubble tea.
When the couple had the keys to the space they set about transforming it into a wonderful little café selling bubble tea, coffee and real fruit ice cream. Not long after they opened on the 1st April this year another tea shop opened next door. Rather than try and compete on price for bubble tea Sim and Marketa have used their chef skills to focus their café on selling quality treats that reflect flavours from their homelands, flavours they grew up with.
Sim is from Mumbai, India, and Marketa started life in the Czech Republic in a small village called Rekovnik, close to Prague. They came to Nelson via Picton and Blenheim where they both worked for three years in cafes earning their New Zealand residency. "Nelson was our destination to visit when we had a day off and that's how we found this place. It was the only café  doing bubble tea so we came to Nelson for a relaxing massage and bubble tea" says Sim.
"We never planned to have a business but former owner John said you guys are chefs, why don't you buy his place. I wasn't sure but Marketa was keen so we got in touch with the landlord, he was fantastic to deal with and showed us the right direction, he opened our vision to see more than what was in front of us."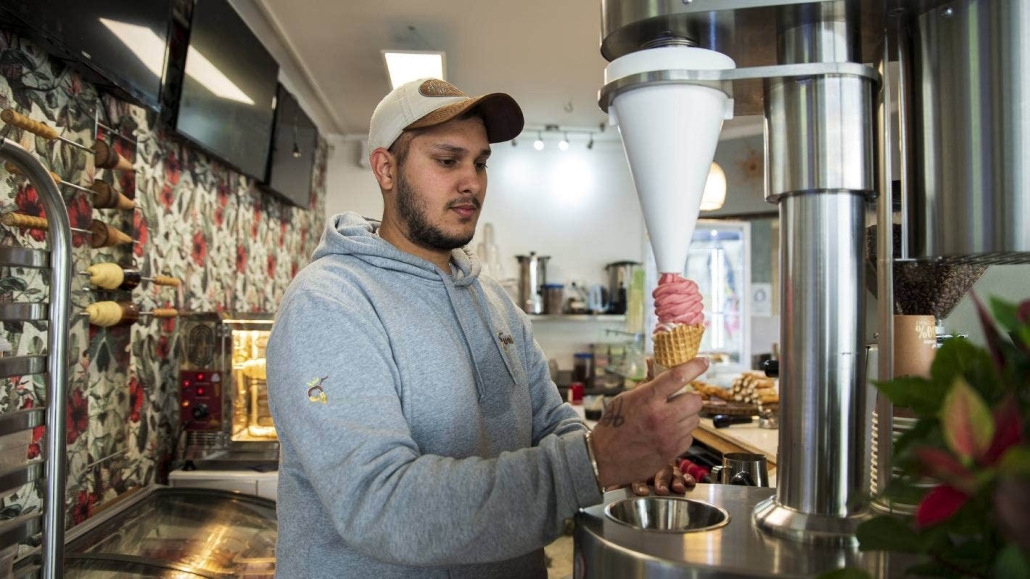 Sim is a qualified chef and worked as head chef at the Marlborough Public House then at Raupo café where he was a senior chef. The couple moved to Picton so Sim could have fulltime work to keep his visa application live. "I had to have fulltime work in Marlborough as a chef and Covid meant my old job became part-time, I was lucky to get the fulltime job at Oxleys in Picton."
Marketa came to New Zealand on a holiday work visa having gained a horticulture qualification in the Czech republic, "I lived in Holland for two years and did a lot of different things to save money to come to New Zealand. My first job here was in a kiwifruit orchard in Opotiki then I went to work in vineyards in Marlborough.
"I started working as a kitchen hand at the Raupo Café where Sim was senior chef, that's how we first met. My visa was running out and the wonderful people at the Raupo cafe helped me with my work visa, they trained me in the kitchen as a chef so I could qualify for the work visa. Sim was my boss". "But not now" says Sim with a laugh.
Sim says "I always loved tea, I grew up drinking tea in India so bubble tea is just a more fancy way of drinking tea."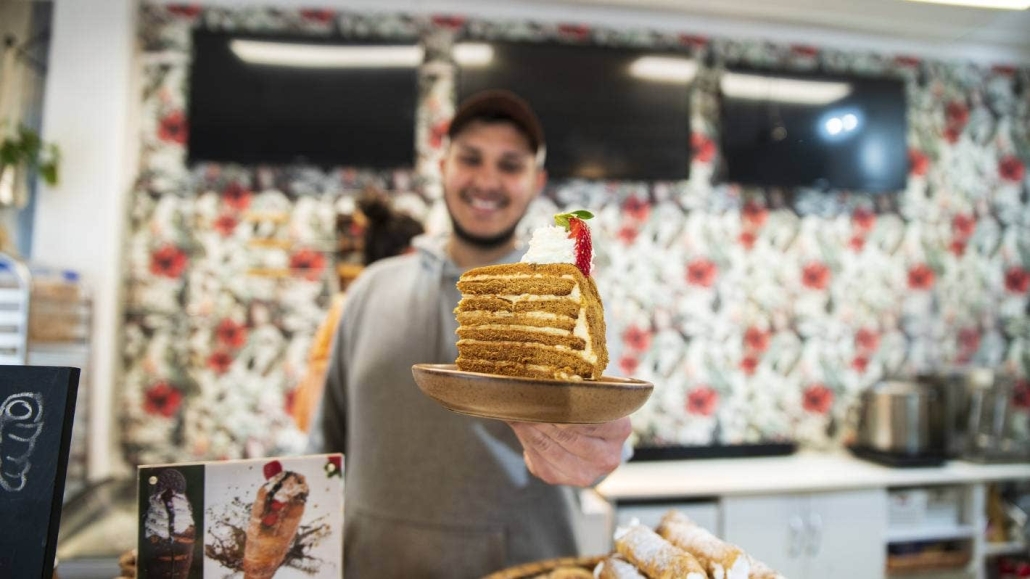 Of course the business had to sell more than bubble tea to survive, Sim told me they had a lot of ideas to make different foods but were restrained by not being able to have an extraction system in the premises, "so we focused on baked goods, it didn't work very well at the start because we were making things like carrot cake you can buy anywhere, we knew we had to make something unique.
"One day we were talking about what we could do and decided to try making pastries from Europe. I learned how to cook pastries at home with my grandmother" says Marketa. "I loved baking and loved making food that made people happy so our pastries and cakes are traditional Czech foods."
Sim quietly told me Marketa didn't have any recipes, "she just cooked from her knowledge and heart, we now have our own recipes written down to make sure it's the same every time.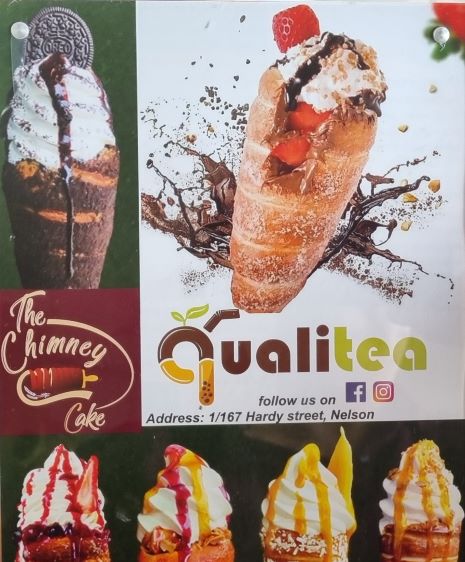 "We put a post on a backpacker Facebook page and the business took off, we didn't know there were so many Czech people living in the region. They tell us they are grateful we have opened, one couple even drove from Christchurch to try our Hot Chimney Cakes. We think there are only two others making these in New Zealand so we are the third and definitely the first in Nelson."
Hot Chimney Cakes are made from a plain sweet pastry dough that is baked and rolled in different flavourings when they're warm, just like making doughnuts but with pastry. The couple imported some special molds from Holland for the pastry to prove and then bake on.
Sim says they are a very versatile treat, "you can just have the flavoured chimney cake, fill it with ice cream topped with cream and sprinkles or even as a cone for our real fruit ice cream. We will soon have a savoury option too.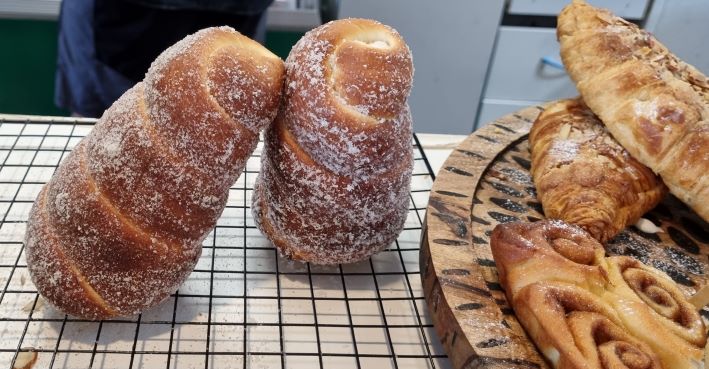 We're planning to have chimney dogs that have a traditional steamed sausage, sauerkraut, mustard and salad on the side. We want to use a traditional sausage so we're working on sourcing that at the moment."
As well as the popular bubble tea they also have plain teas served from teapots and Mumbai Masala Chai that is made with fresh spices, "I make it fresh every morning and it's really popular.
"We weren't going to sell chai but I made some for myself one morning and the guy doing some signage smelled it and wanted some, he told me he couldn't find this anywhere else so we added it to the menu and make sure it has traditional Mumbai flavours.
Real Fruit ice cream served in waffle cones and great coffee using Pomeroy's Formula II beans round out the offerings at this little café whose name says it all – Qualitea is all about quality, authentic flavours made by chefs who have brought flavours of their homelands to Nelson.