On Friday, March 26 at 6:30pm, Juliet will be hosting a tasting at the Northern Club in Auckland. She will be expertly pairing some of New Zealand's finest artisan cheeses with selected wines, followed by salad and dessert. We hope to see you there!
You can purchase tickets to Juliet Harbutt's cheese tasting here: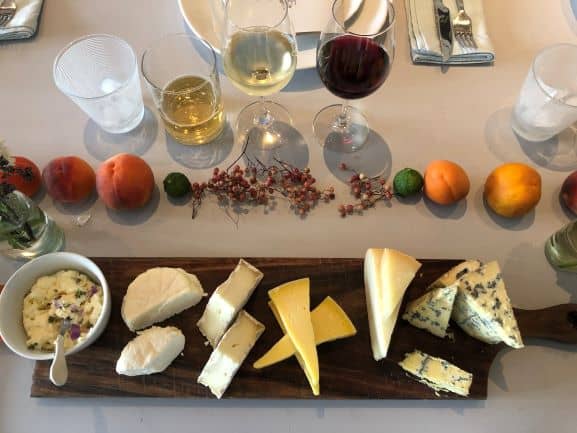 Juliet Harbutt, Master of Cheese to celebrities such as Prince Charles, is holding a one-off cheese master class and tasting session in Auckland on Friday, March 26 to raise money for Tearfund's Sri Lankan post-war dairy project.
Juliet has one of the most refined palates in the world. While living in Europe, she set up one of London's finest wine and cheese shops, selling over 150 raw-milk cheeses. She also regularly featured on the BBC food programme, Come Dine With Me, and helped introduce artisan cheeses to supermarket giants Tesco and Marks & Spencer.
The project
After the Sri Lankan war ended in 2009, many farmers lost their livelihoods and were plunged into poverty. Farmers in Sri Lanka commonly have one or two cows, but they had only ever used those cows to get protein and milk for personal use—never as a reliable income.
The project is helping small-scale dairy farmers to turn dairy farming into a full-time job and make a living out of it.
"The idea that I can help lift farmers out of poverty and give them a better life, excites me," says Juliet.
The project started eight years ago with just eight farmers producing 150L of milk a month. Now, 4500 farmers are producing 500,000L a month. More than a 3000% increase!
"It's absolutely fantastic what they are doing in Sri Lanka. It's great how they are upskilling dairy farmers without changing the landscape."
About Juliet Harbutt
Juliet has always had a passion for food and cooking, so she pursued that passion and opened a café in Wellington called The Parsons Nose.
But it wasn't long before Europe and cheese caught her imagination. So, she decided to sell her café in Wellington and move to London. It was there she opened one of London's finest wine and cheese shops, Jeroboams, selling over 150 raw-milk cheeses.
"Yes, it was a big decision to move to Europe, but I just did it. I said to myself I can do this and didn't hesitate," says Juliet.
Her expertise was quickly recognised by the French, she won many awards and became a Master of Cheese.
"What I love about cheese is you can start with something as simple as milk and end up with thousands of different cheeses. It's amazing how one product can do that."
Juliet has tasted artisan cheese in many remote towns in Europe. She was invited on a tour around Spain where she went to around 30-40 cheesemakers.
"Every cheese represents someone's livelihood. In some remote places I visited in Spain, if they stopped making cheese, the town would lose its purpose."
She sold Jeroboams a few years later to focus on writing, training and helping others set up shops and delis.
"I absolutely love to educate and inspire people about cheese," says Juliet.
"My journey has been rewarding and challenging. I have crossed paths with some amazing people."
Prince Charles was a standout for Juliet. He wrote the foreword in her first book on cheese. She also helped develop and design a cheese for the Prince.
While living in Europe, she helped introduce artisan cheeses into supermarkets, including supermarket giant Tesco and Marks & Spencer. As well as founding the British Cheese Awards and the Great British Cheese Festival.
She also regularly featured on the BBC food programme, Come Dine With Me and wrote for several magazines and newspapers including The Financial Times. She also wrote a column in NZ House and Garden for 10 years.
After 35 years living abroad, she moved to Hawke's Bay to start her new business venture, Hunter Gatherer Tours, giving bespoke tours of Hawke's Bays food, wine and scenery.
One of her newest clients is New Zealand's gourmet grocery store, Farro Fresh.
Her passion is to work with cheese makers and artisan producers and to promote their cheese through masterclasses, tastings and events in Hawke's Bay, nationally and internationally.