If you have been around Nelson as long as I have you will remember the days of the Texacana Burger Bar in Hardy St with its roller door and counter that was basically on the footpath as well as the long-established burger bar in Bridge St, not to mention the fish and chip takeaway businesses in the centre of town until they all quietly disappeared in the 1990's and early 2000's.
The Fat Tui reminds me of those businesses in many ways – just a modern, better version. Rather than being a greasy-spoon type business The Fat Tui serves classic burgers and fish & chips in a modern space right in the middle of Trafalgar St. Last week I stopped in during the day to find out more about the people behind The Fat Tui and the secrets to their great burgers in particular.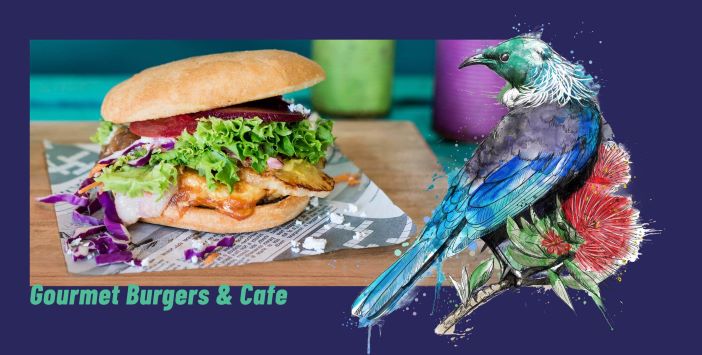 Andrew (Andy) Thompson & Kaylene Walker bring lots of experience to the takeaway food game, having previously owned Rainbow Takeaways in Stoke for 12 years and then the original Fat Tui in Marahau for three years "until Covid happened" says Kaylene.
The journey to opening The Fat Tui in Trafalgar St has been a mixed one, "with the first Covid lockdown and lack of tourists we still hoped it would be sustainable in the long-term, with support from locals it could probably still work, however with other businesses also suffering from the lower volume of travellers we knew we had to think outside the square."
She said "We had been looking in Nelson and heard Starbucks was closing so we approached the landlords and they were fantastic." One of the owners, Gaire Thompson, told the Nelson Mail at the time that large corporate businesses were too difficult to deal with compared to local owners and I think that was a key factor in him and his wife deciding to give experienced local operators a chance to open in a prime spot in town.
Andy told me they were so helpful, "they laid new flooring, installed the extraction system and so many other things to help us."
There was much anticipation about The Fat Tui opening in the city and when they opened the doors "we were slammed for two straight weeks" says Andy "and then on the third of January I had a massive cardiac arrest at 9am while we were setting up for the day." He was given just a 10% chance of surviving but woke up five days later in ICU.  "If it wasn't for Kaylene who started cpr, the trained first aid staff from Farmers with their defibrillator and the emergency services I wouldn't be here today."
Nine weeks later Andy is slowly recovering and coming into the store for a couple of hours a day. He says the support they have had during this time has been wonderful "our landlords came in and asked how they could help, they even offered to peel onions for us, just anything."
But the couple's food business story started many years ago; Andy left school in 1981 when he was 17 and did an apprenticeship with Cosmos Bakery in, Kilbirnie, Wellington. He worked for them for about 10 years as well as working other part time food related jobs around Wellington.
He had his own bakery in Wellington for a few years with key customers like the Inter-Island Ferries who bought all their bread from him. He decided he wanted out of Wellington so went to Culverden to work in the forestry industry for a while, it was as here he met Kaylene.
Kaylene worked for Trustbank and its various iterations, moved to Culverden and "did some teacher-aiding, then kids happened."
Long story short, they bought a takeaway business in Culverden. She and Andy have a blended family of seven children "who have all worked in our businesses at one stage or another" says Kaylene.
After four years in Culverden they bought Rainbow takeaways in Stoke, then The Fat Tui in Marahau before setting up their latest business.
But at the end of the day, despite of the dramas it is great food that's at the heart of every business this hard working couple have owned. The burger patties are their own recipe, they use chicken tenders rather than a chicken pattie, the Moroccan inspired Ewe Beaut Burger is made with chunks of lamb and of course they have vegetarian, vegan, gluten and dairy free options.
They make almost everything in store, including the biscuits they use to make ice cream sandwiches with, the only real exception are the burger buns.
"The buns might be big but they aren't too thick, so you get lots of filling rather than big fluffy, tasteless bread buns." Kaylene adds, "we want our burgers to be stacked, we want good food that's great value for money going out the door." But there's also a children's area and tables upstairs for anyone who wants to dine in.
At The Fat Tui you can also get cabinet food like sandwiches, pies and slices along with your favourite coffee if you want something to grab and go during the day.
There are many other things to like about the food at The Fat Tui, including the takeaway fish & chips that are wrapped in newsprint rather than just loaded into a branded box, "it helps keep them hot" says Kaylene about the fresh fish battered in their own crispy batter.
There's nothing 'chain store' about the food at The Fat Tui and while Andy says "I'm just happy to be alive and living a second life" he also says the time off has given them time to think about menu items to add in the future, including designing burgers that can be used as specials so there's always something new available, "but first he needs to make sure he's healthy, I'm not ready to lose him yet" says Kaylene.
The Fat Tui in Central Trafalgar St is open from 9.00am to about 8.30pm seven days, check out their website for the menu. www.thefattui.co.nz