If you're looking for the perfect place to relax over some exceptional food and a glass of beautiful Nelson wine over ANZAC weekend then I have the answer for you – Forsters at Moutere Hills.
Located in Eggers Road, behind the Upper Moutere village, what was Moutere Hills winery and restaurant has been transformed over the last few of years into Forsters at Moutere Hills, a beautiful dining location where you can sit outside on a sunny day or be wrapped up inside on a colder winter's day.
Rusty Rayne and Lisa Goodson used to operate both the winery and restaurant but in 2018 decided to focus just on making great wine and letting someone else provide great food, that's when Alistair and Fiona Forster stepped in and turned the winery café into a delightful vineyard restaurant that serves outstanding food.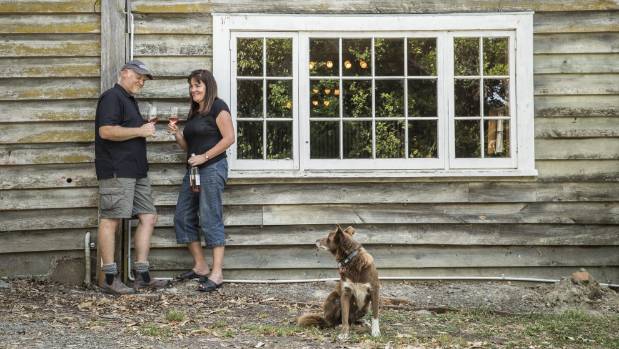 Last week I caught up with Rusty and Lisa while Alistair and Fiona were working hard in the restaurant to talk about the 2021 vintage and wines they currently have available.
Let's start with vintage 2021, Rusty says "we dodged the hail storm but we did get a little tickle up from some frost in spring which meant a reduced yield on chardonnay but volumes of everything else across the board we are happy with and the quality across the board is outstanding.
"Spring flowering weather was pretty average in the Nelson region so it has impacted everyone, here, the lower fruit set saved us doing some thinning. Our focus is squarely on quality not quantity so we tend to crop for low yields anyway.
"Then we had cooler than average temperatures over summer so ripening was a little slow but the fruit we have harvested so far is outstanding. It's going to be a vintage to celebrate, even if it is a bit smaller than we would like.
"We still have some Syrah and Merlot hanging out in the vineyards, they are thicker skinned varieties so can handle the rain we have been having recently, we're just waiting for the flavour profiles to really develop. We could harvest both varieties now but we want to make the most flavoursome wines we can so we will wait a little longer so the flavours can fully develop."
With a focus on quality they are producing some outstanding wines you and I can enjoy and buy at Forsters Restaurant and their cellar door, Lisa says "our relationship with the Forsters is outstanding, they are fantastic to work with and they produce such good food it works well for all of us – good wine and good food go together."
I stopped in at the restaurant to talk with Alistair and Fiona but at about 1.30pm on a Friday the place was busy with food flying out of the kitchen so after I had spent some time with Rusty and Lisa I stopped back at Forsters when they had almost finished lunch service.
I have been lucky enough to dine at Forsters a number of times since they opened, and the food is always fantastic. Fiona told me "We work really hard on consistency, when people come here we want them to have beautiful food in this lovely setting but we also want guests to enjoy the whole experience. That means service has to be perfect every time someone visits. Locals who dine with us regularly are really important and we don't want to let them down in any way."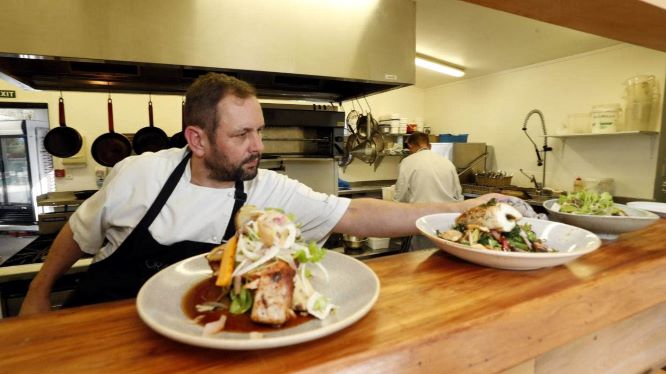 If you want a little teaser check out the photos and menus on the Forsters website, I can assure you the photos are true representations of the quality of the food, not just flash images to entice you. www.forsters.co.nz
So what about the Moutere Hills wines? Rusty says "Pat Stowe adds his masterful touch to making our wines, I just grow the grapes. He is so experienced he is someone else we have an outstanding relationship with."
They have two labels, the Moutere Hills label and the Moutere Hills Sarau Reserve label that is only used for special wines; winemaker Pat Stowe says "Rusty has done and exceptional job reviving a vineyard that had been totally neglected for five years and he is now growing some fantastic fruit so we ferment and age wines in small batches and then, in exceptional years, we select the very best barrels for the Sarau Reserve range."
Rusty says they grow all of the grapes for the wines with the exception of Sauvignon Blanc, "we are real Chardonnay fans, and the Moutere Clay soils are perfect for growing it, we focus on growing varieties that do well in our location and buy in some fruit for Sauvignon Blanc, everything else is grown on our own land with the wine made on site so we control everything from the vineyard to the bottle."
The current release wines range from 2018 for the Sarau Reserve range to the 2020 vintage for fresher style wines like Sauvignon Blanc.
Lisa says "We're proud of all of our wines across the board, we focus on quality and then let the wine do the talking. My favourite is the bubbles, bubbles makes everything a special occasion and ours is a little different, it's made with Riesling and Pinot Gris in the Methode Carbonique style and has a really strong following."
To round off the Moutere Hills experience you can visit the Fox & Grapes Bar that has been developed in the old hop kiln on the site, it's the perfect place to unwind over a beer with food from Forsters on a Friday night, the only night the cosy bar is open. www.mouterehills.co.nz