In recent years the number of people investing in good quality, even premium quality, home coffee machines has grown exponentially and if you are one of those buyers then Julian Trigg from Statement Coffee has some tips to help you keep your precious dispenser of a caffeine hit in good condition.
Julian services coffee making equipment, from home machines to those large multi-head commercial beasts you see in cafes around New Zealand, and he sees more than his share of sad coffee machines that could do with a bit of regular love.
He has been working in the coffee machine industry for about 10 years so he really does know what he's doing. He services a range of coffee machines and is the only service person Pomeroy's and The Coffee Factory use and recommend. Our home coffee machine gets his attention about once a year.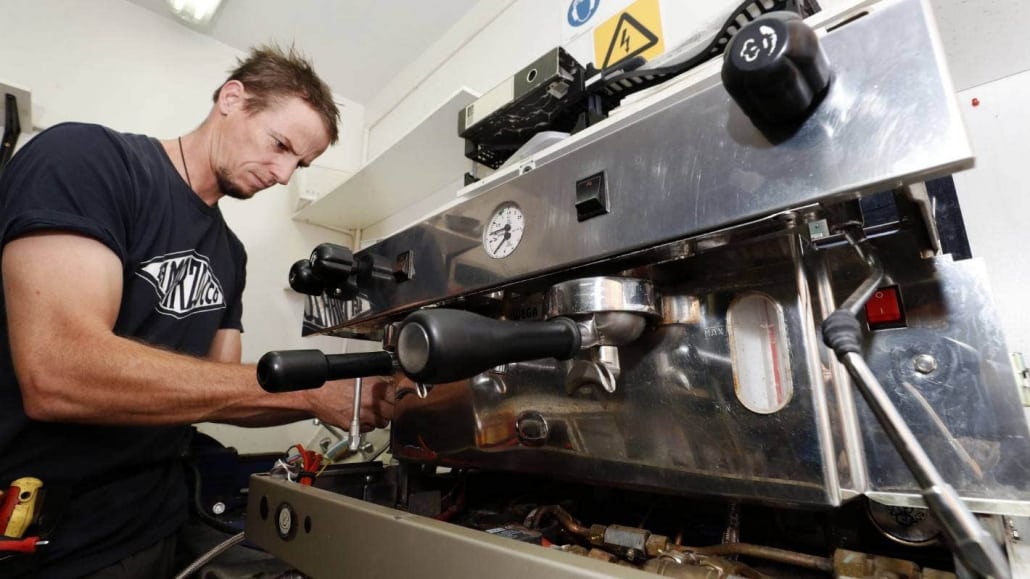 Julian's journey down the winding road seeking coffee perfection started in North America "I have family in Vancouver and staying with people you know is a great way to travel as a 23 year old, I ended up working at the most high profile café in Vancouver where they turned about 400 pounds (just under 200kg) of espresso coffee beans every week into a range of different style coffees using a custom made five head La Marzocco machine.
"One of the owners was a multiple Canadian Barista winner so I learnt a huge amount about making great coffee. They were also at the forefront of latte art, making all sorts of designs on each cup of coffee they served. I finished 3rd at an international latte art comp in Seattle." 
When his work visa expired he came back to New Zealand but the same company offered him a full time management position that gave him enough immigration points to be able to work there on a more permanent basis and to eventually gain citizenship in Canada.
After moving to Canada for the management role the company was sold and it wasn't quite the same under the new ownership "but I happened to get along really well with the guy (Frankie Jamali) who serviced the machine at the Café so I hit him up for a job and he said yes, that's where my repair and servicing training started.
"He also had the distributorship for La Marzocco, I worked for him for 18 months and learned a lot before I got head hunted by a local franchise coffee shop as trainer and food and beverage manager on a fixed term contract before I ended up working at a coffee company called JJ Bean Coffee Roasters.
"They have their own roasting operation, as well as owning about 16 coffee shops (at the time) and supplied coffee to about 400 clients right across British Columbia. They also sold and serviced commercial espresso machines and that's where my servicing training really took off, I was sent away on electrical courses and on vocational training with machine manufacturers and importers.
"I spent three years with them travelling all round BC servicing coffee machines and then my father, who lived in Vancouver at the time, died suddenly so we moved back here to be closer to my mother. We wanted to be closer to our kid's grandparents."
Julian had been back in Nelson for about 18 months when Hayden Thompson from The Coffee Factory & Pomeroy's offered him a job, 20 hours a week roasting beans and 20 hours servicing customers coffee equipment.
"In North America they mainly use drip filter machines at home rather than espresso machines so I picked up most of my knowledge about home espresso machines working at The Coffee Factory for five years. While I loved it I wanted to set up my own business so, with Hayden's blessing and help, I set up Statement Coffee as a specialist coffee machine servicing business in 2019. Hayden has even let me use some space at the back of the Coffee Factory as a service workshop.
"Now I service and repair coffee machines from Westport to Springs Junction, Golden Bay, Blenheim and of course in Nelson. It tends to be commercial machines out of town with the occasional domestic higher end machines but in Nelson I service and repair almost every sort of coffee making machine you can think of."
Julian says while expensive machines ($2500 to $5,000 for home espresso machines) are designed to last a lot longer than cheaper models, in general terms the main issues he sees are faulty pumps and water scale issues through lack of filtration.
"Scale is a term for calcium deposits, when you heat water minerals detach from the water and deposit inside the machine, these can damage the pump and can lead to all sorts of issues from blockages to things like seizing and covering the water level probe. Scale is like the white stuff you see on the shower head at home.
"You can buy descaling products to use at home but they aren't the best way of removing scale in some higher end machines, some of the chemicals can damage the boiler element, scale can seal small leaks and when you descale a machine it can expose these leaks and cause a few issues so it's best to get a Espresso machine tech to perform a descale of these expensive machines."
Julian says the key difference in a Rocket type machine compared to a (Breville or Sunbeam) is the type of heating they have – a heating block or a boiler/heat exchanger. The heat block style needs to be descaled  regularly because they have very small tubes the water passes through to heat it and these can block easily, it's also difficult to damage as they don't have an exposed heating element making them easy and safe to clean at home by regularly running a descale product through the machine. Most manufacturers will have instructions in their machines.
He says "with faulty machines often they don't need repairing, just a good clean, but there are times when it needs to be serviced professionally because just running chemicals through it doesn't get rid of everything."
Julian's top tips for looking after your dispenser of liquid delight:
The best thing to do is use filtered water to reduce calcium build-up and remove chlorination flavours. Either a filter on your tap or a filter in the machine.
Cleaning the group head (the bit that makes the coffee) must be done regularly. Cafes do this daily, at home once a week depending on how much you use it.
Get your machine professionally serviced when you're going on holiday and won't be using it for a week or so.
But the single best way to get the most from your coffee machine is to invest in a good grinder, freshly ground beans make a huge difference. And don't forget to clean the grinder regularly too.
Check out Julian Trigg and his services at www.statementcoffee.com