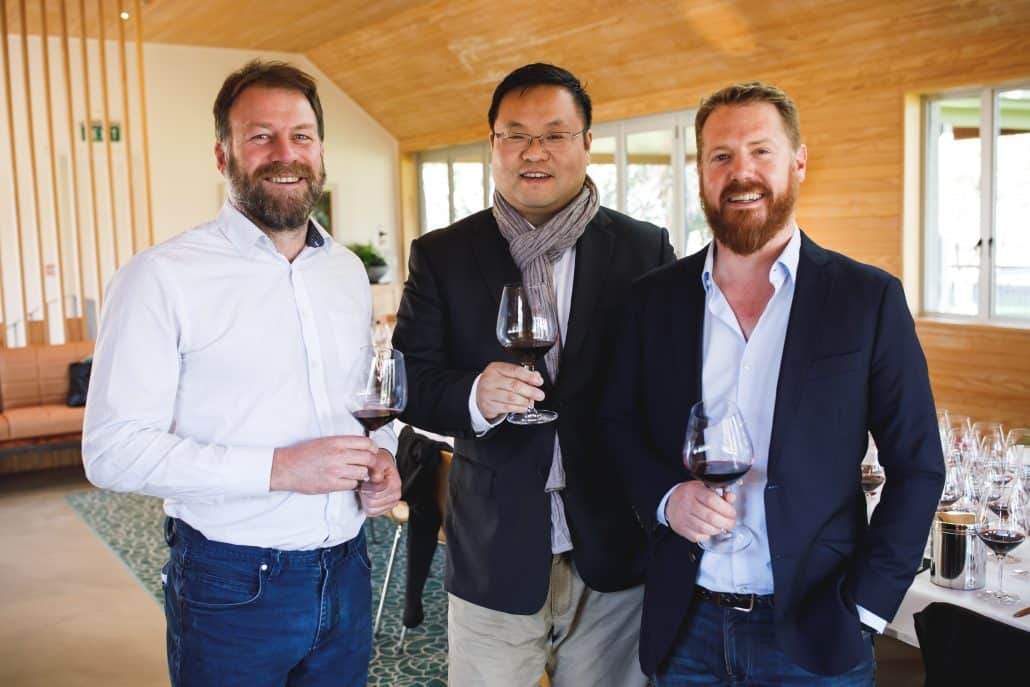 Last week I was one of a group of wine writers, buyers and communicators who were invited to attend a Pinot Noir Salon at Cloudy Bay hosted by Estate Director Yang Shen, Senior Winemaker Tim Heath and Viticulture Manager Jim White along with Cloudy Bay winemakers Mario Dussurget Victor Joyeux and Dan Sorrell.
While we did taste many Cloudy Bay wines over lunch and dinner the focus of the Salon was to explore wines of the world that influence Pinot Noir production at Cloudy Bay.
This is the first time a Pinot Salon has been held on their home soil in Marlborough, since 2015 previous Salons have been held in major cities around the world from Sydney to Tokyo.
The term Salon was used for the event rather than tasting or workshop because it reflected the purpose of the sessions, described by Heath as "a new forum for the discerning enjoyment of Pinot Noir in an intimate conversational setting where guests are invited to contribute their own perspectives on two carefully selected flights of six wines."
New Zealand Master Sommelier, Cameron Douglas, who guided the tasting asked attendees "to discuss the wines and talk about them in terms other than just flavours and winemaking techniques."
So instead of tasting wines to benchmark them or score them, as happens in wine competitions and when people like me review wines in the normal course of events, we explored the experience each wine offered and the emotional reaction to the wines rather than just the taste.
Heath, Yang Shen and Jim White presented a specially selected group of exceptional wines including some personal favourites, each of which has been, in its own way, an inspiration for the Cloudy Bay winemaking team.
In these tastings Cloudy Bay "have always included the wines of other eminent winemakers alongside our own – it is much more sociable and interesting to do it that way, and it cuts to the core of our philosophy of tasting and making great wines."
With the philosophy of "To make great wines one needs to taste great wines; this sentiment is at the heart of Cloudy Bay's winemaking" they wanted to show us what has influenced them in their careers and how they bring those influences to creating exceptional wines for Cloudy Bay and how these experiences are guiding the direction of wine styles for the brand.
Obviously because the event was hosted by Cloudy Bay the focus of the day was on their wines, but not in a promotional way, they were showing us what influences them as viticulturists, winemakers and as a company and how those influences are defining the wines of Cloudy Bay.
One thing was very clear, the current management and production team have been having a long, hard look at what they do, the wines they produce, where the grapes come from and what defines them as a premium producer.
A decision that has flowed from that defining process has been to pull out their Riesling, Pinot Gris and Arneis grapes so they can have a certain clarity to focus on the three key varieties that built the reputation of Cloudy Bay – Sauvignon Blanc, Chardonnay and Pinot Noir.
I have been a buyer of the Cloudy Bay Te Koko for many years, this is a barrel aged Sauvignon Blanc that has richness and depth of character built on classic Marlborough Sauvignon Blanc flavours, it is a thoughtful wine that is wonderful with food.
Cloudy Bay was the wine company that took Marlborough Sauvignon Blanc to the world in the mid 1980's, it is their wine that consumers in London fell in love with, one quote from the time said it was like opening a bottle of sunshine in a grim London winter.
Sauvignon Blanc is now the work horse, star and financial backbone of the New Zealand wine industry so of course Cloudy Bay still produces a version of the wine that first enchanted the world, the only difference is the vines are now a lot older and deliver more than just bright, fresh zingy flavours.
When it comes to Chardonnay Cloudy Bay has always produced a balanced, complex style. The oak influence is obvious but not dominant while carefully manged secondary malolactic fermentation adds a gentle weight to the mouthfeel and a soft creaminess without dominating the fruit flavours or compromising the juicy acidity.
However, for me Pinot Noir in all its expressions has been the star of the stable, I say 'all of its expressions' because it has been used in the blend that makes up their sparkling wine Pelorus almost since the first vintages.
Pelorus and Pelorus Rose are both beautifully elegant wines that have been one of New Zealand's favourite hand-crafted premium, yet very affordable, sparking wines for decades.
Cloudy Bay Estate Director, Yang Shen said, "Cloudy Bay first planted Pinot Noir in Marlborough in 1985, and released the first vintage in 1989. Since then we have acquired some of the finest pinot noir vineyards in Marlborough, and more recently in Central Otago where we are continuing to refine our style."
Back to the Pinot Salon where the focus was entirely on Pinot Noir, its journey at Cloudy Bay and what the future holds.
Like any wine producer Cloudy Bay is always looking at how they can be better at what they do, in this case it is about how do they make even better Pinot Noir, wines that are exceptional, that have a sense of place, that reflect the land the grapes are grown in, a wine that is built from the ground up using flavours and characters in small parcels of fruit from each vineyard to create something special.
Understanding what it is about the structural components they love in the great wines of the world and using these influences to make special Pinot Noir wines and having a conversation about these wines with others is what the Pinot Salon was all about.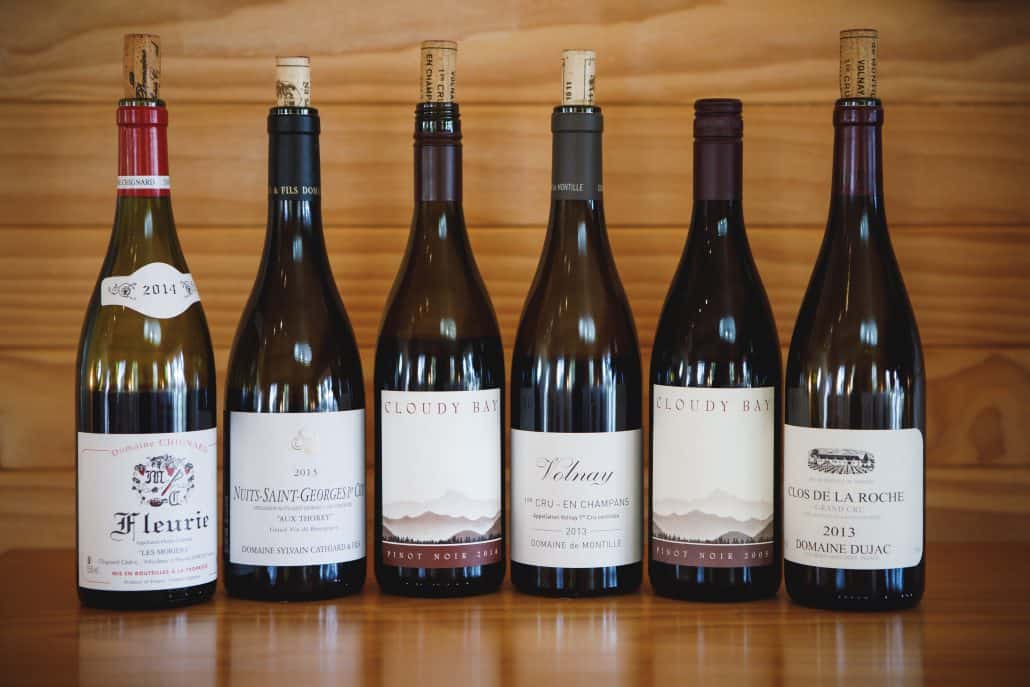 Both sets of six wines were served blind, we had six glasses of wine pre-poured at the table and no idea where the wines came from, what the variety was, who the producer was or how much each wine cost; the first flight of six wines consisted of wines from France and Cloudy Bay; the French wines ranged from a $30 Beaujolais to a $750 Grand Cru Burgundy
The second flight of six wines, also served blind, included some of the finest wines made in the world and were selected by the winemaking team to show how these wines have influenced them as winemakers, it wasn't just about the flavours in each wine but the other senses that were activated when tasting these great wines, wines from France, Spain and Italy that are helping focus Pinot Noir production at Cloudy Bay.
As each wine was discussed in detail in a conversational style it was words like generous, warm, youthful swagger, refined, beguiling, nervous energy, like a wise older person, sweet spot, vibrancy, density, power, restrained, meaty, moody, pushy, teenage angst, seductive, alluring, attitude and even placing each wine on a scale from Leonard Cohen to Led Zepplin that described the emotional connection with each wine.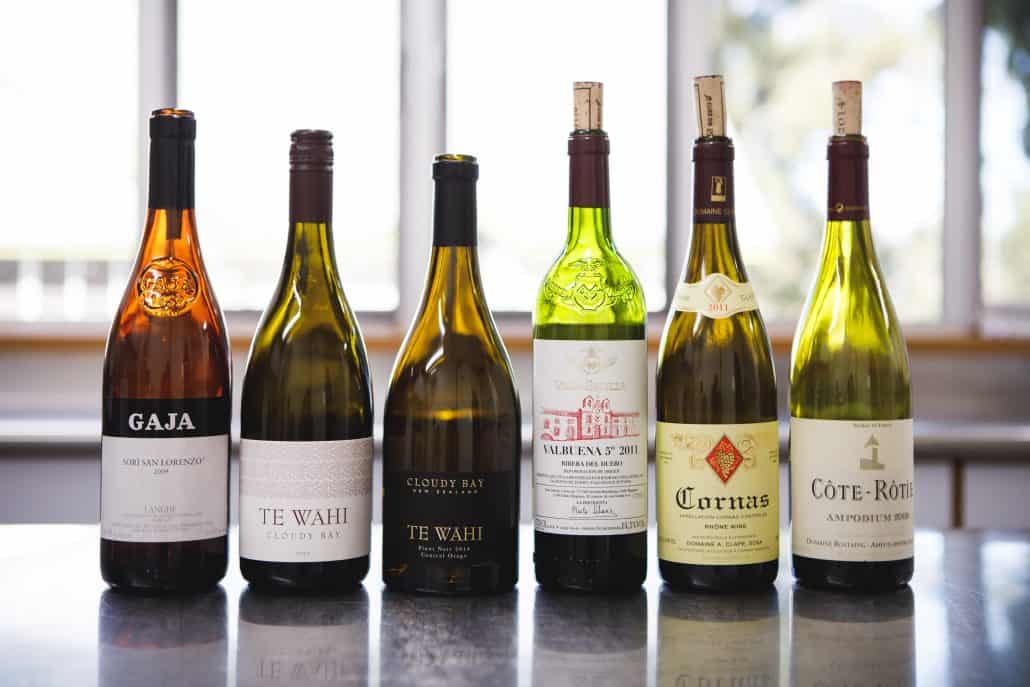 Each flight of wines also included wines from Cloudy Bay and they were quite at home when tasted with wine royalty, for me the 2014 Te Wahi Pinot Noir made by Cloudy Bay from fruit they grow in Central Otago was the clearest view of how these conversations around great wine are influencing their future, a future that will ensure the Cloudy Bay wine brand continues to shine brightly.