From the time the independent Tasman Brewing Company made its first beer followed by opening the first Sprig & Fern community tavern the business has continued to innovate and grow.
Now called the Sprig & Fern Brewery and in the very capable hands of Master Brewer Tracy Banner and her husband Ken the attitude of growing a boutique brewery business alongside the community tavern model has seen it quietly grow into a significant operation.
In fact it has grown to the point where the Sprig & Fern now treads the fine line between craft brewing and mainstream brewer with one key difference between the two titles, the Sprig & Fern Brewery is heart and soul about hand crafting fine beers rather that bulk production.
Last week I caught up with Tracy to find out more about her and the new bottles they have launched into the market to support the growth in supermarket and liquor store sales.
Tracy brings a huge amount of experience to her role as owner and Master Brewer at the Sprig & Fern Brewery. She was the first recipient of an Honorary Award from the Brewers Guild of New Zealand in 2014 and last year won the Morton Coutts Award, a trophy awarded for innovation and achievement in the industry.
Last year she celebrated 35 years in the industry; she moved to New Zealand 25 years ago, spent a year in Auckland before she saw the light and left the city, "I joined McCashins Brewery that was owned by Terry & Bev McCashin in 1995 and was there when Lion acquired the business in 2000.
"I had a Head Brewer role at Mac's brewery under the Lion ownership and was based in Nelson before I moved to Dunedin in 2005 to became the first female Head Brewer and Brewery Manager in the Speights Brewery's history, one journalist wrote 'It's a hard road to find the perfect woman but Speights have' which was a play on their advertising of the time.
"I was there for two years before coming back to Nelson and Mac's in a national role with Lion but when they closed production here and moved everything to Auckland they wanted me to relocate to either Auckland, Sydney or Brisbane. But Nelson is home to us, we had three children while I was at Macs so we decided to stay here so  in 2009 I got involved in what is now the Sprig & Fern Brewery."
In September this year the brewery will celebrate ten years of crafting fine brews under the Sprig & Fern brand and Tracy says the need to keep innovating and delivering fresh, interesting flavours to our consumers is just as important now as it was when their production was smaller.
"When we think about innovation, we need to be innovating all the time, the craft beer market is growing all the time and it's the small-batch brewing innovation that keeps us in the craft beer market rather than the Sprig & Fern brand turning into another Lion or DB.
"We currently have a range of 26 beers and produce in excess of 20 seasonal beers each year too, we have a lot of flexibility to experiment and play with flavours which continually gives consumers something new to try. We are definitely craft brewers, that is where my passion is, exploring everything beer has to offer rather than just continuously brewing the same product."
Tracy is still fully hands-on in the brewery and just as passionate about her job as she was 30 years ago, "I love what I do and still spring out of bed every day, being able to hand-craft a product is hugely satisfying."
Another important aspect of the Sprig & Fern business is their direct-to-market strategy of setting up, and sometimes owning, the Sprig & Fern Taverns that are community based local pubs.
"The only tavern in a CBD location is in Hardy St but we don't have an interest in getting into the CBD bar scene in other places. The Sprig & Fern Tavern brand is all about community, being  able to walk to your local, there's no TV's or pool tables, they're all about good old conversation, it's lovely to hear people talking happily after a week at work, catching up with friends over a pint or whatever."
There are ten Sprig & Fern Taverns, three in Nelson, four in Tasman, one in Merivale in Christchurch and two in Wellington including their first Little Sprig in Seatoun, "it's smaller than our Milton St tavern but Seatoun is a lovely community and there was nowhere to go to catch up with a mate or have a chat, now there is."
The Sprig & Fern isn't just about selling their beers in the taverns, it is now a national brand that supplies supermarkets and liquor stores across New Zealand, so as well as the kegs they send to taverns they bottle their delicious treats in 330ml and 500ml glass bottles as well as in 1.25 litre riggers.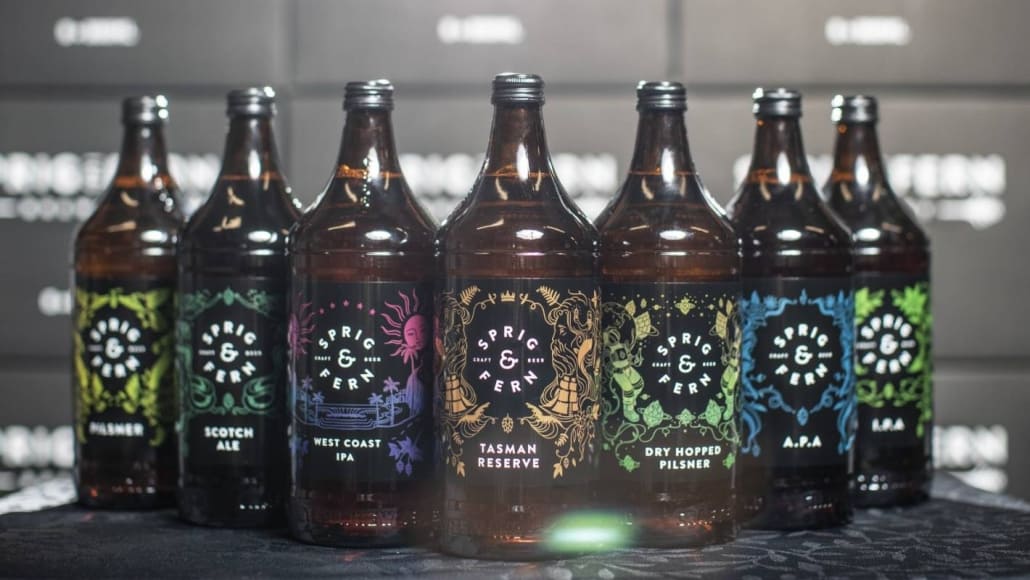 The latest innovation is the introduction of 888ml glass bottles. Tracy says "We were looking for something to eventually replace the plastic riggers but wanted a glass bottle customers could reuse themselves that also retained a similar shape as the riggers.
"The 888 happened to be the size bottle OI Glass were producing for a Kombucha and is perfect for us, so far we are the only company using this particular re-sealable bottle for beer.
Tracy told me that this new bottle came about during the brand refresh in 2017, "everything was black & white and I recall seeing our tap labels against some bright, colourful labels and realised it was time to freshen things up. We went to tender to find a design agency that understood us and started working with Inject in Wellington.
"They came over from Wellington and we explained how we do things that differentiate us from some other brewers, like cleaning every tank after each brew because not every brewer does this if they are using the tank to make another batch of the same beer."
Tracy had to come up with two words to describe every beer, something she said was challenging but it helped focus the business on the new branding, and then Wellington artist Gina Kiel drew every label based on the two words she gave them, "every beer and cider has its own distinct label"
When it comes to running the business Tracy says "we have such an amazing team of people here who make sure everything happens when it needs to so I can focus on the operations and brewing side of the business.
"I realised that as the business grew, I couldn't do everything so Lee Brown came on board as our General Manager almost two years ago.  Lee's main focus is on all our current and future distribution channels and the Sprig & Fern brand umbrella.
The rebrand has been highly successful too, at the 2018 Brewers Guild of New Zealand Sprig & Fern won the packaging trophy for the year, which, for Lee and I, recognises hours and hours of work to get it right so to be recognised in the industry is a huge pat on the back."
The new 888 bottles with very cool labels were released to the market on Monday so make sure you check them out next time you buy a Sprig & Fern beer.
Published in the Nelson Mail 03.04.19