You may remember that back in December 2015 I wrote about David Phillips from West Indies Spice Traders, David's a character who is simply bursting with irrepressible energy and excitement for the chili jam he produces and the flavoursome hot sauces he imports from Jamaica.
In my last column about him I said "Phillips' old English heritage shows in his white skin but as a third generation Jamaican this part of his heritage is evident in his love for and enjoyment of life, including enjoying the wonderful fruity and spicy flavours of the Caribbean"; that enthusiasm continues unabated, he is a man on a mission to bring the flavours of the Caribbean to New Zealand and those flavours now include barrel aged rum and alcoholic Ginger Beer.
Quite a few things have changed since I last sat down with David, for a start he is now the official Jamaican consul to New Zealand, "It was a two year process, I met with the Minister of Foreign Affairs in Jamaica and can now represent Jamaicans in New Zealand.
"I report to the Jamaican Ambassador in Tokyo who is the Ambassador for the Asia Pacific region and while I'm honorary consul I think it's important there is someone in New Zealand Jamaican people can talk to when they need to, I was already a brand ambassador for Jamaica because of what we sell so it was a natural progression for me to do this too.
"I had contact with a Jamaican Citizen who was in the mosque in Christchurch at the time of the attack. Courtney Walsh, the Jamaican cricketer who is the bowling coach for the Bangladesh cricket team, was in the bus with them outside the mosque as the awful event unfolded."
So back to rum and alcoholic ginger beer, my usual question of why was preempted by David telling me his sauces and seasonings were spicing things up mostly in the summer but he needed something to warm things up in the cold winter.
"The wet Jerk Seasoning rub I distribute sells incredibly well in this country, so it was a no-brainer for me to bring in rum. Rum is Jamaica's biggest import into New Zealand, and rum is also an important part of my Jamaican heritage.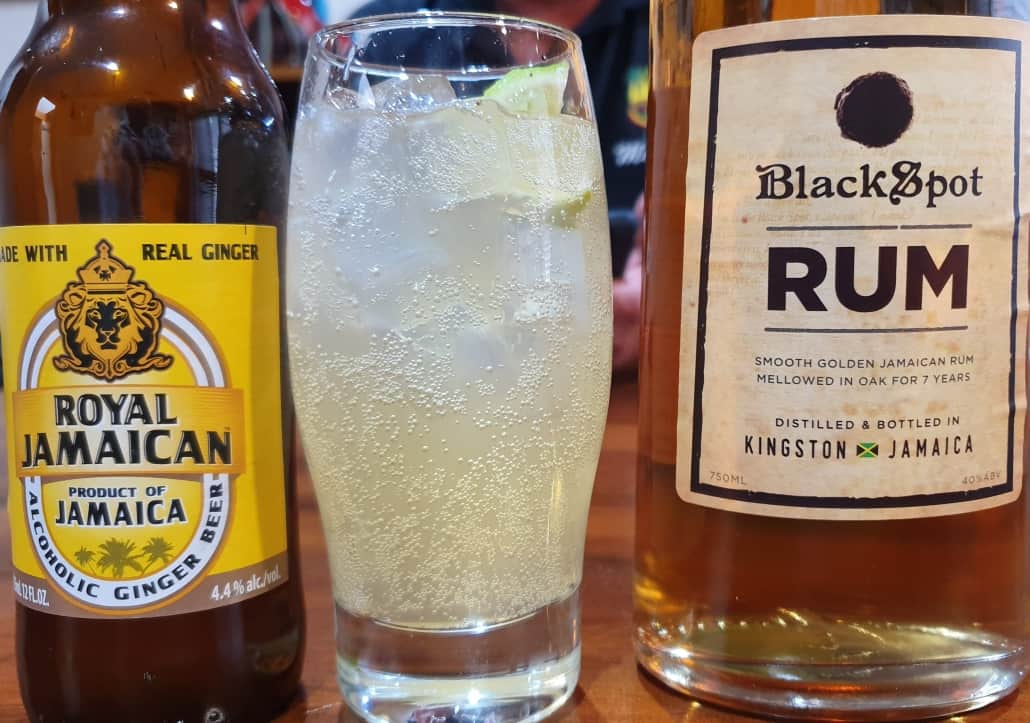 "Rum's renaissance has elevated it to a fast growing, high end, craft spirit category bringing new consumers who had not previously considered it as a sophisticated drop. The opportunity I saw was other importers have either cheaper, inferior rums or very expensive rums, there was a gap in the market for a premium quality rum at an affordable price."
When I met with Dave last week to find out more about this latest addition to his range of products he, of course, he insisted we try a few samples while we talked, just so I could understand what he was talking about of course!
I need to admit here that I had a very bad experience with a certain dark rum many years ago and to this day can't stand even the smell of it, so it was with some trepidation I approached this particular tasting, however my darkest fears were totally unfounded, the BlackSpot rum David poured for me was much more like a fine single malt scotch whiskey than the sweet horrors of my past.
"You can't think about Jamaica without thinking about rum and the sugar cane it is made from.
"Many in my family were Planters who worked on sugar cane and tobacco farms, sugar is the Caribbean, and rum is such an integral part of the West Indies.
When it comes to the rum David distributes I initially thought BlackSpot Authentic Jamaican Rum was a rum brand he was buying and distributing here, but no, it is a brand he developed and a rum he has had blended to his specifications in Jamaica before shipping it to New Zealand.
"I was introduced to the only rum blender in Kingston, my home town, and they buy freshly distilled rums to age, barrel aged rums to age further and then blend them for people like me. Two old guys who have been blending rum their entire working lives took me under their wing and I told them what I wanted, they put together different blends and we tasted and trialed many blends until I settled on this one.
"The rum they blended for me is made using use both three-pot and column still Jamaican rum that is fermented and distilled from molasses that is also produced in Jamaica, then aged in old bourbon oak barrels. My blend is a mix of new crop, five, eight and ten year aged rums, so it averages about seven years in the barrel before being bottled."
What was important when he was selecting the blend for BlackSpot? "Firstly, I wanted it to be a smooth, tropical driven drink, a fundamental Jamaican rum that could be consumed neat or on the rocks and having no guilt about using it in any cocktails so price was important too, not cheap but not too expensive to used liberally in exotic tropical cocktails.
"It is really important to me that I have a great product that's affordable, $50 retail means it sits between existing premium rums and budget rums, but this is all about the quality, good rum shouldn't rip your throat out with heat, good rum should be smooth, warming and rich in flavour. You don't need to adulterate it with cola to mask a myriad of sins, having said that I believe that you should enjoy our rum anyway you like it!"
The BlackSpot rum has no additives other than a little caramel that is added for colour consistency but doesn't affect the flavour, there's no added sugar unlike populist rums which are really preying on young drinkers who like sweetness in their drinks – sugar sells!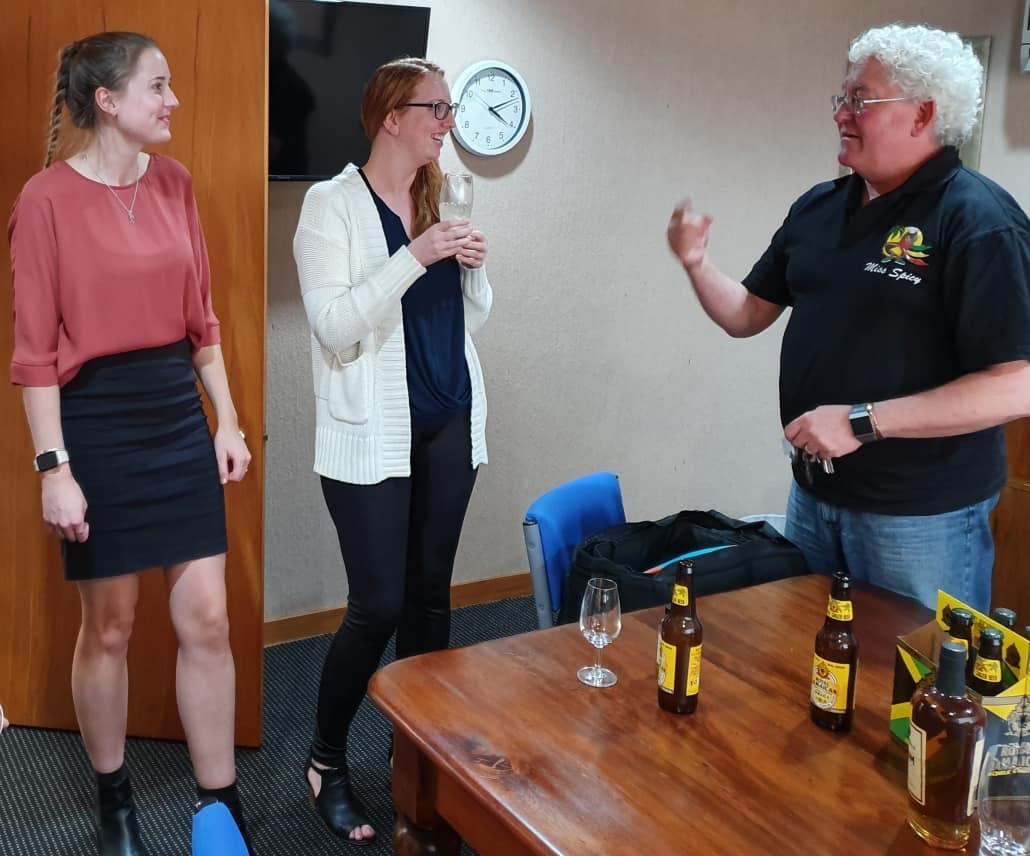 The other product he is selling alongside his rum is the alcoholic Royal Jamaican Ginger Beer that turned out to be a firm favourite in our office when David poured a few tastings near the end of the day.
"It's made using rum, barley, hops, and fresh Jamaican blue and yellow shredded ginger, it's a proper brewed product and you even get a little ginger sediment in the bottles. This has turned out to be incredibly popular as it relates to our Kiwi DNA. So many folks have told me that it reminds them of the ginger beer their grandparents or parents used to make. We are on to our second container of Royal Jamaican Ginger Beer because we can sell it through supermarkets, bars & restaurants and bottle shops.
You will find the Royal Jamaican Ginger Beer in many supermarkets and I think it is a delightfully refreshing alternative to a beer or cider, especially served cold over ice with a squeeze of lime.
As to the BlackSpot rum, Dave says "the name comes from my favourite adventure story from childhood, Robert Louis Stevenson's Treasure Island, and BlackSpot was a pirate summons, drink this rum and you will connect with your inner pirate."
Published in the Nelson Mail 27.03.19