Labour Weekend is when wineries traditionally throw open their cellar doors for the summer and this year is no different.
If you are heading to the Moutere area then the Moutere Artisans are opening their doors to visitors too, some aren't normally open to the public so it's a great chance to check out some of this region's finest artisan producers. Check www.moutereartisans.co.nz for information about the open day on Sunday.
Much closer to Richmond is Te Mania Wines and Richmond Plains Wines in McShane Road who have opened their cellar door for the summer and have released some tasty current vintage wines at the same time.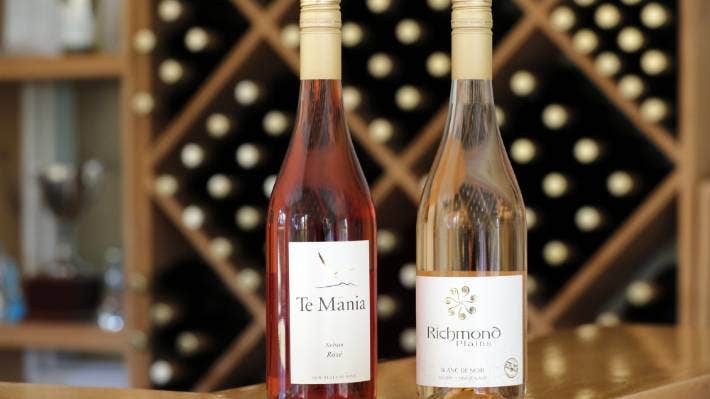 Co-owner Lars Jensen says they sold the winemaking assets of the business but still own the organic vineyard and brands, "we're now having wine made for us under contract, it's a trend that is increasing because it is very expensive to run a winery, a lot of essential equipment like presses are only used for a few weeks a year so it makes commercial sense to share winemaking facilities.
"Operating a vineyard also requires a lot of expensive equipment that's only used for a few months a year. We're seeing an increase in collaboration across the industry, we loan and rent vineyard equipment to others, as well as us using a contract winemaker now."
Lars told me that making great wine is about having excellent fruit so they concentrate on growing the very best organically produced fruit they can. He also says they can't grow enough to meet the demand from overseas markets that are now ramping up orders as they are getting back to some sort of normal after the Covid pandemic, so need to buy in some fruit too.
"It's always been about sourcing good fruit and that has always been a challenge, especially trying to source quality organic fruit. Locally, some vineyards have been pulled out consequently reducing the local supply options for us."
Over the last couple of years that have been severely impacted by the Covid pandemic, wineries around the world have faced many challenges: from picking grapes, making the wine and to markets around the world basically shutting down, especially for sales to restaurants.
"Our international markets are opening up again. During the pandemic Canada and Australia basically shut down but we have now started shipping to them again, as well as to the Netherlands, Denmark, Germany, the Maldives, Japan, Hong Kong, China and Vietnam. The Maldives market has boomed because wealthy people from around the world went there during the various lockdowns."
Lars also says "exporting internationally has been very difficult, not just because of closed markets. Shipping is a nightmare to many parts of the world too. We're seeing four-to-five-month delays just trying to get wine onto a vessel going to North America in particular, and shipping costs have increased astronomically everywhere."
The exciting thing is that the wines that have been produced in recent vintages have been top quality, "like everyone we were impacted by weather events during the 2020 and 2021 vintages, we had everything from rain during flowering to hail however, while the crops were small, the fruit we did harvest was very good so we were able to make some great wines.
"The difficulty in selling wines in the overseas market was off-set to an extent by New Zealanders buying wine on-line during the lockdowns and the period after that when they couldn't travel freely."
Lars told me that they saw a significant increase in online sales, particularly to those who had visited the tasting room and are familiar with the wines produced by both the Richmond Plains and Te Mania brands, "we have a very loyal following for our organic wines and people seem to really appreciate the fact we are one of New Zealand's first organic producers, it gives them confidence in our vineyard and winemaking processes because we have been farming organically for many years."
For Te Mania and Richmond Plains the 2022 vintage was pretty good, "it was an early but relaxed harvest with good weather, we had an amazing autumn after an early scare in February with a couple of rain events but we are really happy with the harvest, in both quality and volume.
Lars says "it's exciting to see visitors back in town, we're seeing people from South Africa, Canada, the UK and Australia coming through our tasting room already so it's a positive sign for the visitor season to come.
"Spring is my favourite time, vines are growing rapidly, plants are flowering, and the birds and bees are doing their thing in the vineyard as the weather is starting to warm up. Spring  brings great energy and we look forward to summer."
So while things are really positive in the vineyard and the 2022 wines are safely tucked away, either in bottles for you and me to buy or resting gently in barrels before it is bottled in a few months, the tasting room at Te Mania and Richmond Plains is already getting busy.
"This location is a great destination with The Junction, The Chook Farm, Connings, The Grape Escape Cafe, Eyebright and other businesses very close by. People can come to McShane Road and have a great day out. Also having the Great Taste cycleway all the way from Nelson to here  then on to Kaiteriteri means there's something for everyone."
So there are many reasons to visit the tasting room at Te Mania and Richmond Plains including the fact the wines are very good and great value for money. Here's my thoughts on a couple of their new release wines.
Published in the Nelson Mail 19-10-2022
Richmond Plains 2022 Blanc de Noir $25.99
This is a unique wine that has developed an almost cult following, made from free-run Pinot Noir juice the colour is very pale smoked salmon with fresh, fruity aromas that wrap around powdery, crushed river stone notes. With a full palate weight that is bursting with ripe yellow peach, juicy acidity and a touch of green herbs in the very long finish this is a delight. A serious wine that will be perfect summer drinking. 4 stars
Te Mania 2022 Sauvignon Blanc $22.99
The very pale colour of this wine belies the intensity of flavours. Sweet fruit characters upfront lead into a delightfully creamy texture that is loaded with soft passionfruit and green capsicum flavours. While these dominate the flavour profile the wine is elegant and refined, two words you wouldn't normally associate with Sauvignon Blanc. The long juicy finish makes this an excellent wine with outstanding 'drinkability'. 4.5 stars.