We have been buying wonderful artisan breads from Tozzetti for many years and when they moved to new premises on Vanguard St I expected to find a larger version of the old bakery and shop on Halifax St, just a bakery with a shop selling their wares, but how wrong was I!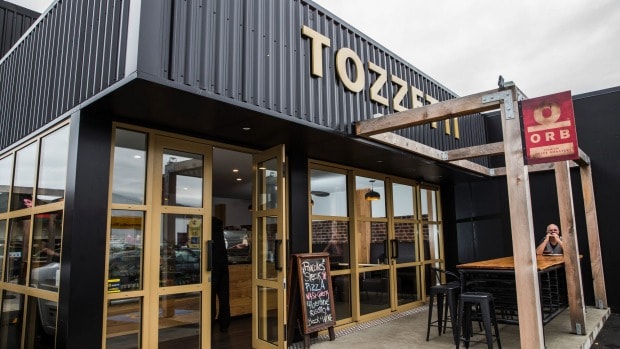 Tozzetti Cafe & Bakery is now a large, bustling café so, as well as buying their wonderful breads, you can sit down and enjoy everything a café has to offer; from a cooked breakfast to cabinet food, fresh lunchtime meals, pizza and of course their bread products, you will find it all at the hugely expanded shop in lower Vanguard St beside Mag and Turbo.
Tozzetti owner and chef Ben Carpenter and I sat down for a chat over a coffee last week to talk about what makes Tozzetti special and how his previous experience as a chef and business owner is reflected in the café food he serves.
Carpenter bought Tozzetti from one of the original owners in about 2011 and has quietly gone about refining and expanding the business "after six months I realised the business had limited potential in its current site so started looking for somewhere to move to.
"This site appealed for many reasons but essentially it was big enough for both the bakery and a café" he told me.
So how did a chef from Christchurch end up buying a bakery in Nelson? "I wanted to do something other than just a café, I have owned and worked in a number of those and at Tozzetti the bakery is the difference."
Carpenter's food journey started when he left school and did a butchery apprenticeship that lead to him becoming a hotel butcher, initially at Noah's in Christchurch where he also learned other parts of the hotel trade.
After Noah's he went to the then new Park Royal Hotel as a chef in both the Café and the formal restaurant Canterbury Tails, this is where he started his formal chef's training.
Once qualified he went to Melbourne for three years where he honed his chef and hospitality skills before returning to Christchurch and opening his own restaurant, Aikmans in Merivale, a café/bar he owned for about nine years. During this time it was named Canterbury Café of the Year two years in a row by Michael Guy.
Near the end of the nine years his wife had twins and a lot of cafes had opened close to him so he decided to move on, he went to England and cooked there for three years, working with chefs like Jaime Oliver, Prue Leith and for the Gordon Ramsey Group where he was a chef at the Conrad Hotel in Chelsea.
As we talked about some of these people and places his face broke into a smile when he talked about his time working with Leith; she developed a similar concept to Oliver's '15' using unemployed young people, "we took them off the street and trained them in all aspects of the industry, there was a new intake every three months – all straight off the street.
"It was a really interesting part of my life, people you wouldn't trust with your life but teaching them to use a knife, they would get frustrated and say they were going to kill one day and thank you the next day for helping turn their lives around, it was very challenging but incredibly rewarding".
After his three years in England he returned to New Zealand and settled in Kaikoura where he was the chef at Hapuka Lodge just north of Kaikoura, "I went fishing for crays at 4am in the morning, was back on land at about 11am then in the kitchen at Hapuka for lunch."
After that he set up the new Pegasus Golf Club restaurant and café before the 2011 earthquakes made him rethink what he was doing, he decided he had had enough of Christchurch and wanted to be his own boss again.
"Nelson beckoned, Tozzetti had been on the market for some time, they made great breads and had a very good name but the place had lost its energy so I bought it with the intention of getting a foot back in the hospitality door."
"When I started running Tozzetti I could see my restaurant skills could add another dimension to the bakery, there are lots of people baking very good bread in the region so for the business to thrive it had to change."
The new Tozzetti building is about five minutes walk from the CBD, has a nice aspect with both indoor and outdoor seating.
"The big thing is people can come here and get served very quickly or take their time over a café style meal.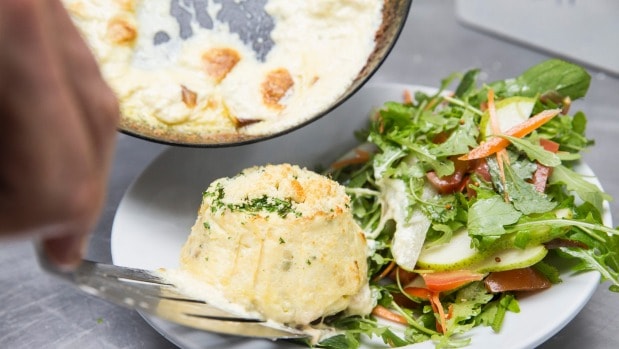 "We have always had a great selection of cabinet food as well as our breads but now we can offer a bigger selection of products, instead of just buying a sandwich, pie or some bread customers can sit down and buy a little of everything – cabinet food to take away or eat in, have a café meal and then take some bread home too and of course we pride ourselves on having great coffee."
I asked Carpenter what he was trying to achieve at the new café, "I don't want it to be pretentious, it doesn't matter of you are wearing work boots or high heels you will be made to feel very welcome, we make sure we have great friendly staff who relate well to customers.
"I want people to come back again, we haven't advertised because I wanted the staff to get used to working in the new space and to give us a chance to get systems settled in but word of mouth has meant we have grown faster than we expected to.
"And to be honest that is the way I like to do things, deliver a great product so people want to come back and want to tell others too; we have had lots of positive feedback so that is very rewarding for me and the staff.
Carpenter told me that as they develop new bread flavours and different types of bread sales are rising all the time, "we respond to people's requests and are making more rye breads, sourdough bread and are creating more specialty breads, we are a specialty baker and that is our point of difference in the baking market."
Tozzetti still go to the market every Saturday and the specialty breads sell really well there, with flavours like tomato and fennel, Wallisar (a rye based sourdough), walnut and kibbled wheat, pumpkin sourdough, fig and raisin bread and Turkish breads it is no wonder sales are strong.
Carpenter's twin daughters work in the café and at the market every Saturday, "Charlotte and Lily have been very supportive, they love the café atmosphere and dealing with people so I guess they have the hospitality bug too".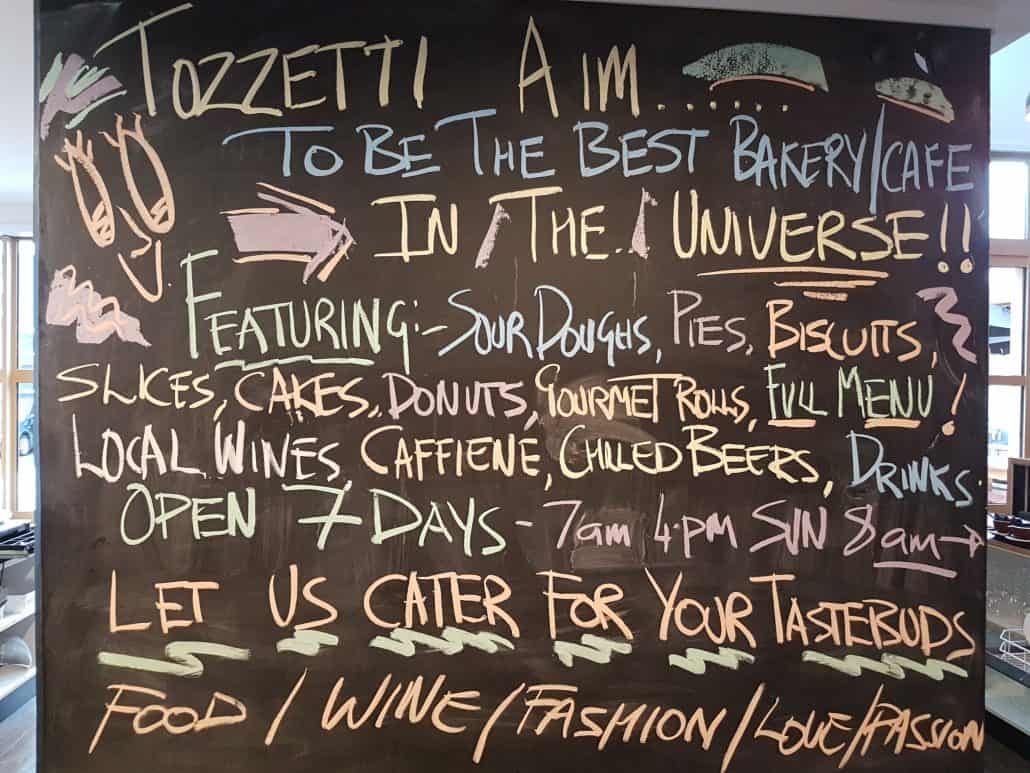 So where to from here? "We want to be the best café bakery in NZ and we think we are already the best café bakery in Nelson, we know customers' names and we want them to come in several times a week, not once a week.
"For that to happen we need to maintain that high quality consistently, we can't short change ourselves or our customers, and I can only achieve that because I have  the support and commitment that from the enthusiastic and vibrant Tozzetti crew, great staff are the most essential component of any successful business but particularly in hospitality.
"We want to become a destination where everyone who walks in walks away with a smile."
Tozzetti Café & Bakery is open 7 days from 7am (8am Sunday) until about 4pm at 14 Vanguard Street. www.tozzetti.co.nz