If you have been around Nelson as long as I have you will remember the days when the local dairy was more than just a place to by soft drinks, ice creams, cigarettes, pies and other takeaway foods; before the days of large supermarkets these dairies were the cornerstone of local communities.
I have seen the Washington Valley store go from a thriving local convenience store, shelves packed with grocery essentials to a store most people drove past on the way to one of the big supermarkets, however things have changed in Washington Valley since Laura Jacobs started breathing life back into the old store.
She isn't trying to compete with the supermarkets because it is very difficult to offer the huge range of things a supermarket does but she is turning it back into a local store with heart and energy, a place people want to visit, all based on producing some of the tastiest pies in the region and service delivered with a huge smile.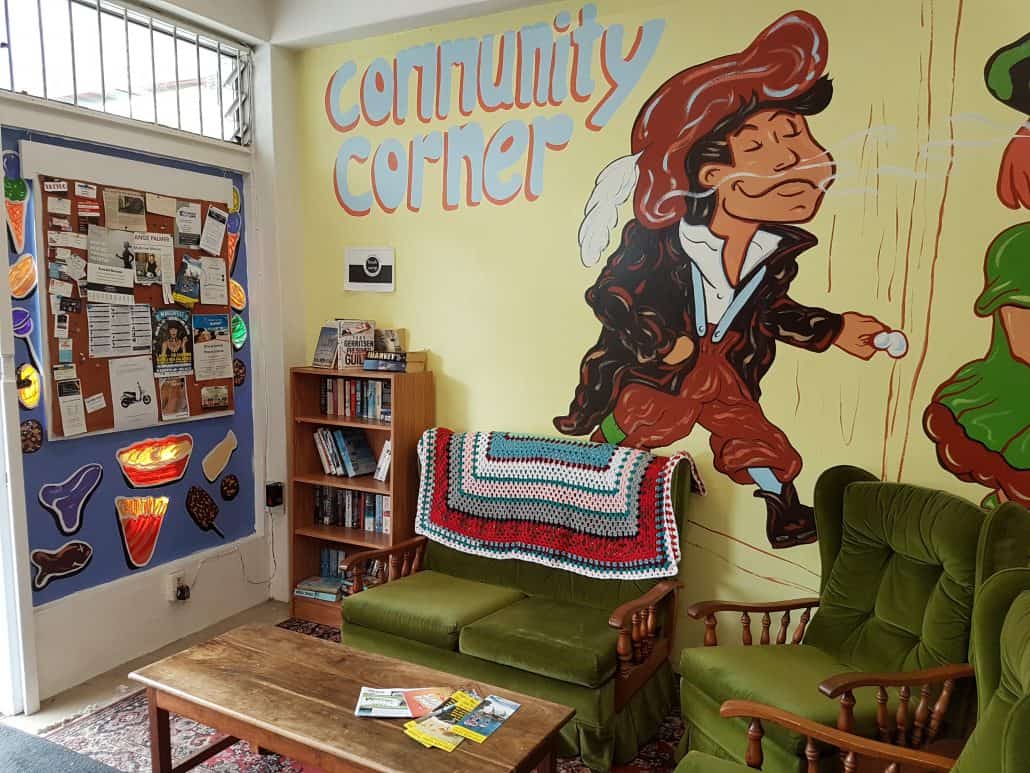 Last week I dropped in to sample one of her delicious pastry creations and talk to her about how a pie shop can add something to a community and I found a delightful store that is far more than a pie shop, it is a very cool local café with a free book exchange and comfy sofas tucked in one corner, rustic tables and chairs with a table designed for customers to stand at and read the newspaper while they linger over a coffee and a tasty treat from one of the fresh food cabinets, cabinets loaded up with her own baking, sandwiches and of course pies.
Jacobs and her husband Damian moved to Nelson from Auckland in 2015 "my husband has family down here and we were sick of Auckland, it has become just too big and too busy."
Having her own food business is the culmination of a career in food that started when she left school and went straight into chef training at Auckland Hotel Chef Training School for four years where she completed her formal chef qualifications.
Jacobs say she the "worked all over the place, being a qualified chef gave me the opportunity to travel and work around New Zealand & Australia and I followed the Louis Vuitton & Americas Cup regattas 2000 & 2003"
Then in the late 2005 she had a career change and turned of office work for a few years, "Cheffing had become all a bit boring, it had become too commercial, there were no new inventions, everyone doing the same stuff and I wanted something different.
"Food and restaurant cooking is a lot more exciting now, everyone has travelled and has a lot more experience, others have come here and bought their cultural foods with them as well as New Zealand chefs travelling the world and coming home with lots of enthusiasm.
While working in an office she also studied towards a business qualification, Jacobs told me she knew that if she was going to make a success of her own business one day she needed to know something about business so she studied a business course at the Open Polytechnic "with a focus on things I would need to know to start and manage my own business".
Something else that attracted Jacob's and her husband to this region is that it is a nice little hub of artisan producers and a melting pot of creativeness, "there are some wonderful artisan producers here and I love being part of that" she says.
Before I went to meet Jacobs I had two main questions in my mind, why pies and what makes a good pie great?
She says a great pie is like a condensed meal, it can be packed with great flavours where the main ingredient really shines "a bacon and egg pie should be just that, wonderful smoky bacon and eggs, no frozen mixed vegetables or anything else, real meat without fillers and gravy rather than jelly in the meat pies."
"We want to make a premium product, not a service station pie in a plastic bag so we start with premium products to make our pies."
And that brings us nicely to what makes a great pie, pies are so popular I guarantee we all have our own idea of what makes a perfect pie but I reckon Jacobs is producing a fine pie.
Jacobs makes everything at the shop except the pastry, she uses feather flake pastry for her savoury pies while her sweet pies are made using feather flake pastry with sugar crushed into it.
"I love flaky pastry because it looks lovely and has a nice light flake rather than a density I don't especially like in some pies, it tastes fresher in the palate and you have to have quality ingredients, slowly cooked, good seasoning and lashings of love."
She also uses an Italian cornflour to thicken the stock so it turns out like a gravy in the pie filling rather than a gel-like filling, but the pies are all about the meat so there is plenty in each crisp, golden delight.
"We have just started making sweet pies that we sell by the slice so you aren't overwhelmed by them."
Jacobs is currently making about 100 pies a day and has seen a huge increase in sales as word has spread about them, "I have had to buy more pie trays, more racks have employed two part-timers, one in the morning to help with baking and lunch time then another in the afternoon.
When it comes to the most popular pies her pork & kumara flavour is doing really well, almost rivaling steak & cheese and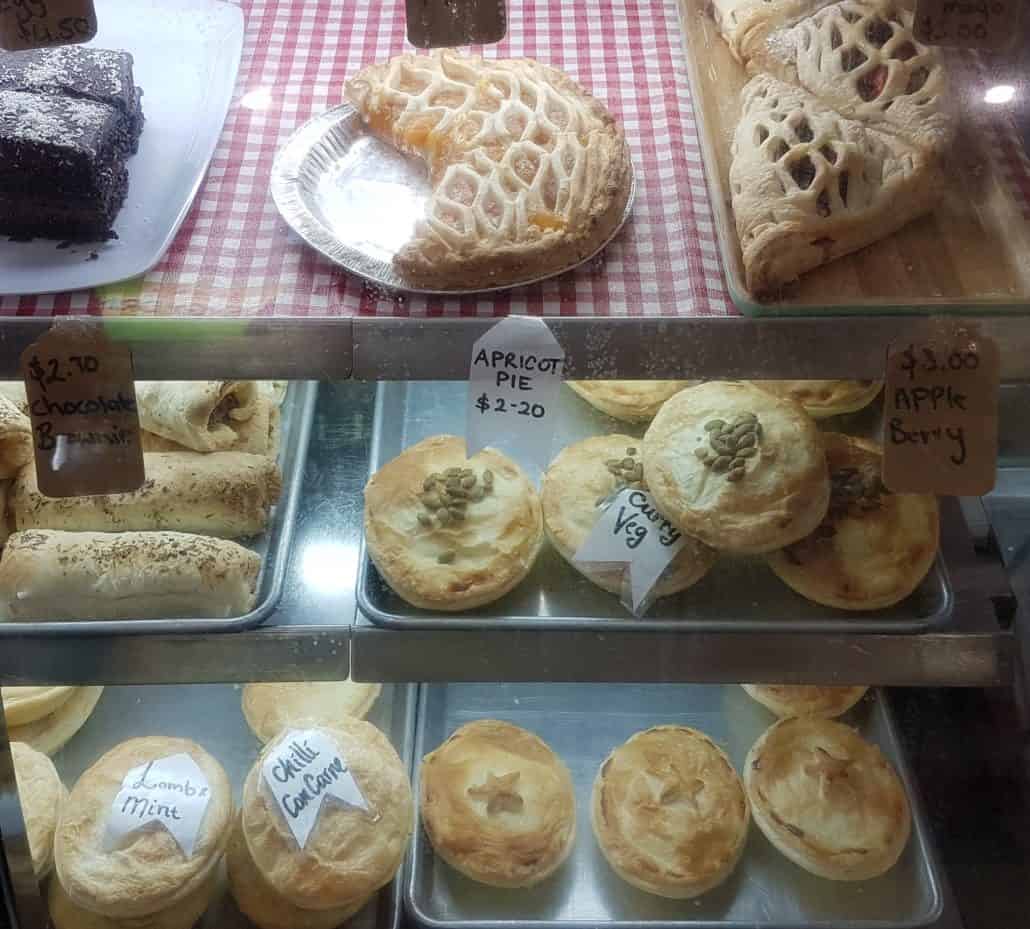 bacon & egg in popularity and she tells me people buy her cold pies buy the half dozen and full dozen to take home and heat or freeze to eat later and she has quite a few from regulars from Motueka, Ruby Bay and Blenheim.
"I was surprised to find there are pie connoisseurs travelling the country, really surprised just how many people travel the country trying pies."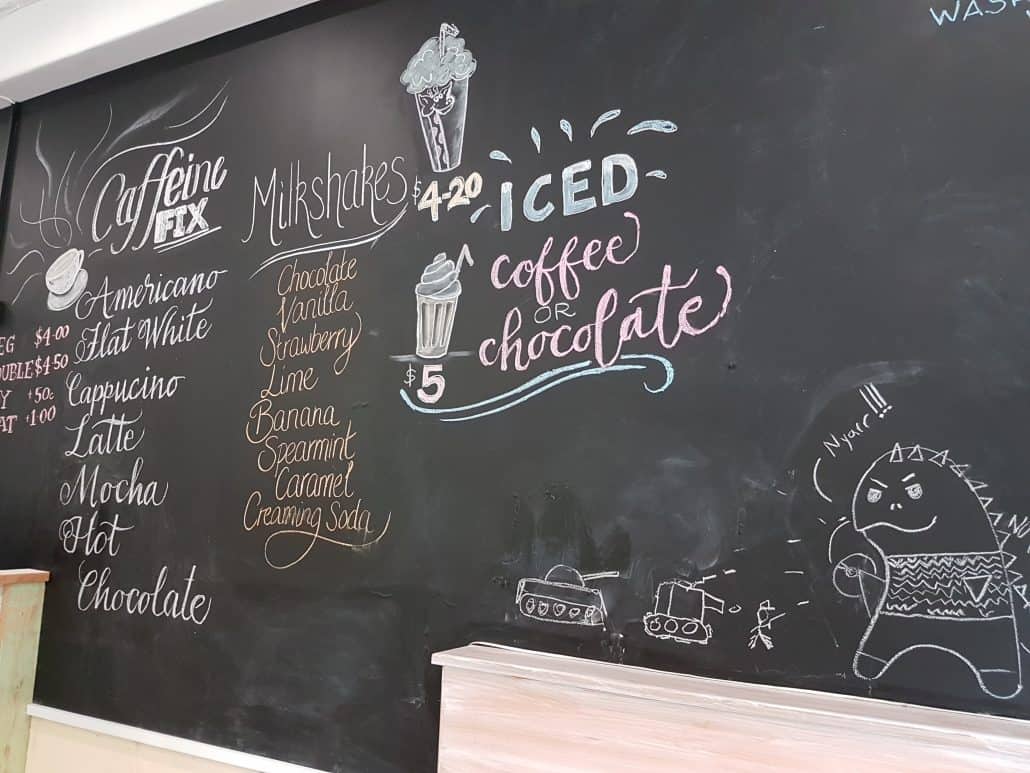 As I said at the start of this column the Washington Valley Store is more than just a pie shop, Jacobs has set up a community corner where with a community notice board, "kids add to our chalk board sign, each day when I have a look someone has added something and that is kind of cool."
"We want to be part of the valley community, Victory has its little shopping centre and community centre but Washington Valley seems to have been forgotten, Pioneer park at the bottom of the valley has a lovely kids area, a green area for people walking dogs, there is a wonderful new sculpture on the corner and it is the perfect little park to enjoy our food."
Something else I notice as we sit and talk is the steady stream of customers, many of whom she welcomes by name with a warm smile and has a laugh or short conversation with each person so it seems she has been welcomed to the community she wants to be part of.
They have a few grocery staples in one corner of the shop and while pies may be making the store famous there are plenty of other food choices, from sandwiches to cakes and all homemade on the premises.
"It is nice to be able to nip down to the shop for some milk or a soft drink and it seems that people locally find it really safe, they send their littlies down to the shop to buy some lollies or something else and their parents know we will keep an eye on them, it just being good neighbours really, being part of a community rather than just the shop down the road."
For Jacobs, owing a shop is much more people focused than just cooking in a kitchen, she gets to put the whole experience together from making the product to being at the counter and talking to customers, "for me it is a more rounded food experience."
It isn't easy being an owner-operator, Jacobs is at work at 5.30am every day, closes the store at 6pm and as an owner operator work doesn't finish when the doors close, there is always paperwork to deal with but the warm, welcoming smile she has for everyone who walks in the door tells me she is loving her wee store in Washington Valley that is also known as In Pies We Crust.