What does a lawyer do when he retires?  Michael Gilbert has embarked on a new career in the food industry, starting a business called Pure Food, which produces a range of hand-crafted dressings.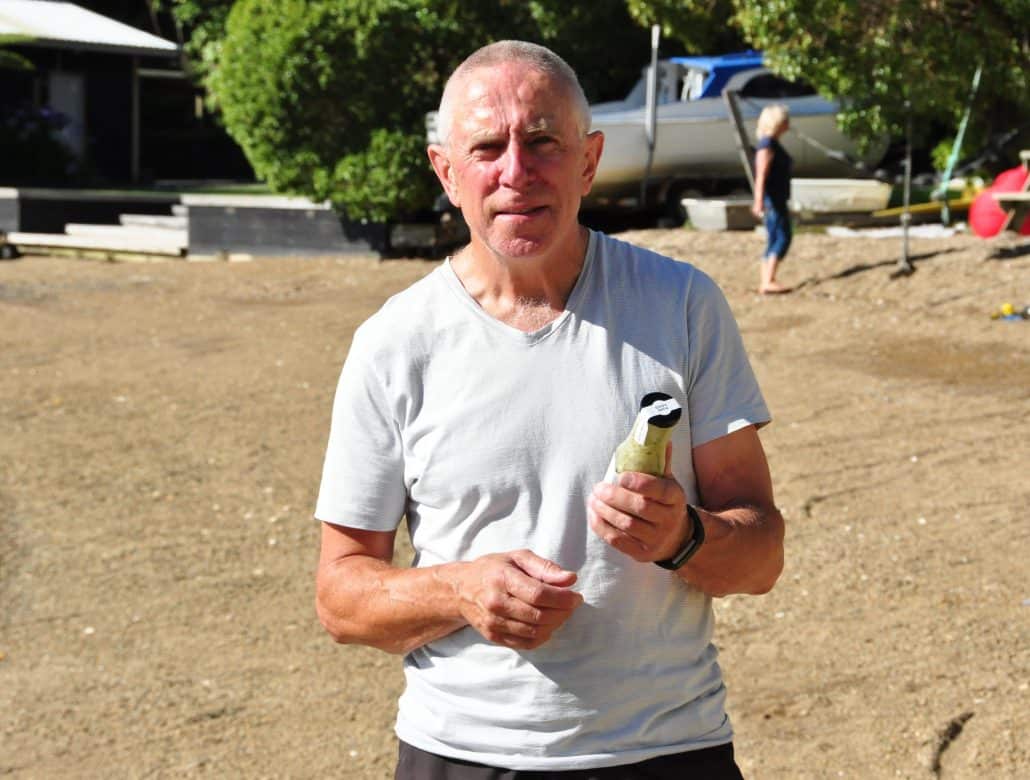 In April last year he and a couple of friends were enjoying a glass of wine in a Christchurch café and, being interested in healthy food, were lamenting the fact the vast majority of dressings on the market all had lots of additives.  Gilbert said "read the labels and you will find most have added sugars, preservatives and flavourings rather than just natural products".
Emboldened by a glass or two of wine they decided to research making their own dressing that had no preservatives, no gluten, no egg, no dairy and no added salt or sugar because they thought they might be able to produce a range of dressings to fill the gap they had identified in the market.
So the idea in the bottom of a glass of sauvignon blanc in April has developed into dressings that were on the market in August last year; "we developed the dressings, jumped through all of the regulation hurdles, sorted out our production facility and have barely been able to keep up with production."
At this stage Pure Food has five dressings, The Plum, The Dill, The Coriander, The Chervil & Coriander and The Chervil.
These are all made using fresh, natural ingredients with all the herbs being from the Nelson and Marlborough regions and he says the suppliers they use are incredibly helpful, if one supplier doesn't have a particular herb in stock they help us find it but Michael insists it must be top of the south sourced.
"We really want them to be local products, there is so much fantastic produce grown and made here we don't need to look outside the top of the south."
For non-professional foodies there was a huge amount to learn, while they loved food and were good cooks Gilbert recognised making something to sell to the public on a decent scale meant they needed some professional help so he turned to a chef friend to help with the recipe development.
"We had to make sure the flavours were right but most importantly the dressings have integrity, will stay fresh in the bottle for a decent amount of time and can be used as a dressing or as an ingredient in dishes too.
"Tommaso (or Tommy as he is known) Baldassarri is a chef I met by chance in Auckland and we became friends,  I cooked with Tommy for 13 weeks in a wee Italian restaurant where I learned a huge amount about commercial cooking so he was the obvious person to talk to when we decided to make these dressings.
"Tommy adds the Italian flair to our dressings, he is in charge of recipe development and quality control as well as bringing extensive experience from both Italy and New Zealand to our business, Tommy also has a broad multicultural culinary experience, a passion for experimentation and a focus on quality making him the perfect fit for what we want to achieve" says Gilbert.
He launched the dressings at a food show in Blenheim, showcasing it to the small local market initially and the response he got was immediate.
"Chefs loved it, the InterIslander staff spent about 45 minutes with us talking about everything from the dressings to our philosophy and they now use it on board the ferries."
You will also find Gilbert at the Wednesday Farmers Market in Morrison Square where you can taste before you buy.
When I had a chat with him just before Christmas he told me this was "a dream come true", he gets to live in the family bach that was once owned by his grandfather, uses a commercial kitchen in Picton "and gets to travel around selling the dressings."
"For me at my stage in life it is pretty much the perfect scenario, living on the water's edge, cooking, meeting people and hearing great feedback about our companies' dressings."
"On our Facebook page people are putting positive comments with pictures of food they have made using our dressings and  I get a thrill from that, people using our dressings to create their own culinary creations, that is what great home cooking is all about."
One recipe Gilbert spoke about was from a customer who, simplified Tommy's Hapuka recipe by soaking breadcrumbs in the chervil dressing, then crumbed terakihi with the crumbs and simply pan fried it.  He told me he "went home, bought some fish and she was right it was delicious."
Gilbert says they are delighted with the market take-up, "sales are increasing all the time, we sold about 300 bottles in two days in mid-December, outlets are reordering and others are approaching us to stock them, we are working on an online store that should up and be running in early 2017."
You can currently find the Pure Food range of dressings locally at Prego, Fresh Choice Nelson and Richmond.
And the challenges ahead? "The main problem I have to manage is the ability to make enough dressing, because as it is hand-crafted, we want to make sure we keep the integrity of the hand-crafted nature as we grow so I guess you could call it the usual start up challenges."
The Pure Food range of natural dressings are delicious, I know because Gilbert gave me some to try over the summer, if you want to try them drop in to the Wednesday Farmers Market, taste them and have a chat with him or go to www.purefood.co.nz to find out more.