Nelson Winegrowers hosted the Wine Writers of New Zealand group for a two-day visit to the region. Members attending share their thoughts.
DAY ONE
Neudorf by John Hawkesby
No New Zealand wine region is defined by a single producer but invariably one springs to mind. For example, Central Otago: Felton Road; Marlborough: Cloudy Bay; Martinborough: Ata Rangi; Waiheke Island: Stonyridge… you get my drift, (others may disagree but that's your prerogative). Few could argue when it comes to Nelson, Neudorf at Upper Moutere sits top of mind.
What a delight then to spend some languid time at what is one of New Zealand's most gorgeous unfettered vineyards with simple yet chic surroundings with so much character that you expect the wines to be equally charming. And so it was.
Judy and Tim Finn are affable generous hosts and despite leaving for Europe within a few hours of our arrival you would have thought they had all the time in the world and our group was anything but a bloody imposition.
Neudorf does everything with precision and style but their Chardonnay and Pinot Noir are especially revered and not just in NZ. Appropriate then to taste a selection of Moutere Chardonnay where some of the oldest vines are approaching 40 years.  We tasted 2012, 2009, 2004 and 2001. All were subject to seasonal variations but the results were reflective of a sense of place despite whatever weather patterns existed.
Without boring you with my tasting notes for each wine, all seemed to retain that 'Moutere Chardonnay' character to greater or lesser levels, i.e. nuttiness, white stone fruit, subtlety, minerality, lovely mouthfeel, whispers of oak, almond, iodine, glycerine, mild oil characters and citrus – but all with finesse and balance.
As Tim observed: "We're picking earlier these days and not getting the grapes so ripe to avoid those fat, jammy flavours. We're now avoiding high alcohols – viticulture gets better every year as does wine making.  Oak treatment is going down — we're looking for more minerality."
And so to the Neudorf Moutere Pinot Noir. Based on old vines between 35 and 37 years, plus other younger fruit. The tasting included the pre-release 2012s (described as a Jekyll and Hyde season).  A personal favourite this had elements of cold tea, stone, dry herbs and a touch of lavender, pleasant acidity and a hint of sharpness, but with Burgundian overtones.
2010 was a standout from a 'benchmark moderate, ripening: great year.' Mushrooms and red berry with velvet tannins, gentle and sophisticated… a bit like the Wine Writers guild!
2007 a low cropping year producing a pleasantly understated forest floor style.
2002 a comparison between one under screwcap, the other cork.  'Oddball season' again low cropping but good concentration… a more 'herbal' year.  Both still drinking well with the cork 2002 perhaps a tad linear on the palate but lively on bouquet (violets, herbs).
A wonderful and most interesting selection to taste with the final word going to Judy Finn: "The question we keep asking ourselves is… when does charming become too pretty?"
Judy, Tim; trust us, we'll tell you. In the meantime rest assured it ain't happened yet and given your glorious obsession with ongoing excellence, it's not likely to any time soon.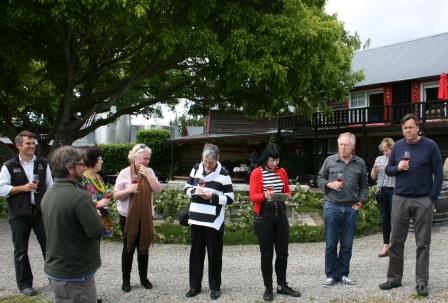 Woollaston Estate by Yvonne Lorkin
The Nelson region boasts the highest annual sunshine hours in New Zealand, making it an absolute El Dorado for growing fruits of every description.  While once it was all about orchards, today it's hops, grapes, art and science that has tourist tastebuds in a tizz and today it's our turn as wine writers to get amongst it all… Woollaston Estate's Cellar Door and winery overlooks their rolling Mahana vineyard, Tasman Bay, Nelson city, the dark green Arthur & Richmond mountain ranges and Kahurangi National Park.  And if that's not an eyeful in itself, Woollaston is an indoor-outdoor art-feast…
There's also something about seeing that tussock roof rising ahead as you snake up their driveway, which gives you a warm, feel-good glow.  Woollaston wines are grown organically by viticulturist Julian Coakley and crafted inside a gravity-fed winery by winemaker Shane Munn who was there to greet us with foppish hair and his signature, toothy grin.  He guided us to the newly-refurbished tasting room and restaurant space which boasted incredible Brian Culy 'bird' works on the walls. We were served lunch matched with seven wines from their current stable by chef Jason Innes.  The first was the Woollaston Sauvignon Blanc 2014 $23 which is, like all their white wines, started with a wild yeast culture.  The sauvignon is 100% wild fermented with 25% fermented in barrel.  It's a lean, bony style with lifted, mineral notes, watercress, riverstones and flinty undertones.  Next to it we sipped the Tussock Pinot Gris 2014 $19 which was also ultra-dry with chalky minerality and hints of feijoa spirit and quincy characters.  15% of the juice was fermented on skins, which gave the wine an interesting textural, solids effect. "It's hipster, but it works" Shane says.  The wines were  paired with a starter of John Dory, paua, crayfish carpaccio, rocket, citrus and Mahana Olive oil.
Next up we sipped the Woollaston Reserve Mahana Sauvignon Blanc 2013 $28 is fermented on skins in older oak and acacia and has an interesting chalky character in the mouth.  This was followed by the Woollaston Pinot Rose 2014 $23.  "I think rosé is actually the most difficult style to make" says Shane, "this year we carbonic macerated sauvignon, pinot gris and pinot noir etc… it gives weight and texture and makes very very interesting wines".  He's not wrong there.  With lifted, candied characters on the nose and light, raspberry and melon notes on the palate – it was a strong example.  Paired with Seared salmon, shaved fennel, asparagus and pickled cucumber – they were good wines.
The Woollaston Pinot Noir 2012 $39 was crafted from fruit harvested in Shane's first year on the job.  I loved the aromas of sweet black tea, plum, cocoa and bright berries.  Next to that was it's much bigger older brother, the Woollaston Mahana Pinot Noir 2012 $52 which was just a hugely exciting wine boasting strong cherry, cocoa, spice and lush, berry brilliance.  Topping it all off was a sweet treat, the Woollaston Mahana Riesling 2013 $26 served in a signature tall blue/green German riesling bottle.  100% wild fermented and 100% in barrel in older oak I loved the luscious apricot/nectarine and lemon sorbet tanginess. It was truly delicious with the cheese course – which of course we all wolfed down.
At the end of lunch, Shane shared that he'll be leaving Woollaston to set off on a new path, which was sad to hear, but he's left the winery in spectacular shape for the coming season.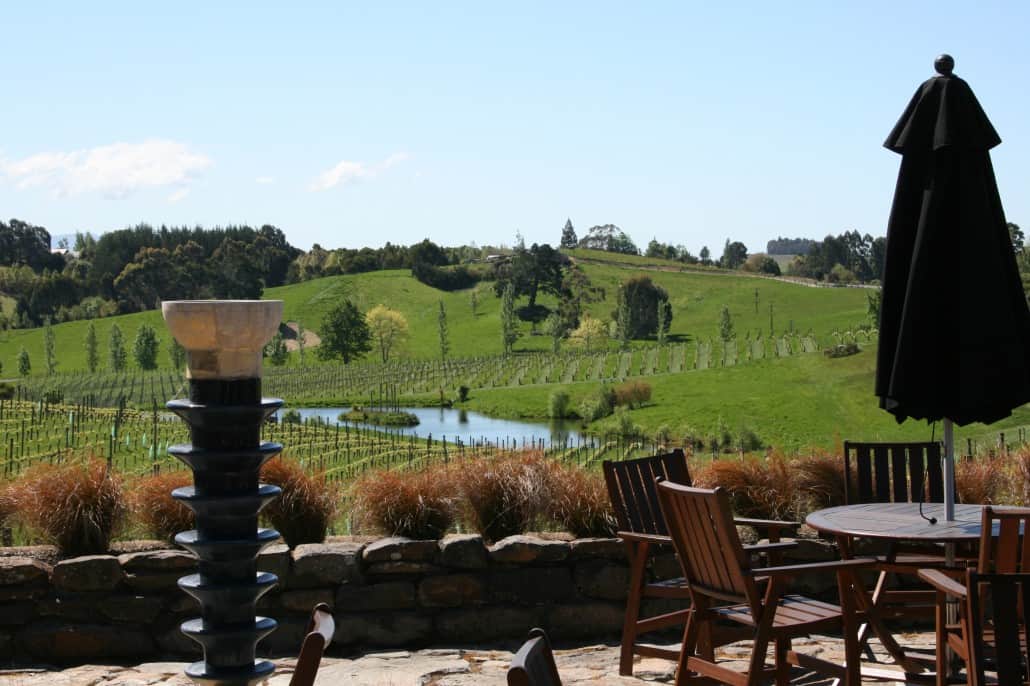 Kahurangi Estate and Harakeke Farm Wines by Neil Hodgson
One thing Wine Nelson arranged that worked very well for our group and smaller wineries in the region was to have two or three wineries present wines at the same time; in this case boutique producer Harakeke Farms joined with the much larger Kahurangi Estate. A small winery was chosen to join a larger winery for this tasting as co-owner of Harakeke Farms, Andrew Sutherland, recently left his role as assistant winemaker at Kahurangi so he could focus on developing his own wine brand and spend more time with a young family. As Andrew had a hand in producing all of the wines presented it made sense to combine these wineries for a tasting.
Greg Day (co-owner) and Neil Todd (winemaker) from Kahurangi Estate and Andrew are obviously good friends and the passion they share for producing quality wines is obvious and even though Andrew made his wines at Kahurangi's winery they are quite different in style.
Kahurangi Estate boasts some of the oldest vines not just in Nelson but in the South Island and the fruit produced by these old vines (about 44 years old) have a depth in the flavour profiles not often seen in young, exuberant vines. Comparing wines produced from older vines with those planted about seven years ago by Harakeke Farm was an interesting exercise in itself, particularly the Riesling. Where the older vines deliver complex characters the younger vines produce flavours that are bright, fresh and flavoursome but lack some of the complexity of the older vines.
When it comes to Pinot Noir the intense management of the 3ha Harakeke Farm vineyard and the winemaking that went into producing a small volume of wine is obvious, the Harakeke Farm 2012 Pinot Noir at $28 has to be one of the best value Pinots available.
When it comes to Chardonnay both of these wineries are further proof the variety performs very well in the Nelson region and can be made successfully in different styles. Where the Kahurangi Mt Arthur Reserve Chardonnay has had the full oak and malo treatment the Harakeke Chardonnay is more elegant in style with softer oak and malo treatment. If you are a Chardonnay fan then you need to make sure you have some from the Nelson region in your cellar.
As a final treat Greg Day opened a bottle of 2011 Vintage Crofts Port for the group to enjoy before heading off to the next venue. One arm of the Kahurangi operation is a range of imported wines, trading as Kahurangi International Selections they have a range of premium wines from around the world including famous names from France (Bordeaux, Champagne, Rhone), Portugal and Australia to name a few. Crofts Port is one of these wines and it took a wee bit of levering to get some of the writers away from the port and back into the mini bus.
Kina Cliffs and Kina Beach by Charmian Smith
Our last visit on Thursday was to Kina Cliffs where owners Julie and Alistair Ashcroft met us along with Alex Wall of neighbouring Kina Beach. The vineyards are near the Kina Peninsula and close to the beach but both are on clay soils rather than the alluvial soils of the plains.
Sitting the deck outside the Ashcroft's small tasting room we enjoyed the charming north-facing views over the vineyard to the bay as well as the refreshing wines. The Ashcrofts bought their 4.5ha block in 2000 and started planting Sauvignon Blanc and Pinot Noir in 2004 followed by Pinot Gris in 2009. Clay subsoils underlie the gravel. They were helped by their parents – both sets were farmers and their skills proved invaluable to the young couple.
We tasted their fragrant, minerally 2014 sauvignon blanc, a bright, intense, yet-to-be-released 2014 Pinot Gris, and  the charming 2010 and powerful 2012 reserve Pinots.
Kina Beach, which is owned by Karin Schoch and Achim Bauer who live in Switzerland half the year – hence the inverted "A" on the label. The 4.3ha vineyard, planted in 1998, grows Sauvignon Blanc, Chardonnay and Pinot Noir. We tasted their rich, textural 2010 chardonnay and more restrained 2011 reserve chardonnay at the regional tasting earlier in the day. The reserve pinot noir is powerful and tannic – a difficult prospect for tired palates at the end of a long day of tasting!