DAY TWO
Nelson Winegrowers hosted the Wine Writers of New Zealand group for a two-day visit to the region. Members attending share their thoughts.
Fossil Ridge by Brett Jones
What a bright start to our second day in Nelson. When the Impressionist artist Claude Monet and his family settled in Giverny in 1883 the piece of land sloping gently down from the house to the road was planted with an orchard and enclosed by high stone walls.
When Darryl and Tranja Fry settled on their property in Nelson in 1997 the piece of land sloping gently down was nothing but scrub, but they had a similar vision of creating not only a vineyard but a garden which would embody the tranquillity and beauty of Monet's garden in Giverny.
The vineyard lies at the foot of the Barnicoat Range, Richmond about 15 kilometres south of Nelson and the winery is so-called because of the Triassic-Jurassic fossils found throughout the vineyard. The site provides a north facing, sloping soil profile, predominantly clay loam and has been extensively landscaped to enhance grape growing capability.
Eight acres are planted with Chardonnay, Gewurztraminer and Riesling with Pinot Noir as the single red variety. On the estate there are also macadamia and olive trees which thrive well in the benign Nelson climate.
Using only their own grapes seven wines are produced. Yields are low, for example 2 tons per acre Pinot Noir and 3 tons per acre Chardonnay. The Chardonnay, Riesling and Gewurztraminer are whole bunch pressed, and a mix of new and older barriques are used for Pinot Noir and Chardonnay with their classic Chardonnay being barrel fermented.
We tasted five of the Fossil Ridge wines which were presented by the thoughtful owner, Tranja. I was impressed by their quality and good value, particularly enjoying the Chardonnay 2012, which I found dry, elegant and with buttery stone fruit, and the Pinot Noir 2012, bright full of red fruits backed up by good maturing tannins.
The winery has a tasting room and a cafe which serves platters, country-style lunches and desserts. Homegrown olives, homemade pesto, hummus and delicious macadamia nuts can be bought as well and a new feature this year is the wood fired pizza oven, which will be a great addition to the menu.
The wines and the welcome are great at Fossil Ridge, with its graceful vineyard, cellar door and gardens flanking the lily pond. It certainly left an Impression on me!
Greenhough by John Saker
The group was welcomed to Greenhough Vineyard by Andrew Greenhough and his winemaking assistant (and former chef) Cameron Trott. The Greenhough cellar door is a stylish space and accommodated us with ease. It is situated right beside Greenhough's viticultural centrepiece, the Hope Vineyard.
Andrew provided an abbreviated history of Greenhough, which he and his partner Jenny Wheeler established in 1990. Of particular interest has been the move over recent years toward organics. This has seen the Hope Vineyard receive Bio-Gro certification in 2011 and another nearby plot on the Waimea Plains (the Morison Vineyard) follow in 2014. The winery is also Bio-Gro certified.
We tasted through a number of current releases. It was an impressive line-up and I'll roll a personal highlight reel:
Greenhough Hope Sauvignon Blanc 2014 – Described by Andrew as 'consciously built' wine, this sauvignon's upbringing includes whole bunch barrel ferment (25% new), time on skins and oxidative handling. Restrained yellow fruit and appley flavours, a hint of nectarine, gentle acidity and genuine length contribute to what is a distinctive, compelling style.
Greenhough Hope Vineyard Riesling 2014 – There is real pride in the age of the Hope Vineyard vines – in the case of riesling it's close to 40 years. That time on the earth has provided this young wine with the texture and structure to give the fruit (lime marmalade and floral notes, a slight sherbetty element) real carry and persistence.
Greenhough Espérance 2012 – This wine was a highlight for me.  "It's my first attempt at a Chablis style, using tank and older barrel and an earlier pick," said Andrew. It's very harmonious, with flint, oyster shell notes presented against a resistant yet graceful texture. To be released in Feb 2014 – a wine to look out for.
Greenhough Hope Pinot Noir 2011 – The Hope's Pinot vines are getting on too (the oldest being 35+ years). This is a joyous expression – red and dark fruit, plump, concentrated, featuring a great tannin/acid double act.
Rimu Grove by Brett Jones
One of the delights I discovered during this visit to Nelson was the camaraderie and mutual support of the wine makers, with several of our winery visits including two or three producers at one venue, each presenting not only their wines but the wines of Nelson as well.
So the added bonus at Fossil Ridge was to meet the ebullient Patrick Stowe, an American from the Napa Valley. A biotechnology scientist for fifteen years in California, he also made wine there before moving to New Zealand and founding Rimu Grove in 1995, where he was able to apply his knowledge of microbiology and biochemistry to his winemaking. Indeed he also makes wine for several other small wineries in Nelson.
The Rimu Grove Home Vineyard was planted in 1995 and comprises 17 acres of Pinot Noir, Chardonnay and Pinot Gris vines laid out on the gentle north facing slope of the Bronte Peninsula overlooking the Waimea Inlet.
He presented four of his Rimu Grove wines. His classy Chardonnay 2013, which after bottling was only released after 12 months allowing it settle and come to terms with itself, was a sturdy dry white with bright acidity, concentrated and packed with mangos and peach, all with great depth.
His Pinot Noir, aged in particular oak barriques made by a small cooper in northern France, was a deep purple, deep dark blackberry fruits with sweet oaky notes, enlivened by good acidity with notes of coffee and chocolate on the finish.
This visit was a great opportunity to learn more about Nelson, a small wine region of New Zealand that hides its light under a bushel. Let that light shine brightly!
Waimea by Jane Skilton
Waimea Estate is located on the plains, and with 140 hectares of vineyards, one of Nelson's biggest producers. Established in 1993, Waimea's focus these days seems to be on producing keenly priced wines rather than reserve or single vineyard bottlings. Two ranges; Waimea and Spinyback contain the usual range of single variety wines (Sauvignon Blanc, Chardonnay, Pinot Noir etc.) to more esoteric Gruner Veltliner and Albarino.
We were hosted by winemaker Trudy Sheild and Export Manager Martin Carrington. Trudy started working at Waimea in 2004 and moved to the role as Head Winemaker in 2010. Thoughtful and considered, Trudy admitted that public speaking wasn't her strong point but once the wines were poured, she was happy to answer any questions we threw at her.
As to be expected, Sauvignon Blanc forms the heart of the portfolio. Whilst the 2014 Spinyback Sauvignon Blanc was all lime, lemon and icing sugar, the 2014 Waimea Sauvignon Blanc was grassier, with notes of fresh lime and white florals. Trudy said she was able to source fruit from a large number of vineyards, which gave her an excellent opportunity to build a degree of complexity and interest in these wines.
I've yet to be convinced by NZ Gruner Veltliner. Whilst the 2013 Spinyback Gruner Veltliner had an interesting mineral and green herbals character and the 2014 Waimea Gruner Veltliner was all gunsmoke and florals, neither was particularly exciting. In their favour, they are keenly priced, $21 and $30 respectively, but not sure the warm maritime climate of the upper South Island in any way replicates the continental climate needed to give this variety the depth and concentration found in the best Austrian examples.
We continued tasting through the two ranges, 18 wines in all, and my overall impression was of competent, well made wines, certainly nothing experimental (no skin contact here) but instead correct, true to type varietal wines. There were some standouts; the 2014 Waimea Gewurztraminer was full of rose petal and turkish delight, with a touch of residual sugar rounding out the silky texture whilst I enjoyed 2012 Trev's Red, an eclectic mix of Cabernet Franc, Syrah and Viognier, co-fermented to give a juicy, yet robust, chewy red. A good alternative to the silky Pinots of the region.
What makes Waimea stand out from many family owned producers is the competitive pricing of its wines. It was refreshing not to hear the over used phrase "we only make a small amount so we charge $x".  The Spinyback wines ranged from $14 to $17 and the Waimea from $17 to $30. At these price points the wines offer excellent value for money.
The only slight off note was all the wines we tasted were poured from bottles adorned with a number of gold stickers. Whilst Waimea is justifiably proud of its wine show success, it would make sense to let a group of professional wine writers make up their own minds.
Te Mania and Richmond Plains by Jo Burzynska
It is often said that great wine is made in the vineyard, and on our trip to Te Mania and Richmond Plains, there were barrels literally amongst the vines. While not in their usual location, they proved to be the source of an intriguing tasting that formed part of an interesting and well planned visit organised by our hosts.
Before we could try any wines, Richmond Plain's owner Lars Jensen and winemaker, Steve Gill set us a challenge: a minute for us to go into the vineyards and find as many different plants as we could. This set members dashing down the rows and presenting proud handfuls of flora. I thought my 11 leaves, grasses and flowers were good going, until I saw the bounty gathered by newest WWNZ member, Brett Jones who won himself a pot of local honey.
It's always good to get amongst the vines and in this instance, it was great way for us to directly engage with the biodiversity at what is one of the country's longer established organic vineyards.
Having proved our gathering skills, we were then allowed to discover what lay in the two barrels, which turned out to be the same parcel of Sauvignon Blanc fermented with yeast from two different sources.
The first older oak barrel contained a wine whose fermentation was the result of a pied de cuve, which harnesses the yeasts on the skins of the grapes in the vineyard before they can be joined by any foreign yeasts that may lurking in the winery. This produced a wine that was lean and lemony with salty-like minerality.
In the next barrel, which was new French oak, the wine had been allowed to progress through a more conventional wild ferment that kicked of in the winery. While the barrel added more oak influence to the wine, it still exhibited a noticeably richer and rounder profile. It was a great opportunity to make comparisons and I could envisage how these two quite distinct parcels could complement each other in a blend.
Our visit concluded with a tasting of selected wines from across the two jointly managed but separately owned labels. This included a library bottle of the Richmond Plains Blanc de Noir 2009, a still wine whose surprising freshness proves that Pinot doesn't necessarily need its skins to age gracefully.
Brightwater by Yvonne Lorkin
I've been writing about wine for almost 12 years and that's pretty much how long it's been since I've been drinking Brightwater wines.  But do you think I've been able to get to their vineyard in all that time?  Thankfully being able to descend on Gary and Valley Neale to sample a rockin' vertical selection of riesling and Lord Rutherford Barrique chardonnay – was just the perfect way to cap off my visit to Nelson last month.  Winemaker Tony Southgate was on hand to talk us through the wines which started a ways back with the Brightwater Riesling 2006, which had bright, rich fruit on the palate, a vein of mealy, kero characters showing through followed by solid length of flavour – hardly surprising that this wine then went on to win the Trophy at the Liquorland Top 100.
The Brightwater Riesling 2009 had bright lime and rose apple notes on the nose and is packed with bold citrus and a tangy, taut mouthfeel, while the 2012 was a gold medal winner at the Air NZ Awards and at Bragato.  This was interesting as it was a cooler year and more mineral-driven elements were showing through.  I really enjoyed the 2014 with its 11.5% alc and 16g/l RS giving it an intense mandarin and tangelo tang.  The acidity was tightly coiled, but there's clearly a bright future ahead for that wine.
I make no apologies for being an absolute Chardonnay slapper, so I was understandably fizzing at the bung at the thought of tasting six vintages of Gary and Valley's Lord Rutherford – the 2012 of which was recently awarded the Colin Harrison Memorial Trophy for Nelson's Top Chardonnay.
Colin Harrison was a big supporter of Nelson wine and in fact founded the Taste Nelson Food and Wine Festival, which he organised and ran until his passing away in the year 2001. The memorial trophy was created that year.
At the first sip we could see the 2007 Brightwater Lord Rutherford Barrique Chardonnay was developing nutty, brulee and toasty, butterscotch characters on the nose and palate, but still retains bright, fresh acidity on the finish.  The 2008 was beautifully aromatic, with cashew characters on the nose followed by an intensely juicy, complex, biscuit palate complexity.  This is drinking darn nicely indeed.  The 2009 is definitely more on the peach and citrus spectrum, showing fresh, lemony lines and an elegant mouthfeel – aspects which clearly helped it win Champion Wine of the Show the 2012 Royal Easter Show.  It was about now that a heavy hush came over the room because pretty much everyone knew that we were experiencing something really special. The 2010 vintage had succulent, roast peach characters on the nose and a juicy, generously tropical flavour spectrum with beautiful energy and presence on the finish while the 2012 was my favourite of the bunch.  In fact I've even gone so far as to give it a formal review (see below).
When Tony, Gary and Valley choose to release the 2013 that'll be high on my list of 'must-trys' because it's already heaving with mouthwatering spices, grilled grapefruit, pineapple and peach and butterscotch and all sorts of gloriousness.
Clearly when it comes to Riesling and Chardonnay, the Brightwater team have got some classy fruit at their disposal.  "We have a fantastic team of pickers who come every year" says Valley, "they're super-dedicated and experienced with our fruit.  They're amazing.  They know what we want".
AND if that wasn't enough, Valley and the team had rustled up an enormous platter of local cheeses, salmon blinis, fresh fruit and THEN we got to take home chocolate!  Outstanding stuff – thanks Brightwater!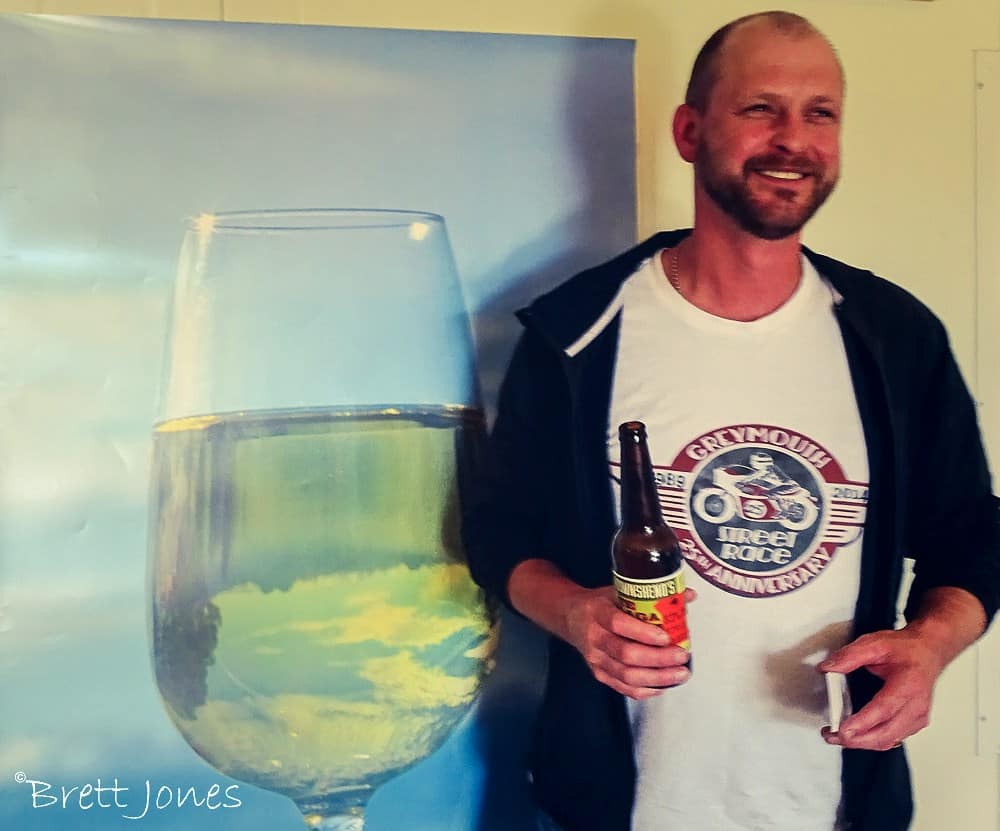 Winemaker for Brightwater Vineyards, Tony Southgate