I first came across YUM Granola back in 2016 and wrote about them not long after I discovered their great breakfast products, a lot has happened with this business in the last four years so I figured it was time to catch up with founders Sarah Hedger and Mike Cowlin again to see if they have any exciting plans for the future.
Sarah laughed and said the last four years have been exciting enough as they are always looking to improve how they do things and new opportunities in the breakfast foods market.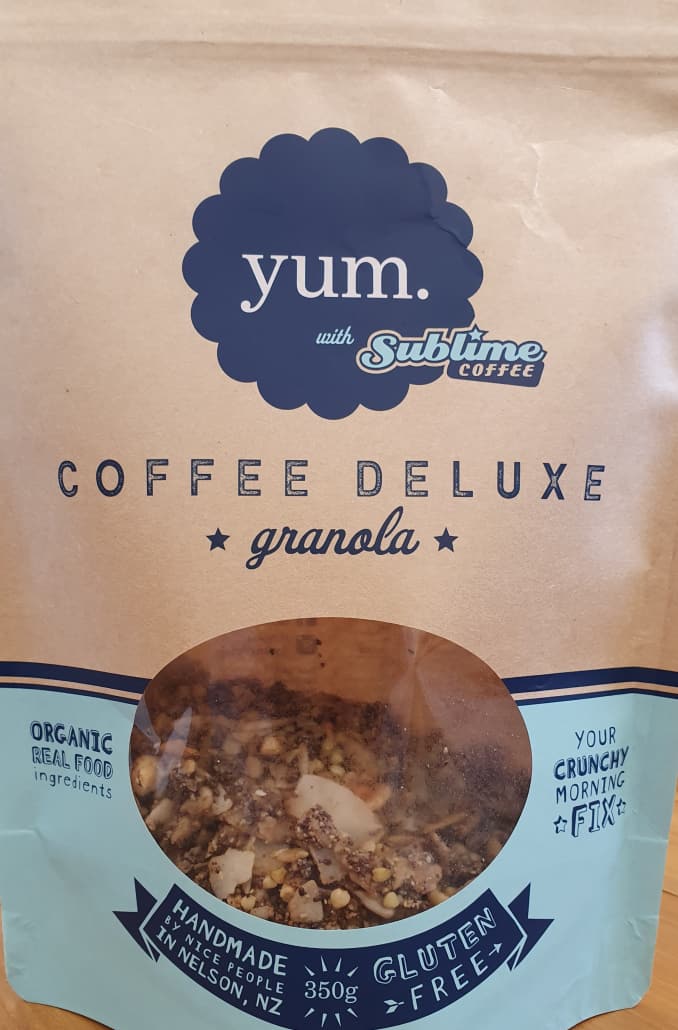 Among the excitement has been the addition of baby Rai to the YUM family along with two staff. "Rachel came on board initially to help us with production but then when I was pregnant with Rai her role shifted to help me with my job. The other addition was Alex who joined us to help Mike with production."
Alex's  story is another worth telling at some stage because he is a refugee Columbia and has created a new life for himself in Nelson, a column for me to think about writing sometime soon. "We have made it a top priority to pay living wage as it very important to us our employees feel a part of a team and valued".
When I wrote about YUM four years ago they were making their cereals in a converted shipping container in their backyard; today they have moved the same commercial kitchen in a container into an industrial building in the centre of Nelson and are about to add a packaging area so they can increase production further.
Sarah told me "moving into a much larger space in the former Nelson Mail print building beside The Framing Room in Wakatu Lane was exciting enough but it also gave us the opportunity to increase production, continue creating new flavours,  and to engage more with the community by setting up our very own honesty box, enabling locals to buy YUM without any packaging."
Let's have a quick recap on the history of YUM Granola; Sarah is originally from California, a chef by trade and had met Mike in Wellington then reconnected with him in Wanaka where she was working as a chef at the Whare Kea lodge. Mike is a marine biologist by trade and worked for the Ministry of Primary Industries in fisheries management but it wasn't food or fishing the couple connected over, it was a shared love of mountain biking.
"Mountain biking is a key reason we chose to relocate to Nelson. We can make granola  anywhere, but we figured it may as well be in one of the world's best places for enjoying the outdoors" says Mike.
The relocation into their new space has opened up a number of opportunities for the couple and their business. "We now have space to let the business grow. We are really proud of the fact we are growing at about 40% year-on-year since we started and we have done it all organically ourselves, and with our loyal YUM fans.
"We are unique in that we create our own recipes in-house and see through the entire process of recipe development, most other companies employ food technologists or food technicians. It is rare for an owner to have the ability and freedom to come up with their own recipes, test them, produce and market them."
Another big move they are slowly working their way through is changing their packaging to home compostable packaging. Mike says "it's about minimising our footprint first and foremost. Our environmental impact has always been part of our philosophy but now it is more of a driver. We are working towards being climate positive rather than just carbon neutral so we actually have a positive impact on our environment and community."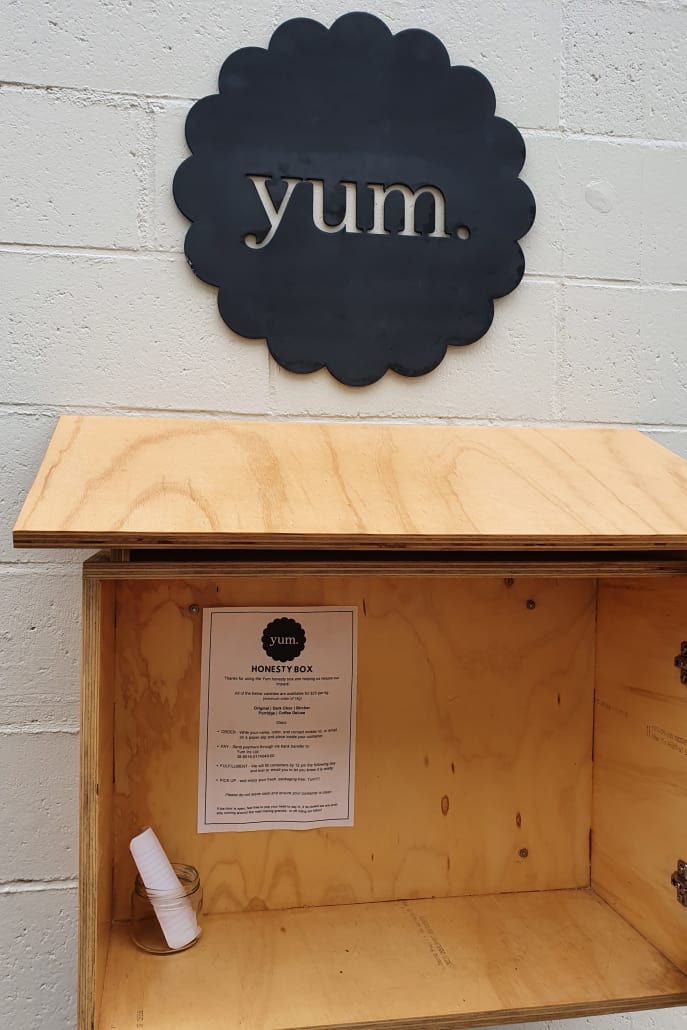 Sarah told me they decided the best way to recycle is to not recycle, instead minimizing the use of packaging in the first place, "rather than using 'recyclable' bags we are encouraging people to use their own containers – reuse rather than recycle."
With this in mind they set up the country's first granola honesty box outside their premises, "it hangs on the wall and people drop off their containers 24/7, tell us how much they want, we message them when the order is ready, they pay online and collect it from the honesty box. It gives people the opportunity to buy the freshest batch without packaging, and we further incentivise this thoughtfulness with better pricing".
The new premises has also given them enough space to be able to expand the product range and one recent addition has proved very popular, in collaboration with local roastery, Sublime Coffee, they created a Coffee Deluxe Granola using their Fair Trade organic coffee beans, "people are loving it" says Mike and it was a Finalist in both the NZ Food Awards and NZ Artisan Awards last year.
Another key area of growth for YUM is in food service across the country, offering YUM in bulk to high-end hotels, lodges, cafes, schools and similar venues. "It means less packaging because we sell in bulk, it also introduces the product to new customers" says Sarah.
"Chefs love it because it is a high quality product they can rely on, it's similar in quality to what they would make and because I trained as a chef and worked in luxury lodges I understand what they need, that's a huge advantage for us when we sell to them".
"YUM is quite special in that it has a fresh flavour profile and also meets strict nutritional requirements, being gluten free, dairy free and grain free/Paleo means these places don't need multiple cereals available for guests, all they want is a really tasty breakfast and we deliver that for them."
So what makes YUM products so tasty and good for you? "When we are looking for ingredients the first and foremost focus is on what beautiful New Zealand ingredients can we get our hands on, it's really neat to work with producers and organic growers around the country."
Sarah and Mike also have a strong focus on the health benefits of their tasty products, they only use a touch of Nelson honey as a sweetener with absolutely no refined sugars. "When I make recipes it's a fine balance between nutrient density and flavour but keeping even natural sugars as low as possible is very important to us" says Sarah.
With a current range of seven products and another couple in the planning stages YUM is still growing but Mike and Sarah make sure they keep a focus on the main reason they chose to live in Nelson, mountain biking is still a passion and Mike even has a shotgun seat for Rai so she can join them on their rides and he says "It gives us a balance when we are really busy, gives us a chance to take a breath and refresh ourselves, we are super lucky we can just jump on our bikes and ride from the door here."
Published in the Nelson Mail 11.03.20