If you love fried chicken then you need to hunt out Kenji Usui and his Mister Karaage caravan.  To be fair he is easy to find, just head to Kirby Lane any day except Sunday and Monday at the moment and follow your nose to the source of the wonderful aromas of Japanese Fried Chicken – or Karaage (pronounced Kah- Lah- Ah- Geh).
I did just that a few weeks ago and ended up spending some time talking with Kenji about Karaage, his business and his journey to Nelson.
He and his wife Rachel have lived in Nelson since December 2009 and owned the Balmoral Motel in Tahunanui until last year, when they sold the business Kenji needed something to do and ended up with his little caravan that he uses to prepare, cook and sell Karaage.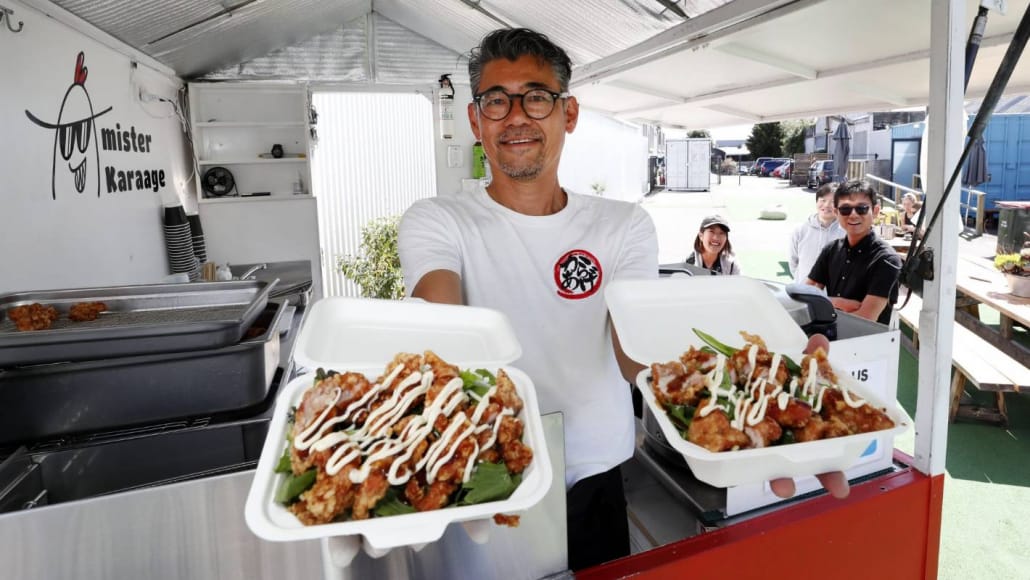 Kenji told me he has always loved Karaage "and if you ask me what is the one thing I really miss about living in Japan it is Karaage." He told me it is the single most popular fast food in Japan and he used to have it many times a week, often as a snack.
Fast food as a snack may seem a little unusual, and maybe unhealthy, until he explained exactly what it is and how it's served. "Basically, it is small pieces of chicken leg meat that has been marinated in soy sauce, ginger and garlic then coated in potato starch and deep fried. You get little chicken bites that are crispy and taste really good" he told me with a big grin on his face.
Kenji also said because the Karaage are made using potato starch rather than wheat flour the batter is much lighter and doesn't retain as much oil and because it's not made using minced up chicken it is more like chicken popcorn but with a Japanese flavour.
Don't think Kenji is new to making Karaage, back in his home town Ogaki (city) in Gifu (prefecture) in central Japan he used to own a convenience store with his brother, "the Japanese convenience store has everything, similar to dairy here but bigger, like an American 7/11 and one of the biggest sellers in convenience stores all around Japan is the Bento for lunch and out of all Bento Karaage was always our most popular."
He met Rachel when he and his brother owned the convenience store while she was an English teacher.
The couple moved to Auckland, which was Rachel's home town, for three years before moving back to Japan where they owned an English language school in his home town for ten years.
They decided to move back to New Zealand and worked out that owning a motel would fit well with their experience, "we thought a motel was one of the easiest things to run, we knew it would be long hours and hard work but not difficult to learn. Buying an existing business was best for us because it was set up and running.
We saw the Balmoral Motel online and decided that Nelson would be a fantastic place to live, and we weren't wrong!
I was missing my Karaage so was making it at home sometimes and when we decided to sell the motel it gave me the idea and motivation to sell Karaage here, because it is one of the most popular foods in Japan and if you go to Japanese restaurant in New Zealand you will see it on the menu but most people don't know what it is so they order sushi and sashimi."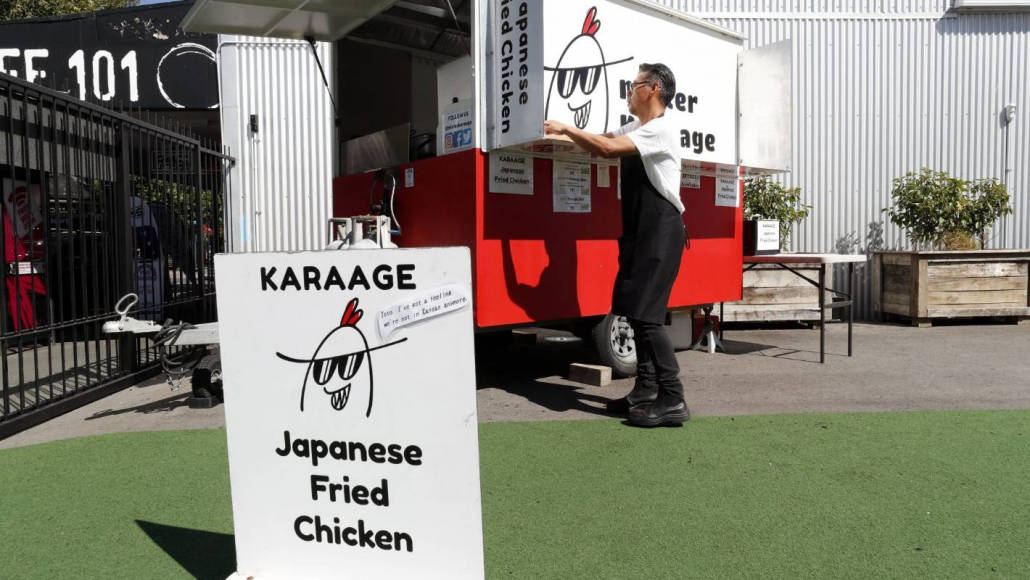 Kenji, or Mister Karaage as many call him, told me it is more well known in restaurants in Auckland and Christchurch but isn't common in food carts yet.
"I really, really want people to know about this food, if people come up to me and pronounce it correctly I know they have either spent time in Japan or lived in a bigger city."
"I wanted to keep my prices as low as possible, I knew it was mainly going to be a lunch business and lunch can be expensive, I wanted to try and make my Karaage as low as possible and to do that I had to purchase as cheap as possible but chicken is quite expensive here.
"I was looking for chicken thigh meat because it has more flavour and is juicy compared to breast meat. Raeward Fresh offered the best chicken at the best price allowing me to make the finished product affordable.
"People are really liking the product, we have only been going for three months but for a start it is going well, I'm surprised how many local Japanese people are finding us, not many people cook it at home because of the deep frying so we are feeding their Karaage addiction too."
Kirby Lane is a great location for Kenji, "it's right in the centre of town with outdoor seating and other food people are here too, I don't go to events and markets at the moment but that may happen sometime in the future but I love to be here every day so people know where to find me.
"I feel I've had lots of support, not just from my customers but also other businesses and people in Kirby Lane as well as my suppliers and of course my family too! For that I'm really grateful."
And if you can't find the Mister Karaage food cart by following the delicious fried chicken aromas just listen for the jazz music "I always play jazz, I just love it, almost as much as I love my Karaage."