Following on from my previous column about how Motueka Winemakers and Growers (formerly Anchorage Wines) set about restructuring their business and vineyards they are now seeing some outstanding results from the efforts they made over the last few years.
As well as refocusing the business from producing primarily wines for sale in bulk to other producers and bottling small amounts under their own labels the Drummond family and winemaker Tony Southgate planned to turn that around. They put a lot of effort into understanding the fruit that comes from various vineyards and parcels within those vineyards so they could produce very good quality wines under their Anchorage and Torrent Bay brands while selling smaller amounts to other producers.
To raise the quality and reduce the volume they didn't renew a lease on a vineyard that produced varieties that didn't sit with where they wanted to focus the business. Tony told me that "this let us have a much tighter focus on our own vineyards, using the same staff resource to work on quality rather than being spread too thinly across more vineyard land.
"The family making the decision to reduce volume, refocusing on growing the very best fruit on their own land and on producing more bottled wine has resulted in immediate success for the family" he says.
The list of top awards achieved by them at various wine shows this year is both testament to the new approach and hugely impressive, but none more so than the stunning result achieved with their 2023 Anchorage Sauvignon Blanc. Not only did it pick up a Gold medal but it was also named Champion Sauvignon Blanc at the New World Wine Awards – blowing away all the wines from powerhouse Marlborough producers.
The New World Wine Competition is important in the industry because it focusses on wines under $25 which is by far the largest wine sales sector. The fact you can buy this award-winning wine for just $16 makes the award even more impressive. This success shouldn't be underestimated, it reflects very well, not just on Anchorage but on the wider wine industry in the Nelson region.
Torrent Bay Sauvignon Blanc, the export label for Motueka Winemakers and Growers, also picked up a Double Gold medal at the New Zealand International Wine Show with trophy winners yet to be announced.
Another great example of how reducing the staff workload by giving up one vineyard and putting all the effort into their own land is the 2023 Anchorage Pinot Gris, the fruit for which is grown on the Drummond family's Flett Road vineyard in lower Moutere. It has just won a gold medal and the Best in Class Award at the Aotearoa Regional Wine Competition
Tony says there's more to come, "we stripped back the portfolio and focused on key varieties while we restructured, and we are about to introduce new varieties from the Flett Road vineyard. We have bottled a Viognier as a stand-alone variety. The fruit used to be blended away into bulk wine sales but with the focus on quality viticulture we have a wine that deserves to be celebrated in its own right.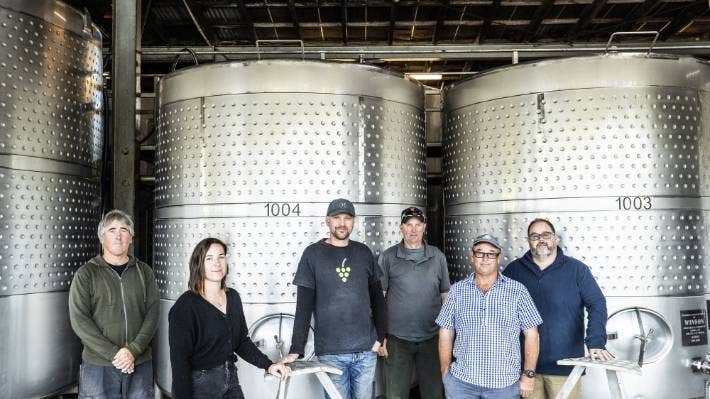 "We have also just bottled a Pinot Noir Rose and a Gewurztraminer so expect to see those on shelves soon." I tasted all these wines with Tony when I visited the winery, and I can assure you that at $16 for each wine they are all outstanding value for money. In fact, they all deserve to have a price tag that starts with a two rather than a one but "we want to over-deliver on value-for-money", says Tony. These wines certainly do that.
Other local wineries have achieved some fantastic results in these competitions too; Blackenbrook Vineyards won a gold medal and the regional award for their Blackenbrook Nelson Gewurztraminer 2023 at the Aotearoa Regional Wine Competition and Blackenbrook Nelson Pinot Blanc 2023 won a gold medal at the New Zealand International Wine Show.
Seifried Estate won gold medals for Seifried Nelson Chardonnay 2021 and their Seifried Winemakers Collection Nelson Barrique Fermented Chardonnay 2022 while Tohu Wines also featured with a double gold medal for their TOHU Whenua Matua Upper Moutere Chardonnay 2020
Here are my thoughts on a couple of the award-winning Anchorage wines:
Anchorage Sauvignon Blanc 2023 RRP $16
Almost clear in colour, elegant gooseberry, red currant, fresh lime and soft capsicum aromas emerge from the glass while on the palate, it is simply packed with flavour. This wine has a beautiful, luscious, rounded texture in the mouth with ripe, juicy acidity creating a delightfully long finish. The concentration of flavour is both impressive and satisfying. The wine delivers outstanding value for money. This is a five star wine.
Anchorage Pinot Gris 2023 RRP $16
Again, the pale yellow, lemon gold colour of the wine isn't reflective of the taste sensation that awaits. While the delicate pear aromas are a better indication, it is when you taste this wine that it shines. Concentrated medium-sweet pear fruit on the palate with juicy acidity balancing the residual sweetness perfectly. Concentration and balance are the key words to describe this wine. It is the perfect glass of wine to enjoy hanging out around the bbq, for lunch with seafood and is a perfect pairing with spicy Asian food. Five stars from me.