A few weeks ago Ursula Schwarzenbach asked me if I would like to visit them to taste their 2020 vintage wines, of course I said yes (who wouldn't!) so last week I met Ursula and her husband Daniel at their winery to talk about the 2020 vintage and taste some wines.
Over the years I have been mightily impressed by this couple and the wines they craft, as Daniel said to me last week "to be honest 80% of the winemaking happens in the vineyard, I just have to finish the process in the winery."
This understates just how much effort the couple and their young family put into creating their delightful wines. Located on the sloping hills at Tasman, up the road behind the Tasman Store, the vineyards are managed with intense detail to ensure the fruit is in the best condition possible to turn into wine.
The 2020 vintage was notable for the Covid-19 lockdown during which the wine industry was granted essential services status to be able to harvest their once-a-year export crop. At Blackenbrook Vineyards however the final pick happened on the day before lockdown started, "we were due to finish on the Friday so by working longer hours for a few days we were able to get all the fruit picked and into the winery before lockdown".
Ursula told me their assistant winemaker headed back to Germany early to beat lockdown restrictions but as school was also locked down their son Thomas was able to step in and help. "He has always been around the winery and helped in every aspect from the vineyards to the bottling line so he knows his way around the winery, it was just full time as assistant to Daniel for a week or so."
The couple are also delighted with the quality of the vintage this year, "it was exceptional" says Daniel and I must say that based on the wines I tried last week I agree. For me the wines at Blackenbrook have a certain purity of flavour to them, it's a character I find difficult to describe but the wines tend to have a perfect expression of the varietal flavours and I'm certain this comes from the meticulous vineyard management that means less intervention in the winemaking process in the winery.
"Some of the wines pretty much make themselves" says Daniel. Beautiful clean fruit equals beautiful clean flavours, "for wines like Sauvignon Blanc and Pinot Blanc we didn't do anything in the winery, we just need a good ferment to turn great, clean fruit into nice wine, we try and use very gentle processes so we don't lose the flavours."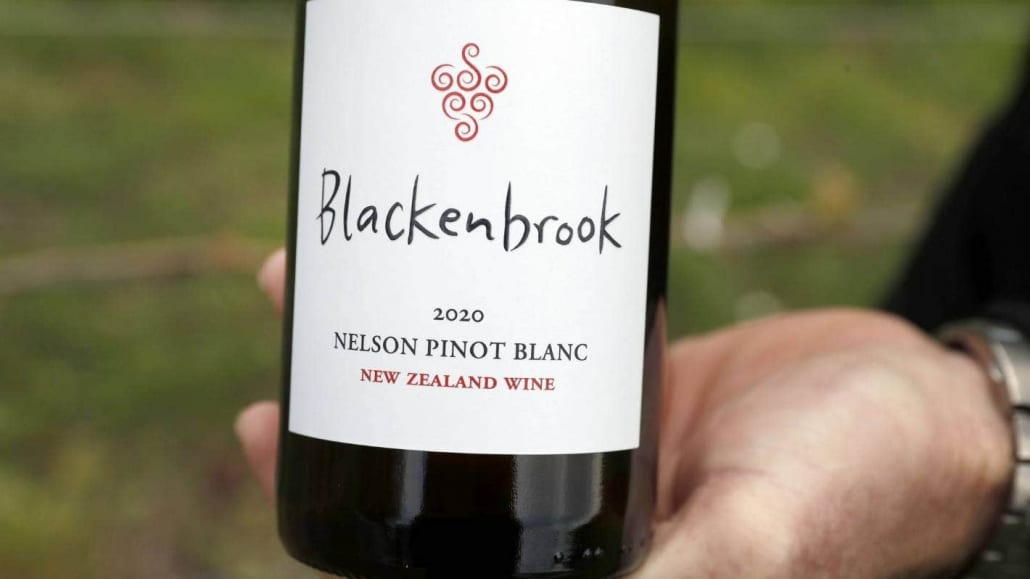 I tasted seven new release wines in the hour and a half I spent at Blackenbrook and tasting notes for all of these are on my website www.toptastes.co.nz but one worth a special mention here is the 2020 Pinot Blanc (RRP$28 and Vegan certified). This is the second vintage for this variety at Blackenbrook and what a stunning wine it is!
The aromas are intense, bursting with rich cooked pear and stonefruit characters that are dusted with delightful floral notes in the background. The richness of the aromas is reflected in the weighty, delicious flavours, flavours that are balanced with a touch of freshness and deliver liquorice-like characters in the very long finish. This is a five star wine and one that will certainly find itself attached to my credit card and a place in our cellar.
Daylight saving starts on the 27th September so that means in just over a week we are going to be spending more time outside and for us that means more time cooking on the barbeque.
This week's recipe is our favourite way to cook St Louis Babyback Pork Ribs, these are a long rack of small ribs that we buy from Raeward Fresh. To make it easier to fit on the barbeque we cut the long rack into two. For the sauce we just make enough to use fresh.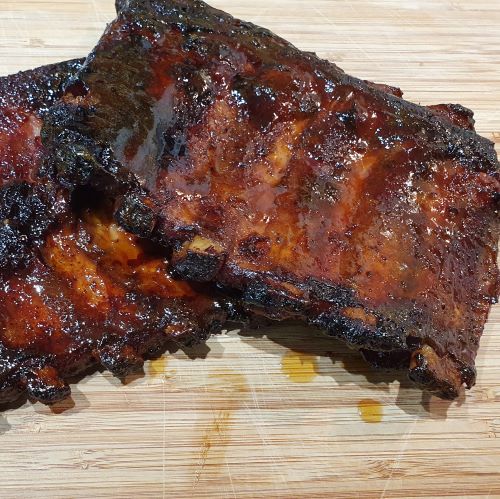 Barbeque, smoked St Louis Pork Ribs
Serves two to four people depending on whether or not you serve side dishes with it.
Ingredients
1 pack St Louis Pork Ribs
The dry rub lasts a long time when stored in a jar so we make a decent amount and use it as we need it. Just double or triple the recipe if you want to save some time next time.
Dry Rub
1/4 cup brown sugar
2 teaspoons Kosher salt
2 teaspoons black pepper
2 teaspoons smoked paprika
1 teaspoon garlic powder
1 teaspoon ground mustard
1/2 teaspoon cinnamon
1/2 teaspoon celery salt
1/4 teaspoon cayenne pepper
Mix all ingredients in a bowl. Use a fork to crush any clumps of sugar or seasonings. Store in an airtight container for up to a month.
Method
Rub the dry mix into the ribs the day before, put them on a plate, cover  and leave in the fridge overnight.
Fire up your favourite barbeque, preferably with some wet wood chips (manuka, cherry wood etc)
Place the ribs in a foil tray and cook at about 120 C for three hours.
Turn every hour and for the last hour baste the ribs several times with one of the many specialist meat sauces you will find in most good food stores.
Cut into single ribs and serve with your favourite side dish.
We love these with an Italian coleslaw and the recipe for this is on my website www.toptastes.co.nz/recipes