A dictionary definition of a butcher is a person whose trade is cutting up and selling meat in a shop so how can a butcher produce vegetarian products?
I asked Maria Rollin from The Vegetarian Butcher in Hardy St exactly that and she told me (with a big smile of course) "I get vegetarians and make them into sausages".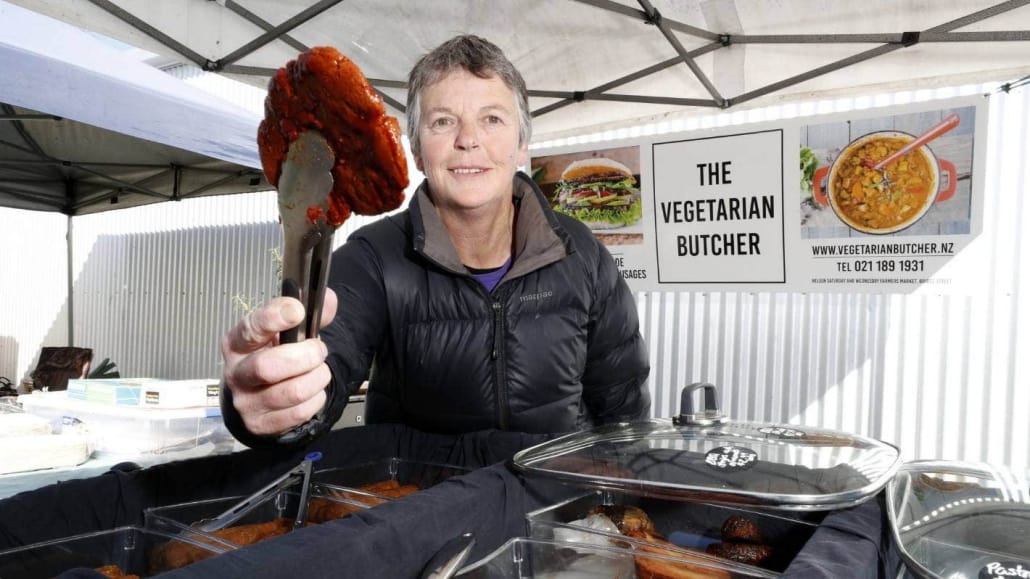 In reality she makes various products that resemble meat and sells them to people who either want to reduce the amount of meat in their diets or have changed to a plant-based food diet.
"I started making various vegetarian and vegan friendly meals because my two kids were vegetarians, as I experimented with different things I realised there was a market for this style of food and decided it could be a business, there was a growing demand for plant based foods.
"When I started the business the planet wasn't ready for me but three winters later there's a real demand for vegetarian and vegan products, the supermarkets have more and more appearing on the shelves all the time. There has been a real change in how people perceive vegan and vegetarian foods."

Now I have to admit I am a committed meat eater, and have had some truly awful imitation meat products in the past, so I was a little cynical when I first tried Maria's products. Of course they don't have the texture of meat but they are very tasty imitation products and I think they make a good transition for meat eaters who want to cut down on meat consumption.
"Having something that cook's like a steak is a nice transition" according to Maria.
"There are a lot of food intolerances these days, too many chemicals are used in food production and that can't be good for us."
The Vegetarian Butcher products are made using seitan, a wheat protein, as the base ingredient which is then mixed with various wet and dry ingredients to create different flavoured products. Maria uses a nutritional yeast, cannellini beans, tomato paste, tamari, and of course various secret herbs and spices.
The different flavoured mixes are then formed into sausages or patties and steamed or baked. "Ultimately I'm making dough and forming it into different shapes with different flavours, for example the streaky bacon is made with two different doughs to give it the streaky look."
Last year Maria's breakfast sausage was runner up in the NZ Vegan Sausage Awards in the breakfast sausage category. The sausages she makes range from the flavoured but mild breakfast sausage to a chorizo style sausage and a spicy Italian sausage that has chili and different flavourings.
"Bacon and pastrami are made into logs and baked in the oven rather than being steamed. I also make steak-shaped patties that taste different to the sausages because of the different ingredients."
Because the products are precooked when you get them home they just need heating up, "for the steak just fry it for a couple of minutes to get a nice caramelised colour and texture.
"The sausages can be pan fried for colour and texture and are lovely tossed through a risotto, stir-fry or stew.
As well as being dedicated to plant based food production Maria also says we just need more people to think about shopping with the small, artisan producers who are making outstanding products because their products tend to be more natural with lower levels of added chemicals." And that is something this committed meat eater absolutely agrees with.
For the next few weeks rather than include a recipe in this column I'm going to include some reviews for new release wine samples that have been sent to me recently.
Blackenbrook Vineyards Pinot Gris 2020 – RRP $25 – 5*
The rich pear flavours are balanced with nice spicy phenolics and delightful acidity. The balance between intense fruit characters, juicy acid and the dry finish is a tightrope walked with precision. This wine is drinking very well right now and is a perfect food wine.
Neudorf Vineyards 2019 Home Block Moutere Chardonnay – RRP $82 – 5*
The name has changed slightly to reflect exactly where the fruit for this classic wine comes from but the quality is without compare, in fact I will go as far as saying I think this is one of the finest chardonnay's produced in New Zealand.
It is hard to be subjective about a wine you have been following and buying since the 1980's but putting all preconceptions aside and assessing the current wine on things like fruit intensity, acidity, texture and flavour it ticks all the boxes.
The 2019 Neudorf Home Block Moutere Chardonnay is one of the very best they have produced, with flavours that are elegant and acidity that is precise, while capturing the powdery minerality of the Moutere clay soils, this is an elegant, yet powerful, wine that has been crafted with skill and respect for the special place the Neudorf home vineyard is.
Published in the Nelson Mail 23.10.20