Casa del Vino has been Nelson's premium boutique wine store for many years and late last year it entered a new phase in its long life under new ownership.
Juliane and Glenn Cormier purchased the business from Ann Banks who had owned it for more than ten years and they set about putting their own mark on the business, starting with a full refurbishment that included earthquake strengthening of the building and installing three enomatic machines and a wine bar.
The enomatic machines enable Julianne and Glenn to pour small tastings or glasses of wine for you to enjoy at the bar, these machines keep the wine in pristine condition for many days and that means they can have a range of wines open at any time for you to try.
As well as this addition to the business the couple are continuing with the very popular Saturday tastings and occasional more formal tasting, they are also keen to engage with their customers on a personal level and that is one of the reasons they hosted a private tasting for a very small group of people who wanted to share some special and interesting wines from their own cellars.
More about that later but why did Juliane and Glenn want to buy a wine shop?
Juliane had worked part time for the previous owner and has a huge passion for wine so she and Glenn asked Ann to let them know if she wanted to sell.
When I had a chat with her about the new venture and her wine passion she told me they have travelled to many parts of the world after leaving San Diego and they fell in love with Nelson and its wine region so having a specialist store selling wines in the place they love was an easy next step for them.
The Casa del Vino website tells us "Juliane's wine interest was piqued when she lived and tasted through Burgundy for two years.  This ignited not only her wine palate, but also a desire to taste and learn more, which she did by attaining her CSW (certified wine specialist) and WSET Level 3 certificates. So go ahead, don't be afraid to ask any wine question – she'll do her best to answer it and help."
The WSET (Wine & Spirit Education Trust) level three qualification is a required step before you can undertake the hugely challenging Master of Wine (MW) qualification; if the MW is the equivalent of a doctorate in wine then WSET level three is the degree qualification and this helps put Juliane's experience and knowledge into perspective.
While Juliane lived in Burgundy for two years the couple's passion for international travel, with wine regions of the world feature highly in their travel diary, this travel also means they can talk with confidence and knowledge about the wines they sell, they are likely to have visited the country and regions the wines come from.
Another innovation that comes with the wine bar is that you can now buy any bottle of wine in the store and they will open it and serve it to you at the bar, so if you need to unwind or want to get a small group together and buy something special you all want to taste then you can.
T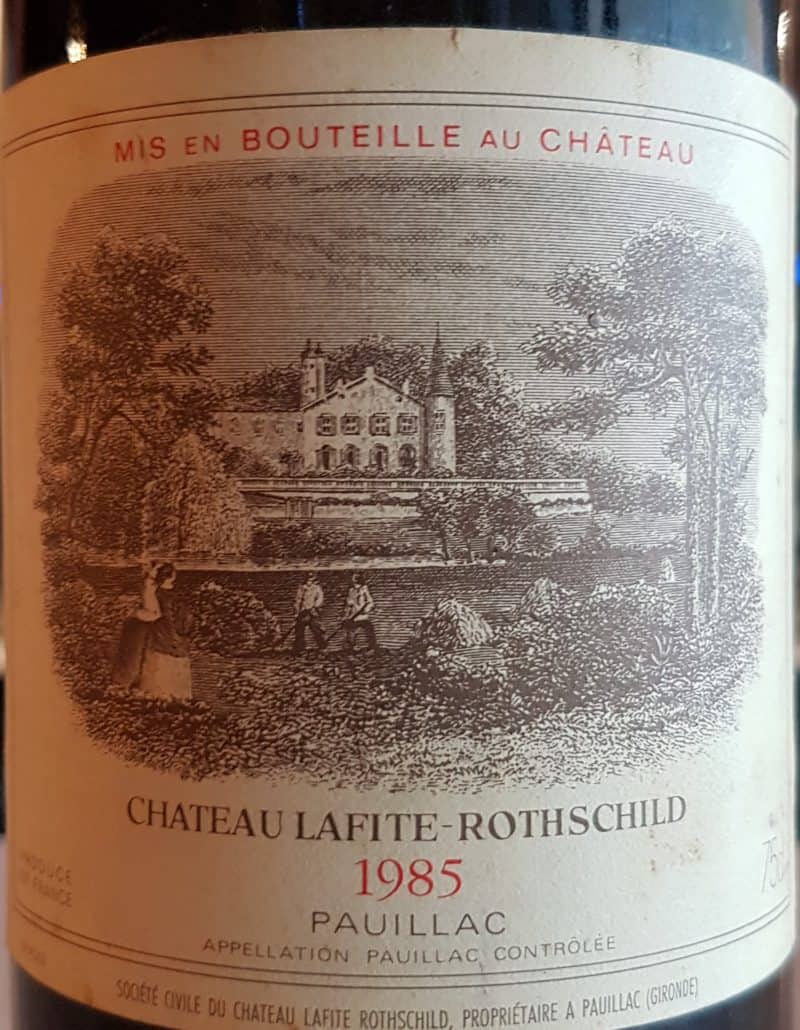 hat brings me nicely to the small tasting we had last week, Steve Coyne from Harbour Light Bistro had a bottle of 1985 Chateau Lafite Rothschild he has been storing carefully for many years and invited a few people to join him when he opened it, his wife also happens to work at Casa del Vino so it became the perfect venue for a couple of chefs and wine geeks to gather.
As with any party it is only polite to contribute something to the event so those invited also bought along something special from their cellars to turn the Lafite tasting from something special to a real treat.
Because opening the '85 Lafite was the reason for the gathering, and because Coyne was a little nervous as he had no idea what condition the wine would be in, we opened that first, he needn't have worried because the wine was in perfect condition and proved as stunning in the glass as everyone had hoped.
In the glass the colour was rich and deep plum with a nice brick hue to soften the intensity and the aromas were warm, rich, packed with bright and fresh black berry fruit characters and layers of complexity that changed as the wine spent some time in the glass.
The flavours of this special wine were as complex and rich as the aromas with a touch of beautiful fresh acidity in the finish making it simply wonderful; as the wine sat in the glass other flavours evolved, flavours like delicate fruit cake like spice and then an intriguing smokiness.
We all quietly sipped this wine and kept going back to it for another sip during the tasting, everyone was impressed with the way the wine just kept delivering more in terms of flavour and complexity as it sat in the glass even though it had been decanted before being served.
A couple of older sauvignon blanc wines from Marlborough were interesting in a whole different way, the richness and complexity of wines we normally drink in the year they are made showed we tend to drink these wines too soon, they can be wonderful with some age and with high acidity when they are made they do age very well.
The next special wine was a 2007 Chateau Palmer from Margaux in France, it proved to be a highly perfumed wine oozing juicy black berry fruit characters and, while drinking really nicely now, if you happen to have some of this in your cellar you can confidently keep it at least another 15 years.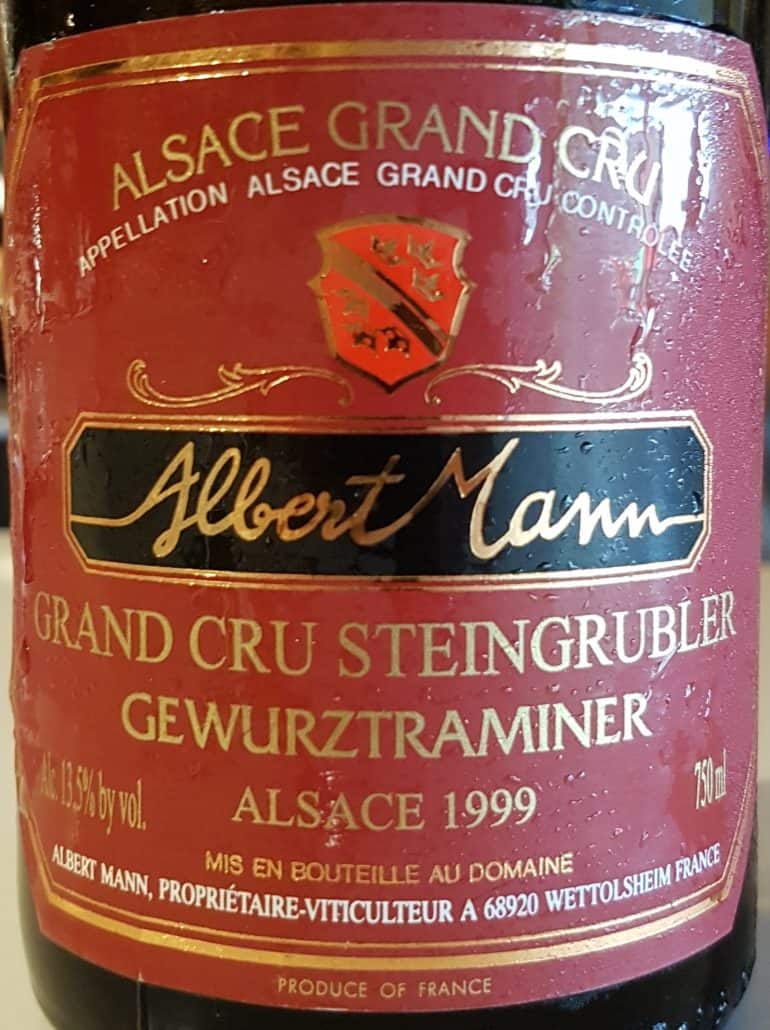 The final wine was another stunning wine from France but this time the northern region of Alsace; the 1999 Grand Cru Steingrubler Gewurztraminer by Albert Mann was a powerful yet restrained wine, wonderfully intense aromas typical of Gewurztraminer simply put a smile on our faces and when we tasted the wine the power behind the aromas came to the fore.
Even though the wine was incredibly intense and was some 17 years old some lovely acidity ensured it was still fresh and vibrant.
What a wonderful wine to finish an outstanding tasting with, and in case you were wondering these wines were all purchased many years ago and carefully cellared but if you wanted to buy them today you would need to pay something in the vicinity of $1000 for the 1985 Chateau Lafite-Rothschild, $500 for the 2007 Chateau Palmer and $100 for the 1999 Albert Mann Gewurztraminer – once again proving the value of maintaining a wine cellar that has a few premium wines in it, your investment will be rewarded many times over when you open those special bottles.
While this was a tasting of wines from private cellars, wines that you won't find on the shelves at Casa del Vino, they do host private functions and events and can help you find some special wines to taste with wine friends in their very stylish new wine bar.