Wellington is famous for having more hospitality businesses per head of population than New York City and many of those businesses have coffee as their main reason for being.
When we look at how many hospitality businesses are failing in Christchurch where it seems that for every new venue that opens another closes, Ii's a brave person who is prepared to venture into the crowded hospitality sector
I think the days of a central city being packed with retailers is slowly coming to an end and landlords are looking for alternative uses for their once valuable inner-city properties. It seems to me landlords think almost every property is ideal for some sort of café, bar or restaurant, but do we have the population to support a café in every old retail space? I think not.
I think it's fair to say the coffee scene in Nelson is pretty crowded too so a new café business has to offer more than just ok coffee and I wanted to know what it's like starting a new hospitality business in the city, last week I had a chat with Sam Aish who set up Coffee 101 in Bridge St just over six months ago with his business partner Andi Waddington.
Coffee 101 is a specialty coffee shop,  and they do serve some food but because they don't have a kitchen they buy product from other producers for resale.
The business opened on the 24th November last year after they guys spent two months refitting the space, Sam says "we did everything from design to planning and building much of the furniture ourselves. We knew what we wanted to achieve but because of the very short time frame it grew quite organically, we built tables and benches to fit the space we had after we polished the floors and painted everything.
"It was quite the experience learning new building and decorating skills as we went along."
Even though they now own a coffee shop it wasn't what was intended when the friends who both worked at River Kitchen intended. Initially they were going to work for someone else but when the deal that person had with F45, the new health and fitness centre, fell over Sam and Andi were offered the opportunity to take over the proposed café space.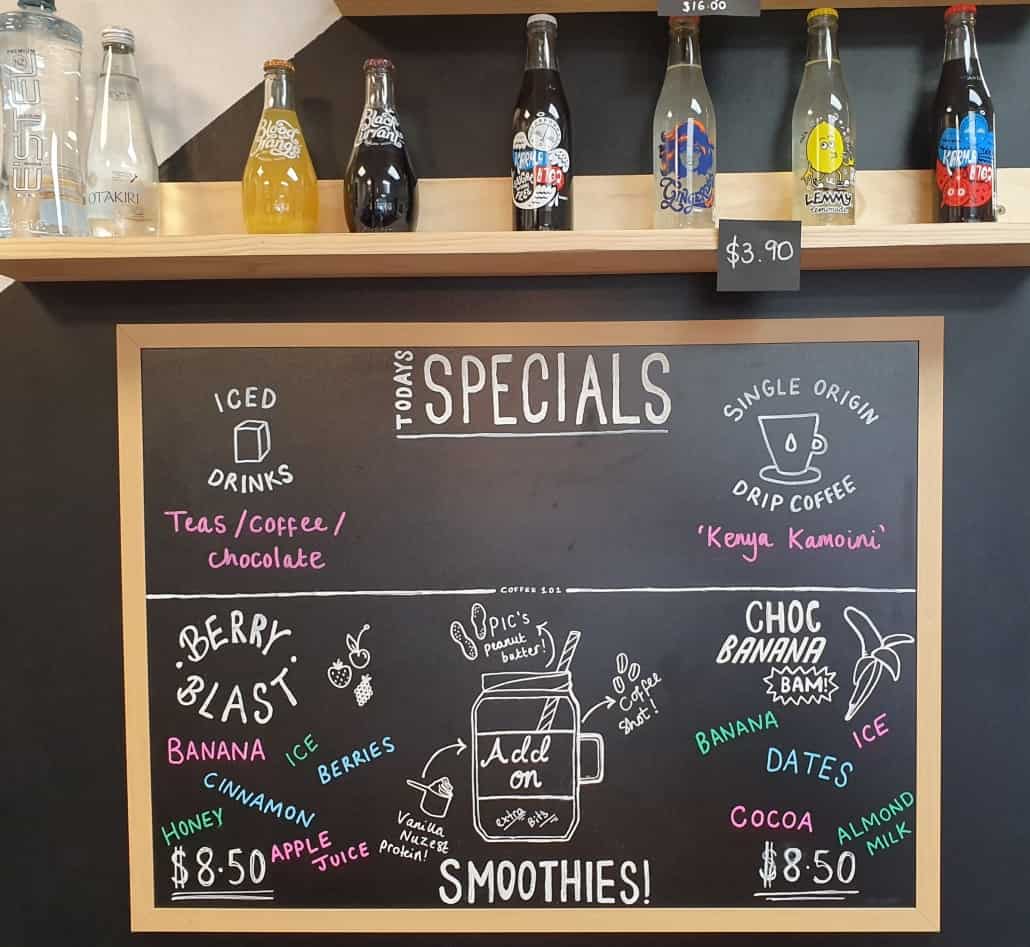 Sharing space with another business is a key to the success of their business "Belinda Koloamatangi from F45 does a lot of marketing and many of their clients are regular coffee drinkers, in addition to coffee and other drinks we have food that fits with their needs too. They have challenge weeks for gym members and during the eight weeks of the challenge they aren't allowed to drink coffee but we work with them to have suitable food and drinks like smoothies for their challenge weeks.
"Because we don't have a kitchen to cook fresh food we don't have a café-style menu, just cabinet food, smoothies, tea and of course coffee which is our main thing and it's something we put a huge effort into making sure we get right every time."
Sam and Andi bring a huge amount of experience with them to this venture, while working together at River Kitchen for four years they discovered they had very similar hospitality experience, particularly around coffee.
Both worked in Wellington in the coffee scene at different times, they both spent time in Melbourne independently and when they met in Nelson they found we knew the same people in the industry in different parts of the world.
Sam also spent some time working in Vancouver, Canada, a city he says has the most professional environment for getting great experience, "I worked in a place that was fitted out with custom coffee making equipment and it's where I met Julian Trigg, a coffee machine service technician who has recently established his own business servicing coffee machines around town."
Sam moved to Nelson from Wanaka to "plant some roots and buy a house, which we have been able to do." He and is partner Kimberley also had their first child about a month before opening Coffee 101 while Andi has two young children so family life was also an important consideration when they set up the new venture.
"We set out to be a family-friendly business, not just for clients but for our families too, we both play football on Saturday so we employ Kimberley Keil to work 8am to 1pm Saturdays"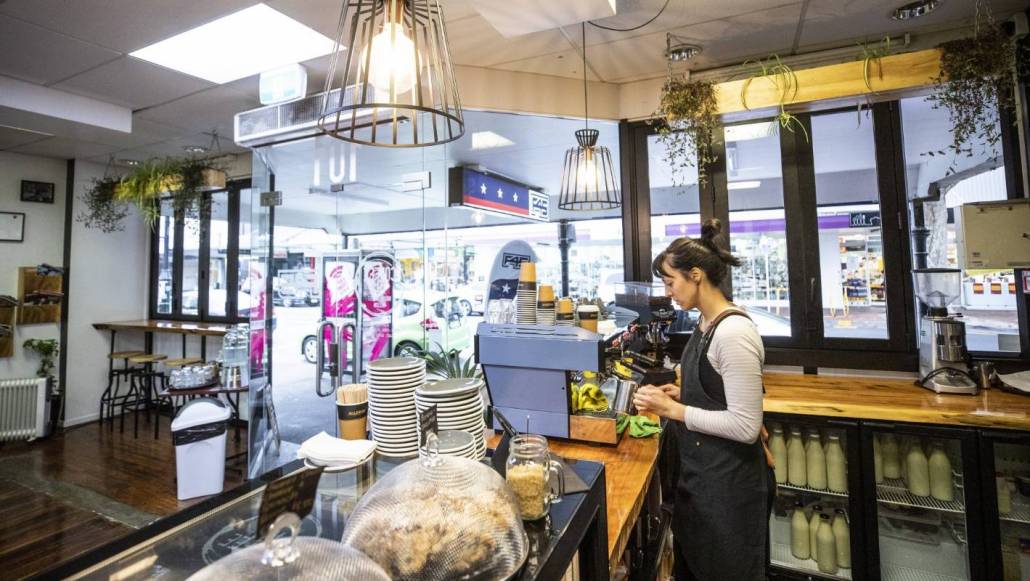 The usual opening hours for Coffee 101 are 6.30am to 2.30pm Monday to Friday as well as Saturday but as any business owner will tell you work doesn't stop when you close the doors, they have to be on call 24/7, "someone crashed into a pole outside the building so that had to be dealt with, we put a huge amount of effort into all the social media stuff and it is pretty time-heavy.
"As it's just us we need to be here making coffee and trying to build a community of repeat customers so it's usually about 70 hours a week even though we aren't open that long, a few weeks when we were setting up were 100 hours plus."
But what about the challenges? "Having a smaller space and sharing overheads is a huge bonus, it would be difficult to have a business that supports two families if we were stuck with the full costs, but there were still a few costs we didn't think about.
"Surprise costs you don't know are there until you are in there doing it, things like having to pay a licence fee to play music (even the radio), various insurances to protect yourself and your income and the fees around eftpos and credit card transactions are really significant."
To add a little more pressure Andi is also following his other dream to be a firefighter, "ever since I've known him he has wanted to be a firefighter so he has been away training and graduates at the end of the month, he's going to be working as a Nelson CBD firefighter and because of the shift work nature of a full-time firefighter he will be able to work some hours back in the café too.
"He owes me a bit of free labour I reckon."
Sam says finding balance between family life and the new business is vital "and we both have very strong women behind us, we couldn't do it without their support" but for the new dad sleep deprivation is the hard part.
Check out Coffee 101 in Bridge St next door to the Kirby Lane park, the coffee really is very good.
Published in the Nelson Mail 12.06.19