Winter is finally starting to show up and that means hospitality businesses have time to roll out a few treats for diners rather than just being crazy busy cooking delicious food over the busy summer months.
The quieter time of the year gives chefs a chance to showcase their creative skills, particularly by joining with wineries to host multi-course dinners where small plates of food are paired with beautiful local wines. Some also offer dining specials during winter months to tempt you away from the comfort of your lounge into the comfort of their restaurants.
At Hopgood's & Co they are hosting a multi-course dinner with the Family of XII, 12 premium family-owned wineries. Unfortunately this dinner sold out weeks ago but Hopgood's have once again brought back their very popular winter set menus.
Patrick Stowe from Rimu Grove will be showcasing his wines with a Vintages of Rimu Grove dinner at Forster's Restaurant, located in the Moutere Hills winery. On the 15th June you can enjoy five courses of food paired with Pat's wines.
The tastes of deliciousness prepared by Chef Alistair Forster and will include beetroot, forest mushrooms, shallot, black olives, pine oil, truffle custard followed by roasted Moutere pork loin, wasabi butter, caramelised onion, eggplant, coconut ash then Ora King salmon, cider jelly, verjuice, caviar. Go to www.forsters.co.nz for full details and to book your seats.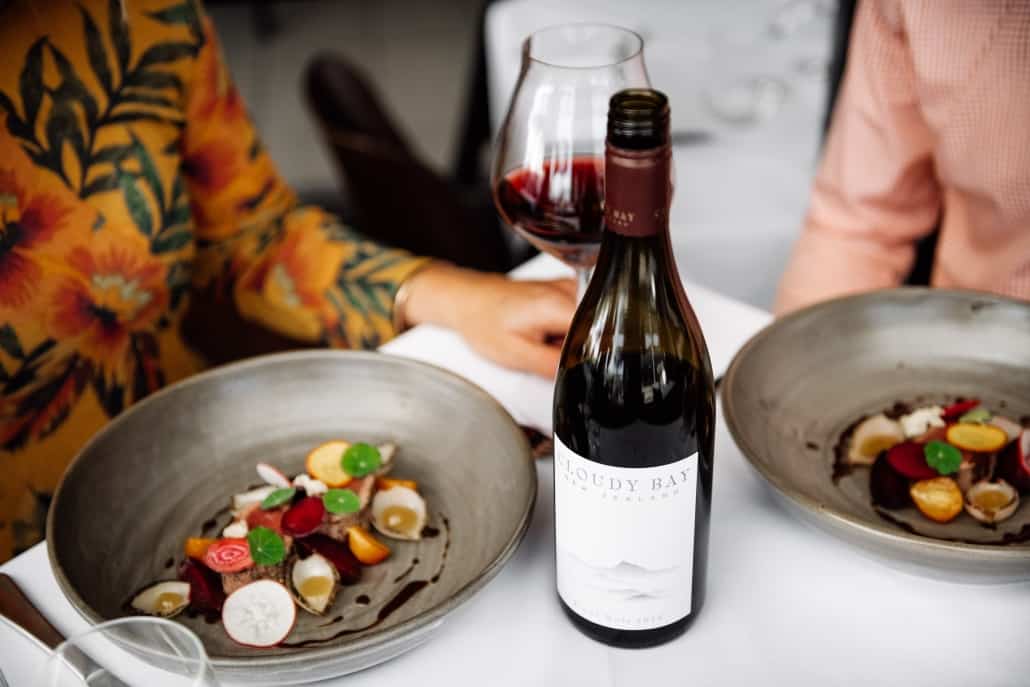 Cloudy Bay wines produce some exceptional Pinot Noirs and just over a year ago I was lucky enough to be hosted by them at a two-day Pinot Noir Salon where we tasted wines with some of the very best wines in the world that inspire the cloudy Bay winemaking team.
Rather than creating a one-off event to celebrate special wines Cloudy Bay have teamed up with restaurants around the country to feature two of their Pinot Noirs with a game dish, dishes that will be available for June and July on the restaurant menu. The Pinot Noir Tasting Trail is designed to showcase their wines with beautiful food prepared by some of the country's great chefs.
This year the theme is Pinot Noir and Game and Jeff Scott Foster from Oceano Restaurant at The Rutherford Hotel has been invited to create two beautiful dishes to celebrate Cloudy Bay Pinot Noir and Game. www.cloudybaypinotandgame.com
I have been to a degustation dinner prepared by Jeff previously and because a head cold has kept me away from Oceano at the moment I wanted to find out more about his dishes so we had a chat over the phone, which in turn meant I didn't share my cold with him.
The two dishes he has designed to pair with two different Cloudy Bay Pinot's are an entrée of Juniper Duck 'n' Rhubarb, Red Cabbage Chutney and Tempura Snow White Mushroom served with a glass of Cloudy Bay Pinot Noir 2016.
The main course is Poached Venison, Borsch Polonaise, Herbs, Lightly Smoked Marrow, Pinot Bouillon, Garden Vegetables, Beetroot, Rye and Sour Cream, served with a glass of Cloudy Bay Te Wahi 2016.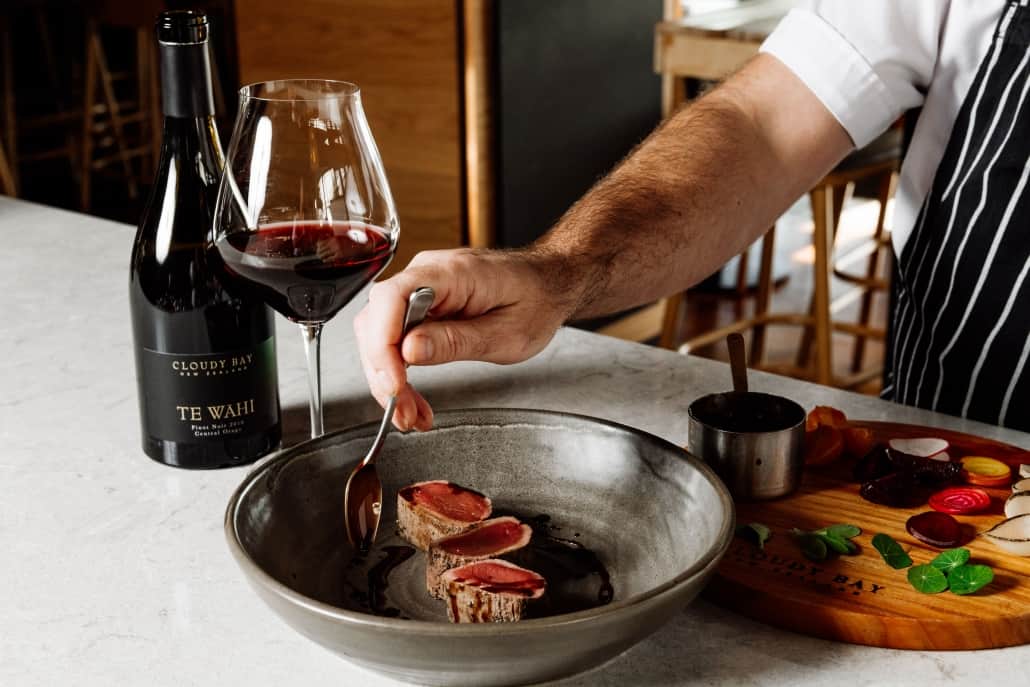 I have been to a winemakers dinner prepared by Jeff, so I know his food is delicious, but I asked him to talk me through his choice of dishes and wine pairings, he told me that with "wine pairings sometimes you marry the dish to the wine so they taste the same, other times you go total opposites, by challenging the wine and challenging the food we also challenge your taste buds to think about the wine and the food together.
"With venison you usually expect rich and heavy sauces, we wanted to get away from that, and have a ballet on a plate rather than heavy Irish dancing. Also, the heavier the dish the more you get filled up but with lighter dishes you can eat more so you can enjoy dessert too."
Cloudy Bay offered a choice of two wines for pairing with a single special dish, but at Oceano Jeff decided he wanted to make two dishes, one to pair with each wine, "we thought both wines were so good we wanted two dishes and our Sous Chef, Mattia, was trying a new sweet & sour rhubarb duck dish with a Northern European influence that is marinated with juniper before being poached perfectly. We just brown off the fat on the outside and carve to serve, it's an old style dish with an earthiness that works well with the lighter-textured but flavoursome Cloudy Bay Pinot Noir.
"The Cloudy Bay Te Wahi Pinot Noir is an amazing wine with great depth, I wanted to bring out all of the elements in the wine with the dish, I didn't want the wine to be competing with the dish, so we have a lighter dish with a clear soup and smoky flavour and beetroot that brings some earthiness in light amounts. We are poaching venison to medium rare and then slightly reduce the poaching liquid to serve with the venison."
Jeff says that technique is important in both of these dishes, "the old days cooking skill is important, the process isn't easy and takes skill from the chefs, but because everything is poached in a liquor and then turned into a sauce, we get all of the beautiful nuances of smoke, sweetness, sourness, earthiness in a nice flavour profile but is still a delicate dish."
Kat Mason, Cloudy Bay's Wine Communications Manager said "As we approach the cooler winter months, the 2019 Cloudy Bay Pinot & Game Tasting Trail will provide a tasty way to break away from the classic dinner routine and expand your culinary horizons by incorporating new combinations of warming food and wine pairings."
I think they have chosen a great partner in Jeff Scott Foster and his team at Oceano who have created dishes that will certainly expand your culinary horizons but in a beautifully delicate way.
The two dishes will be featured on the menu at Oceano until end of June, "We  are promoting it with Cloudy Bay and they have given us some great pricing on these premium wines so we can bring them to guests at about retail prices rather than usual restaurant prices.
Oceano is open for dining from Wednesday to Sunday and you can book by phoning 03-548-2299 or via their website  www.heritagehotels.co.nz/rutherford-hotel-nelson/dining
Published in the Nelson Mail 05.06.19