In recent years the health benefits of consuming fermented foods has been getting a lot more attention but people have known about the many benefits of these foods for some time and a few have been fermenting their own foods at home as well as developing products that are packed with natural goodness for everyone to use.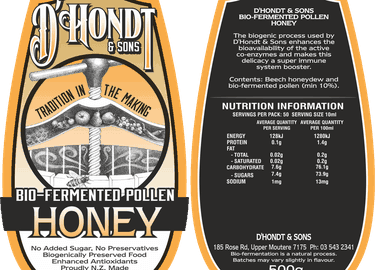 Michel D'Hondt is one such person, under the brand D'Hondt & Sons his family produces a range of bio-fermented products, everything from honey to salt has been enhanced with added bio-fermented goodness created by Michel.
What exactly is bio-fermented I hear you think, well I had the same thoughts, so I chatted with Michel recently to find out more about his products, the science behind them and his philosophy to food production.
He said it all starts with the soil, "if you grow things in soil lacking in minerals then you don't get any benefit when you eat them so understanding the importance of healthy soil is key."
"Then you also need to understand the relationship between nutrient-dense foods and health. We have spent many years researching the use of bacteria and minerals in organic agriculture and horticulture. Early on we came to the conclusion that if there are no minerals in the soil there won't be in the food either so we set about creating a growing environment that is packed with minerals beneficial to our health."
D'Hondt & Sons grow as much of their own produce in their organic gardens as possible, the few ingredients they don't grow they source from other organic gardens and then work with those products to create their special bio-fermented foods and condiments.
In their gardens they use their own trade marked formulation called Biogenic Manna "which allows us to grow dense nutritious food that has a high mineral content."
To make sure his initial research and understanding was correct and to ensure he fully understood the science behind his beliefs Michel trained in Efficient Micro-organisms in Saraburri International Training Centre, Thailand in 2005 and then in 2008 he complimented this work with a Certificate for Bio-dynamic Agriculture in Taruna College of Education in New Zealand before completing his training in micro-nutrition through the Doctor Rath Foundation for Health in Belgium.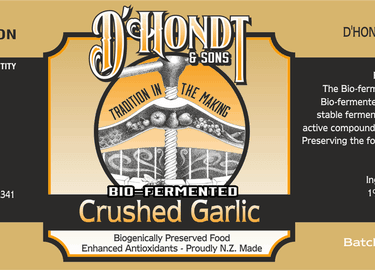 He has been putting that education to good use and over many years Michel has developed agricultural techniques suited to an ever-changing environment for the production of nutrient-dense food.
"I have been working with Efficient Micro-organisms for the last ten years to try to improve the yield and nutrients in organic agriculture". Effective Micro-Organisms (EM) was developed in Japan in the 1980s by Teruo Higa, a horticulture professor at the University of the Ryukyus in Okinawa and is a combination of useful micro-organisms that exist freely in nature, brought together by an organic process.
Michel told me "Basically the discovery was that you could mix photosynthetic microbes – the ones mixing with light and oxygen, and anaerobic microbes – the ones working in the dark and without oxygen, and they live happily together in water and molasses. Then you grow them, which makes a cheap and complete technology."
Michel says that long before he gets to the bio-fermentation and blending stage he needs the nutrient dense products to use and they start with the soil, "EM becomes a fermenting agent to enhance the soil nutrients rather than acting as a compost that decomposes material and that means we aren't creating a compost environment that burns the energy in the organic matter, we aim to preserve the biomass but enhance its nutritional values."
"Once we have the nutrient-dense foods we then work on bio-fermentation to add even more health benefits. Bio-fermentation essentially unlocks the health-boosting micronutrients contained in food so our bodies can fully absorb and utilise them.
"We have developed a bio-fermentation process that creates food products with naturally high antioxidant and probiotic properties."
The fermentation process has been used for centuries to ferment wine and beer as well as making fermented foods like kimchi and we know eating fermented foods are good for us but what makes bio-fermentation different?
Michel told me the process he has developed over many years of trial and error means he can create incredibly nutrient-dense foods and food additives (like his salts) "by using efficient micro-organisms  in the fermentation process to extract the active ingredients of the organic turmeric for example, we can preserve it in quality New Zealand Organic products like sea salt and honey.
"Curcumin is one of the numerous bio-active, micro-nutriments enhanced by the bio-fermentation of our organic Turmeric. By combining it with organic Ginger, we extract even more curcumin enhancing the health benefits even more."
The D'Hondt family produce a range of enhanced honey products, "we use mainly our raw, unfiltered Nelson honey and blend it with things like bio-fermented bio-fermented pollen, ginger and turmeric and bio-fermented cinnamon.
"The fermented Turmeric and Pollen in honey is one of my most popular products¨, says Michel. ¨I have had a lot of positive client feedback about it, especially when they use it for pain relief from symptoms of arthritis, allergies and cancer therapies."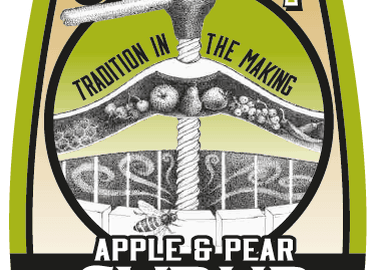 They also produce a range of different products using organic sea salt as well as products like Bio-fermented Apple & Pear Syrup that takes ripe Nelson fruit and uses a low-heat reduction production process to release high levels of vitamins, enzymes, minerals and antioxidants. It also relies on the natural fruit sugars rather than adding processed sugar to create a syrup.
If you are as intrigued by these health enhancing products as I am them you can check  out their website (www.dhondtandsons.com) or hunt him down at one of the markets in the region talk with him about his processes and the products the family produce as well as taste and buy them. You will find Michel at the Nelson Market on Saturdays and Motueka Market on Sundays and at the Nelson Farmers Market on Wednesdays.
Published in the Nelson Mail 15.01.20