I wrote about Gelato Roma January 2020 just before the first covid lockdown created havoc right across New Zealand, in fact, the world. Gelato Roma, at the time, was a reasonably young business going through a growth phase and the covid restrictions came along at just the wrong time for a business that specializes in producing outstanding gelato and sorbet products.
Owners Yuri and Daniela Aristarco had also done the hard work developing a franchise model where they would produce the delicious treats in Nelson using Oaklands A2 Milk and then distribute them to franchise owners and to retail outlets.
The lockdown challenges faced by the couple lead to the decision to put the business on the market, and that's where Kym and former All Black and Tasman Mako Chris Jack stepped in.
Rather than buying the entire business they have gone into partnership with Yuri who continues to create recipes for Gelato Roma's delicious gelato and sorbet products while Kym and Chris run the manufacturing and sales.
When I met with Kym and Chris last week to find out a bit more about them and how they got into the gelato business Kym told me she has a background in wine sales, working for a couple of large New Zealand businesses before they had their children. Chris says "we were casually looking for a small business that Kym could use her marketing skills in, we had tried and loved the quality and artisan style of Gelato Roma products that we had purchased from The Junction and when we heard it was for sale we made a few enquiries."
Chris is a big foodie and makes sauces and chutneys from tomatoes and chilis he grows, so it wasn't really a surprise for people when we decided to buy into a business creating a food product."
After spending a few years overseas the couple returned to New Zealand after a stint in Japan and decided to spend the first year back in Nelson with Kym's parents, "we came here for a year ten years ago and we're still here" she says with a laugh. "We love the region, the people and the lifestyle.
"We have a small two-acre piece of land where we can grow fruit and vegetables and where the kids can have some space, Sophia (15) and Sam (13) both love being outdoors, and the region has so much to offer young people growing up. To top it off they love the fact mum and dad own a gelato business."
Stepping in to run the marketing side of a business was a reasonably straightforward process for Kym, from her previous roles she knew how the supermarket and retail sector operates, and it was a chance to make and showcase a locally made product they are passionate about.
But for Chris it has been a very steep learning curve, even though he is a foodie and loves cooking, running a processing plant is a different challenge, "but he's a quick learner" says Kym.
Yuri also works in the processing facility and "my dad, Steve Tilby, steps in to help too when the pressure is on. He's great with machinery so has picked up the operation side quickly too."
"While the equipment makes the gelato and sorbet everything else is done manually. From loading ingredients to packaging the finished product, nothing is automated. But Chris likes eating gelato and sorbet so he is all over quality control."
Production is all in small batches and Chris produces 10-15 batches a day. "Having a small batch production means we can try new flavours quite easily and react quickly to customer requirements for standard flavours if they are running low. It also means we are making and selling the product almost immediately rather than making it and storing it for many weeks."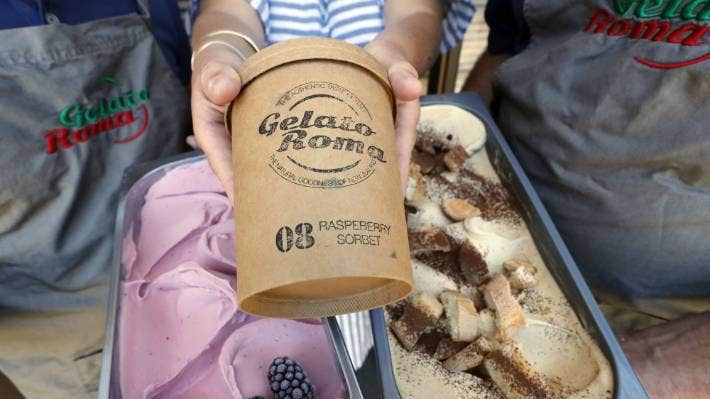 Chris told me Yuri has been a huge help "he taught me how to use the equipment and all the little secrets that go into making an authentic product. He also oversees recipes. We make everything to his authentic recipes using as many local ingredients as we can."
Kym said that while they make the classic flavours they also come up with new ideas for flavours, Yuri develops the recipes and Chris makes it according to Yuri's recipes.
When it comes to ingredients the real key to the deliciousness is using premium A2 Milk from Oaklands, "It's all about quality from the base ingredients to the finished product" says Kym. "We source fresh raspberries and boysenberries from local Tasman growers and get our hazelnuts from a grower in Canterbury, we use Pic's Peanut Butter and our chocolate gelato is made using 73% Belgian chocolate."
With Chris's love of cooking he also makes some of the flavour ingredients we use, he makes the hokey pokey we use in our newest limited release flavour and even makes our own mascarpone for the tiramisu gelato.
The hokey pokey isn't the traditional version Kiwi's are familiar with, "we layer it into the Gelato and finish it with a layer on top too rather than blend it through the gelato."
Yuri and Daniela had done all the hard work developing the franchise model and already had a couple in place before covid, so Kym has focused her initial marketing on the local market and supporting local outlets.
"We have two franchise trucks in Nelson, Barry at Tāhunanui beach and Sarah and Colin go to various events and markets around the region. We are also selling Gelato Roma products to a number of outlets who sell it by the scoop. We have freezers in the store at Kaiteriteri, Mapua Smokehouse, the Fat Tui and Cable Bay Café have set up a caravan outside selling it by the scoop too."
Peter and the team at Wholesale Foods are the local distributor for the wholesale sector and a number of cafes are now using this beautiful product in drinks like iced coffee and smoothies. You can also buy the truly artisan, high quality product in tubs from Fresh Choice Nelson and The Junction.
For me this artisan business is firmly on the road to success, based purely on delivering a high-quality product made with fresh ingredients and packed with real flavour. The Gelato Roma Hazelnut Gelato doesn't just have a few nuts scattered through the gelato; it has such a high hazelnut content that it's the dominant flavour. Their Raspberry Sorbet isn't a vanilla product with a swirl of raspberry, it has fresh raspberries blended throughout making it both raspberry red in colour and bursting with pure raspberry flavours – no flavour enhancers here!
The same production principles apply to each and every flavour, so if you want to enjoy traditional, high quality, locally produced gelato or sorbet products that are bursting with flavour then you simply can't go past Gelato Roma handcrafted artisan scoops of deliciousness. I can't stress enough just how good these products are.