People will always find a venue that makes great food and excellent coffee, in this case it's Hattie's Café, a little gem of a café tucked away in Whakatu Square, it may not be on a main street but it's a busy little café that has quickly earned a loyal following.
Harriet Ogilvie opened her business in September 2022 and it has been growing slowly, something that suits this young business woman nicely at this stage. Harriet may only be 22 but she brings a lot of experience to her business, especially when it comes to customer service.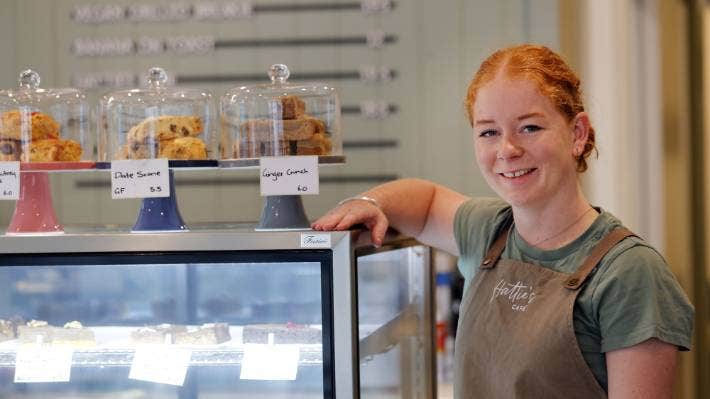 Harriet isn't a chef but is a fully trained barista, she says that she started working at The Apple Shed in Mapua when she was in year 13 at school, "when I worked at The Apple Shed they put me through lots of barista courses through Sublime and it's also where I learnt everything about the importance of great service as well as what's needed to run a hospitality business."
After a few years at The Apple Shed Harriet moved to The Kitchen where she started as their barista and ended up as the manager. "They offered me the business when they wanted to sell and, while it wasn't the right thing for me at the time, it sowed the seeds for setting up my own business."
Harriet is a member of the Bowater family and I think the great service and family values that have made their motor vehicle business a success through a number of generations have been a big influence on this young woman. She says she opened the business when she was 21 and has also bought her first house with her partner.
"My partner, Seth Watson, is very supportive, he's an Operations Adviser at Saxton Stadium but helps me a lot in the background. He's always there at the end of the day for me to unload on if I need to.
"While my family have been very supportive, have given me great advice, made the premises available and are fantastic customers, I also have a commercial relationship with them. I have a lease, pay rent and have all the other obligations a tenant has.
"The biggest advantage of leasing the space from them is there was a lot less risk for me knowing I had the support of my family. When I was thinking about setting up a little café of my own Tony Bowater said this space could be available and a few months later renovations were being done. The landlord made the structural alterations needed and I paid for the fit out."
"Because I'm located right beside the family's Toyota dealership the Bowater's staff have been a huge support from the get go. My mother, Kelly, is one of my best customers. She could probably run her travel brokerage business from the café but she knows so many people she would just end up talking to customers and not doing any work.
"I'm not a chef so I have employed one, Darren Cooper moved here from the upper North Island after working at White Island café for about six years and I'm always amazed at the quality of food he turns out from our tiny kitchen. He's originally from Canada and has travelled all around the world working in cafes and restaurants so brings a huge amount of experience. He totally understands what I want to achieve with the café."
The focus of the food at Hattie's is a brunch menu, it suits their opening hours of 7am to 2.30pm Monday to Friday. "We want to serve food that makes you feel good, simple but tasty. Everything we put out is designed to satisfy you. We don't have heavy things like meat pies, there are plenty of other places making those and we want to do our own thing, making great food that people enjoy."
Some of the popular items in the food cabinet are Hattie's gluten free scones, "but the cheese and tomato scone is hands down our biggest seller. Our range of salads tend to fly out the door too."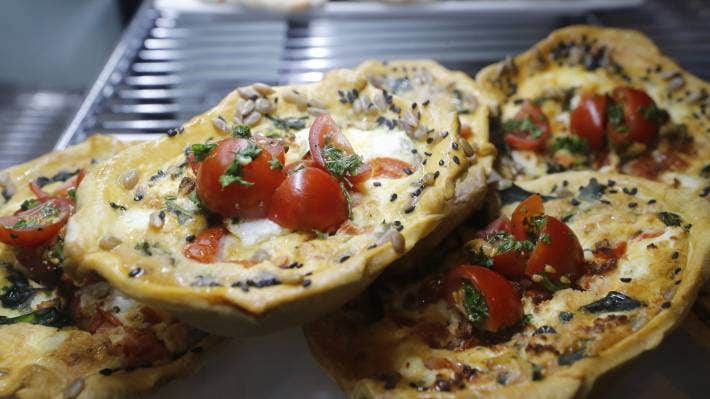 At Hattie's they make everything on site in their tiny kitchen, they only buy in based ingredients, bread from Don Rodrigo's and, of course, things like cold drinks. Harriet told me they are also gaining a reputation for serving great coffee, "the guys at Sublime trained me when I was at The Apple Shed so we use their coffee."
For any hospitality business word of mouth marketing is a big thing and Hattie's has developed a strong reputation among local business, "we get a lot of custom from businesses in the area, banks, council, our accountants, other retailers and of course Bowater Motors staff."
Even though Harriet's day starts at about 5.30am she finds time to give back to the community too. She coaches the Nelson Girls College Senior A volleyball team, plays for the Nelson Pines Volleyball Team and netball for the Prices Waimea Netball club.
Harriet fell in love with the hospitality industry as a teenager when she worked at The Apple Shed and says, "I just love interacting with people and seeing them leave with smiles on their faces. Customer service is something I love and creating something people enjoy satisfies me as much as them."
Hattie's is a small, inviting café that seats about 35 people, it is light and bright with a small nook at the rear of the café where you can relax on sofas or have a quiet meeting away from the main café area.
Harriet Ogilvie is a hard-working, focused young woman who is carving a niche for herself in the Nelson hospitality scene with her delightful café.
Hours Mon – Fri 7am to 2.30